While millennials have long favored dainty gold chains and rings, the era of minimalist gold is giving way to silver and all things bling.
From jewelry and metallic dresses to eye makeup and nails, silver has been everywhere, including on red carpets, runways and influencers' feeds. A vintage-inspired trend that started before the Covid-19 times, the shift toward silver has especially taken off in the pandemic-reopening era as sparkly party looks become the norm. A combination of nostalgia and the rise of the glittery, hedonism-driven "night luxe" aesthetic have driven Gen Z and beyond to embrace silver.
"Silver is quite versatile and has a timeless presence, especially when it comes to jewelry. However, with that said, right now, we are seeing a resurgence of silver across fashion, beauty and jewelry," said Laurie Pressman, the vp of the Pantone Color Institute. "There is no question silver is coming to the forefront."
Red-carpet looks have been the most high-profile examples of this shift. For example, many celebrities eschewed the "gilded" part of the Met Gala's 2022 Gilded Age theme in May, opting instead for all-silver ensembles. Phoebe Bridgers, Addison Rae, Alicia Keys, Chloe Grace Moretz, LaQuan Smith, Daisy Edgar-Jones, Janelle Monáe and Kaia Gerber are just a few examples of attendees who arrived in silver or rhinestone-studded gowns.
On other red carpets, Chloe Bailey's disco-ball-style Grammys dress and Zendaya's sequined Oscars skirt have also generated buzz. Some celebrities have opted for head-to-toe silver multiple times in the past few months: Kim Kardashian appeared in silver gowns for the premiere for 'The Kardashians' and the White House Correspondents' Dinner. Rihanna, meanwhile, generated headlines with two different all-silver pregnancy ensembles: a long skirt and crop top by Coperni for Fenty Beauty's Ulta launch, as well as an all-silver Miu Miu Mother's Day outfit.
From frosted, metallic or glittery eyeshadow to chrome nails, silver beauty trends have emerged alongside fashion.
For the Fenty Beauty launch event, Rihanna's makeup artist Priscilla Ono created a monochromatic silver eye look. Also the global makeup artist for Fenty Beauty, Ono emphasized that she used the brand's Diamond Bomb highlighter in a silvery shade all over the star's face and body.
"I've noticed that not only silver but also other metallic and glitter/shimmer makeup looks have become bigger trends this year," said Ono.
According to data from Spate, searches for "silver eyeshadow" are up nearly 108% year-over-year, with silver eyeliner seeing a 79% increase in the same time period. "Metallic" makeup searches grew 169%.
"All of our top-selling SKUs are sparkly, shimmery, multi-chrome things," said Danessa Myricks, celebrity makeup artist and founder and CEO of Danessa Myricks Beauty. "This started for us in September of last year. It kind of just went crazy." The brand's top-selling item is an eye color in a "silvery white" shade called Milky Way, she said. "We cannot keep it in stock. It wasn't always No. 1, but all of a sudden, everybody must have that." In addition, she said that the brand's Chrome Flakes eyeshadow, launched in October 2020, has gone viral online.
Celebrity makeup artist Shayna Goldberg agreed. Silver has been "very popular" in beauty, said Goldberg, who frequently collaborates with Byredo for red-carpet looks. "Every reference I've been given has a cool-tone, high-frost element to it. [The looks] always have a silver base in the eye and lip." Goldberg said she uses the silver from Byredo's "Metal Boots in the Snow" eyeshadow palette on "almost everyone."
"I think it's a mix of Y2K nostalgia and people being more open to experimenting with their makeup looks," said Ono. "The frosted '90s eyeshadow makeup looks can have a more modern update if you play with them in different ways," such as adding a glossy finish over a metallic eyeshadow or incorporating a cat-eye.
"Euphoria" has especially driven interest in bedazzled makeup looks. "Euphoria" makeup head Donni Davy's new brand Half Magic, for example, sells a "silver holographic" eye paint and liner, as well as the eye gems that have become a favorite of Gen Z because of the looks on the show. In a recent interview on the Glossy Beauty Podcast, Davy discussed the growing popularity of sparkly "Euphoria"-inspired looks on social media.
"Glitter is magic when it's moving," she said, noting that many people posting the looks are "doing so in low lighting."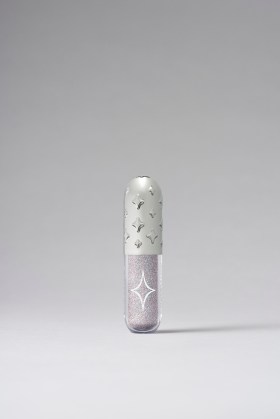 "You can't deny the impact of 'Euphoria' looks that play with sparkle, metallic, pastel and dramatic makeup, and how this has then translated into TikTok viral makeup trends," said Ono.
"The launch of 'Euphoria' season two was a big moment for color cosmetic trends," said Erin Lindsay, director of product development at ColourPop Cosmetics. In 2022, the brand has been expanding its range of metallic and sparkly eyeshadows. "Prismatic, sparkling pastels and dynamic duo chromes are [being used] much more commonly," she said.
Instagrammable silver beauty has even made its way into skin care. Celebrity makeup artist Joyce Bonelli's new brand, Joyce Bonelli Cosmétiques, includes a silver, glitter peel-off face mask, bringing a glam disco feel to a self-care routine.
"The more glittery or shiny the object, the more people are interested," she said.
This trend appears to be taking place at the expense of gold, especially when it comes to Gen Z preferences in jewelry. While many millennial Instagrammers have favored monochromatic, minimalist outfits with gold jewelry, such as coin pendants, layered necklaces, stacking rings or delicate chains, Gen Z is not as enthusiastic about this metal.
The World Gold Council found in a 2020 survey of Gen-Z consumers that only 11% planned to buy gold jewelry within the next year. The report also noted that "gold jewelry suffers from some perceptual misgivings among the youngest audience" and "faces particular challenges around style and a lack of emotional connection with Gen-Z consumers."
Influencers and celebrities are helping drive success among edgier silver-heavy jewelry brands on TikTok. Halsey, Billie Eilish, Barbie Ferreira and Emma Chamberlain have been among those spotted in silver pieces by gothic-style jewelry brand Dalmata. Meanwhile, Willow Smith, Chloe Bailey and a slew of K-pop stars have helped silver-focused jeweler OHT reach cult status. Charli D'Amelio, who almost exclusively wears silver, has popularized the affordable jewelry brand Cyberspace Shop.
Jewelry brand Dorsey, which is known for its Riviere necklaces featuring lab-grown gemstones, has become a favorite of Hailey Bieber, Emily Ratajkowski, Lily James, Justin Bieber and Bella Hadid, the latter of whom wore the brand's earrings to the Met Gala. The brand uses silver for 90% of its pieces.
"It's been interesting for me to see that silver has been picked up and called out as a trend, whereas, for us, it's where the most volume of our sales come from," said Meg Strachan, founder and CEO of Dorsey. "If you ask most jewelry company owners if their sales are in silver versus gold, they're going to tell you gold." In her view, "silver has a natural edginess to it," while the lower cost of silver is driving more consumer interest during a time of rising gold prices and inflation.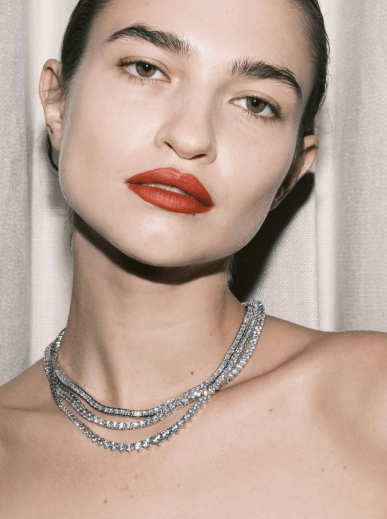 Some gold-focused jewelers have also seen an uptick in silver demand.
"Gold continues to be the preferred metal color for our customers. However, there are areas of our assortment where we're seeing our customer shift into silver, especially with necklaces and earrings within our fashion assortment," said Erin McCarthy, vp of merchandising at Kendra Scott. She said the brand is "seeing the emergence of a trendier customer who is leaning into silver pieces, wearing mixed metals or layering silver."
Bychari, an exclusively gold jewelry brand when it was founded in 2012, added silver to its assortment about 18 months ago. Silver handmade jewelry now makes up one-fourth of its collection.
"People seem to be excited about silver when they see the chic ways you can wear it," said the brand's founder and designer, Chari Cuthbert.
The more blinged-out aspects of the silver trend are being amplified by a pandemic-reopening party mindset that has manifested itself in sparkly looks as a part of the aesthetic dubbed "night luxe" by TikTokers.
"After so much time spent indoors in loungewear, partywear is on the uptick, and metallics speak to the desire to party post-pandemic. As partywear rebounds, we're seeing silver — think: high-shine fabrics and embellishment — gain momentum, especially with younger consumers, for Insta-worthy looks," said Clare Coulson, a color strategist for WGSN.
Silvery mini-dresses can be seen across influencers' Instagram feeds and celebrity party photos, too. Paco Rabanne's silver chainmail mini dresses, first created in the 1960s, have made a comeback in a big way with Gen-Z influencers. Chainmail looks by brands including Prada and Fanny Schiavoni are also celeb and influencer favorites. Last month, Olivia Rodrigo was seen in a silver chainmail dress by Ambush.
And, of course, the silver mini-dress trend can't be mentioned without noting the revival of Paris Hilton's 21st birthday dress worn in 2002. While the original was a purple shade, silver copycats started with Kendall Jenner way back in 2016. Picking up steam since then, the style came back stronger than ever after emerging from pandemic hibernation.
Experts agree that Y2K nostalgia is a major factor in the resurgence of silver.
"Noughties nostalgia and Y2K are heavily driving the return to silver across fashion, beauty and jewelry," said Coulson.
The rhinestone-encrusted party-girl style of the noughties has been dubbed "McBling" by some, marking a post-9/11 era in fashion distinct from Y2K. In addition to the early 2000s, inspiration for the current trend stems from a range of other post-traumatic eras of the past century. These include the post-war, post-pandemic Roaring '20s and even the disco era, as evidenced by the comeback of disco balls.
"Every time we're coming out of a cycle of sadness, there's always this direction to go to the extreme," Myricks said. "I think about the disco era and what that meant for people and how it made them feel. And this is pretty much like disco all over again. We're always reimagining what's old and making it new for the moment."
In addition, "From a spiritual perspective, silver is known to draw out bad energy. So whenever people want to get energized or super happy, they always lean into sparkly things," she said.
The rise of silver doesn't mean gold is dead, however.
Celebrity favorite fine jeweler Marla Aaron, who focuses mainly on gold, said she is not planning on changing with the trends. "Silver is second fiddle because it is soft, so it does not have the lifespan of gold in fine jewelry," she said.
Pressman agreed that gold isn't going to disappear. "It is difficult to replace gold; it is the essence of extravagance and the symbol of wealth," she said. "As a question of dominance, though, silver is definitely making an impressive and important statement in jewelry, fashion and beauty."