Instead of matcha lattes, she posts martinis. Avocado toast has been replaced by oysters, acai bowls by steak. Rather than a matching Lululemon set for morning yoga, she has a silk dress, a rhinestone handbag and pointy, bedazzled heels for a night out. It's safe to say you probably won't see her morning routine, but a nighttime trip to Lucien will certainly make her feed.
For the new rising "it" girl aesthetic on social media, hedonism is the new wellness.
From the first glimmers of hope that a vaccine would bring pandemic normalcy, there has long been speculation about when a new "roaring 20s"-style era of indulgence would be upon us. That's culminated most recently in the fervor over how to define a cultural "vibe shift" that many people feel is taking place, but can't quite pinpoint exactly how. As people search for evidence of this shift, social media aesthetics may be a key source. Case in point: the rise of a trend that serves as the antithesis to the wellness-focused green juice girl that has dominated Instagram for years.
It hasn't been given a well-defined name in the broader zeitgeist yet, but you know it when you see it. The most popular term for it appears to be "#nightluxe," which currently has 16 million views on TikTok. (The hashtag #darkluxuryaesthetic is a less common name for it, receiving 5.6 million views.) Photo posts and Reels and TikTok slideshows feature shots of glamorous bars, restaurants and cocktails — namely, martinis (both traditional and espresso varieties) or champagne in coupe glasses. For fashion, Prada's satin crystal mini bags reign supreme, with other bedazzled options by brands such as Cult Gaia also in the mix. Mach & Mach heels — especially the black ones with the rhinestones — are often the footwear of choice. The dresses are silky or sparkly, and always short. The food is decadent, harkening back to an era before people cared about calories and cholesterol.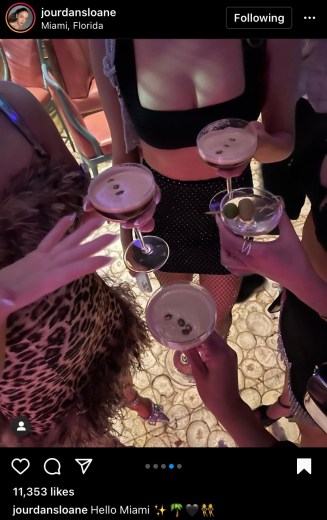 "It's almost this 1920s vibe coming back," said Sabrina Sadeghian, the 24-year-old co-founder of 4AM Skin, a skin-care startup that's all about providing a minimalist routine for people who party until the time in the brand name. "Everyone's pulling down the exposure" on their Instagram and TikTok content, she said, replacing daytime beach shots with dark nighttime imagery. "Everyone's seeing these blurry photos with the girl and the chandelier and the martini."
Launched in July 2021 as people were reemerging into life from the pandemic, 4AM's feed differs dramatically from that of your typical skin-care brand. Rather than bright pastels and soft colors, the imagery and product packaging is dark and moody. And instead of yoga or soothing spa treatments, pictures feature partying, alcohol and even smoking.
"Night luxe" is a stark contrast to the "that girl" trend that has taken over TikTok and Instagram Reels. The latter centers on girls posting their ultra-disciplined morning routines featuring a 5 a.m. wakeup, journaling, meditation, yoga, green juice, healthy food and an elaborate skin-care routine.
"That girl" is currently dominant. Data from trend forecaster Spate shows that Google searches for "that girl aesthetic" have grown by 65% in the past year, with steady growth over the past three years as wellness culture has defined the Instagram influencer aesthetic. But there are signs of a backlash.
"For every trend, you have a counter-trend. You have people rebelling against it," said Yarden Horwitz, co-founder of Spate. "There's this new person who doesn't care about wellness, but does put time and effort into how they look. And it's all about going out and looking good going out."
The "that girl" trend is "going to end really quickly," predicted Essence Iman, the founder of body-care brand The Established. "That trend is going to die, because everyone's doing it and we're starting to be like, 'OK, wait, this is not what my routine looks like. And actually, I don't feel bad that my routine doesn't look like this,'" she said.
The Established, which was part of the Glossier Grant program, has embraced what Iman described as a "moody" and "sensual" aesthetic, with night-time images and drinks shown on the brand's Instagram and on her personal feed. She considers herself to be the "anti"-that girl.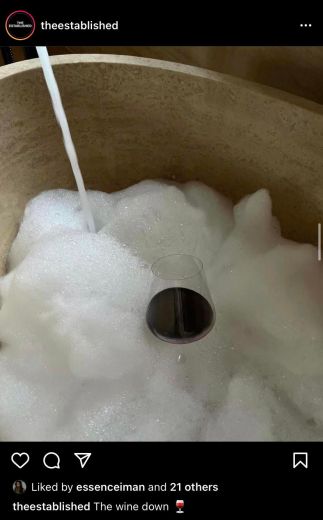 "I just sent a post to one of my girlfriends the other day of one of these videos where it's super gorgeous, and it's this girl journaling. And she's like, 'This is my morning routine,' and then just pouring the water over lemons. I'm so sick of it. It's so unrealistic," said Iman.
Sadeghian felt a similar sentiment when working on the branding for 4AM. "I would see these girls that are on hikes and very ethereal and whatever. I was like, 'That's not really me. I don't enjoy the taste of green juice. I enjoy going out and drinking, and having fun, and waking up slightly hungover with a headache, and laughing with my friends."
Along with brands, there's a growing group of cool-girl influencers helping to drive the night luxe aesthetic, such as Hannah Harrell (3 million followers on TikTok, 543,000 on Instagram) or Jourdan Sloane (566,000 on Instagram, 214,000 on TikTok). Europe is also a hotspot for this look thanks to the feeds of French influencers like model Mara LaFontan (626,000 on Instagram). Others, such as The Feelist founder Shea Marie (1.4 million), have evolved their feeds to become more "night luxe." Influencer Temela (78,000 followers on TikTok) created a "dark aesthetic" tutorial for posting nighttime videos, as well as a skin-care-after-going-out routine video featuring 4AM.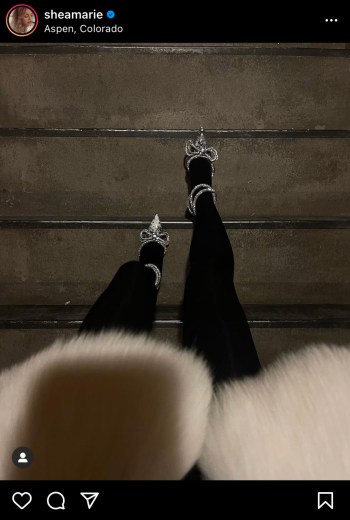 According to Shea Marie, her Instagram aesthetic is "much more candid, in the moment and unedited than it used to be in the past. I used to like every image to be perfectly filtered, centered, bright and sharp. Now I like the 'mistakes' — the underexposed image gone wrong, the blurry-in-motion 'oops,' that two-rolls-of-film-sticking-to-each-other type of beautiful mistake."
For some influencers, their embrace of a luxe aesthetic predated the pandemic, but has begun to see traction more recently. Fragrance influencer Jessica Ohupt, who runs the account @ohuprettythings (339,000 followers on TikTok and 102,000 on Instagram), had long described her feed as "a little bit of glamorous extravagance" and "romanticizing things in your life," she said. Since launching her TikTok account at the beginning of the pandemic, her follower count took off and she scored partnerships with Maison Margiela, Dior, Armani and YSL Beauty.
The luxe aesthetic "was here before [the trend and] it's going to be here after it. People love seeing that type of thing," she said.
The trend-identifying wing of social media has begun to pick up on night luxe. Meme account Elite Satire created a "starter pack" for the aesthetic without directly naming it, listing Prada, Mach & Mach, oysters and 4AM among its defining characteristics and brands. "If you ever find yourself on a date with her, do yourself a favor and save time by keeping the espresso martinis coming every 15 minutes," it said of the trend's female archetype.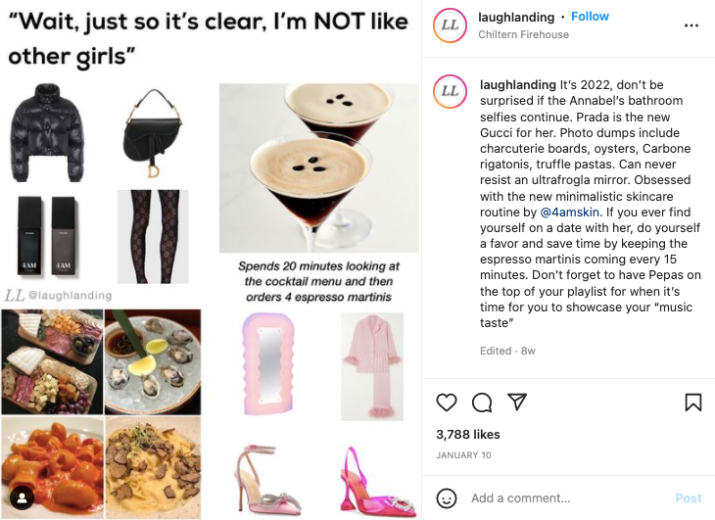 The growth of night luxe can be associated with the hedonistic "vibe shift" concept that went viral after it was explored in a February 15 article in The Cut, based on an article by trend forecasting Substack 8Ball. The article highlighted the resurgence of "indie sleaze," an aesthetic harkening back to the Cobrasnake-photographed parties of the early aughts.
But "indie" and "sleaze" the night luxe aesthetic is not. This new "it" girl may be a party girl, but she's a polished one for the Instagram era, where photos are tagged and associated with one's personal brand forever, not lost in a sea of thousands of anonymous party photos.
"I love that Cut article," said Jade Beguelin, co-founder of 4AM, who called the brand a reflection of the "vibe shift" and said it does take inspiration from early aughts hedonism. 4AM was mentioned along with Emma Chamberlain's Bad Habit Skincare in a February 4 TikTok post by trend forecaster The Digital Fairy about the "indie-sleazification" of beauty, which it called the rise of the "post-wellness party girl" brand.
4AM's founders said they embrace the indie sleaze comparison, but were clear that the brand is not an exact example of it. "We want to be a little more polished than that," said Beguelin. For example, while the brand features cigarettes on its feed, the founders decided to scrap many pictures from a recent photoshoot that had featured smoking more prominently.
"It is a bit of a fine line that we walk on," said Sadeghian, who is currently a med student at Georgetown. But the brand certainly likes a party: It has done collaborations with both Patron and Kendall Jenner's 818 tequila, launching a campaign with the latter focused on ignoring the concept of New Year's resolutions. Taglines are tongue-in-cheek: one post with a martini says the skin care "makes you look like your drank a green juice without actually having to drink one."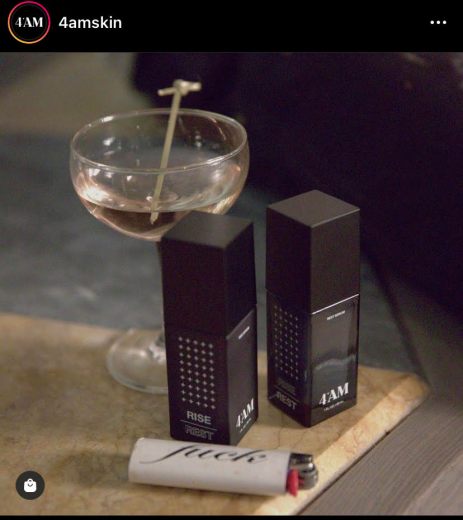 Outside the parameters of the "night luxe" trend, brands are embracing hedonistic messaging in a variety of ways. Flamingo Estate, which sells a wide variety of products ranging from premium body-care to wine to farm boxes, emphasizes the idea of indulgence rather than self-control. The brand is focused on ​​a target customer that is "trying to not be ashamed about making pleasure a priority, whether that's about food or the products," said founder Richard Christiansen on the Glossy Beauty Podcast earlier this year.
In beauty, this means the decline of the wellness-driven self-care effect. According to Spate, skin-care Google searches have declined 14.9% over the past year.
During the pandemic, people were interested in "everything under the sun for skin care," said Horwitz. "They were getting really consistent about all these different habits and trends, and they were all trying to be 'that girl.' Now that life is getting back to normal, people are starting to rebel against it and not prioritize skin care as much." Going-out makeup looks are on the way up, however: Eyelid product searches are up 18.4% year-over-year, while lip stain has risen 19.7% and lipstick has grown 16%.
These trends coincide with outright wellness backlash in pop culture and on social media. Influencers have taken to TikTok to call the "that girl" trend "toxic." Euphoria's scene where the character Cassie goes on a manic self-care bender to impress her love interest poked fun at the idea of a morning routine as something achievable.
"Wellness has become really performative, in that it's not actually working for everyone, and it can become more stressful, in a way," said Sadeghian. "There's a general consensus now, where a lot of people are viewing the 'that girl' thing as just a performance on TikTok. Going out, for me, is my de-stressor. I can laugh, I can have fun, I can dance — and that is my form of self-care."