Neurotoxins — aka, Botox — have never been more financially accessible, readily available and in-demand, particularly among young people. And every day, TikTok is giving new names to new uses for the injectable, which has further contributed to its rise.
Over the past few weeks, TikTokers have been buzzing about "Traptox" and "Barbie Tox," which are two different names for the same thing: the injection of Botox into the trapezius muscles. In 2021, the trend was the "Lip Flip," where a small amount of Botox is injected in the top lip to replicate the effects of lip filler — according to sources for this interview, it's retained its popularity. Other trends include "Blowtox" referring to injections in the scalp to help extend the life of a blowout, and "Baby Botox," TikTok speak for Botox in smaller doses. It's worth noting that "Botox" has become a catchall phrase, used like "Kleenex," to refer to every brand in the product category. But it is just one of the available neurotoxins on the market. There are also Dysport, Xeomin, Jeuveau and the newest, Daxxify.
Botox boomed during the pandemic, in part thanks to what many dubbed a "Zoom Boom." In 2020, it became the most popular non-surgical cosmetic procedure, with 4.4 million procedures performed. According to Grand View Research, the global market for neurotoxins was valued at $6.4 billion in 2022 and is projected to grow 11.7% annually from 2023 to 2030. There are over 6 million Botox appointments each year.
This rapid growth can be owed, in part, to TikTok, which has led to increasingly younger patients checking in for their first injectable appointments. Patients are required to be 18 to get Botox.
TikTok has given patients a vocabulary they didn't have before. Dr. Joshua Zeichner, a dermatologist at Mount Sinai Hospital in New York City, said patients are referring to procedures by their trending names. "They come in and say, 'I want Traptox,'" Zeichner said. He noted that his Botox patients are getting "much younger" and that injectables are now "part of the everyday conversation for younger individuals."
"It's [become] normal," he said.
Currently, videos tagged #Traptox have 22.2 million views on TikTok, while #BarbieTox has 1.7 million. And, since June, Glossy Pop has received around two dozen emails offering up plastic surgeons and dermatologists for takes on the viral trend. According to digital trend forecasting agency Spate, views of #Traptox posts on TikTok saw 181.9% month-over-month growth in July.
"Traptox, [as it's being used] now, is a little bit different than what people were using it for traditionally. Traditionally, we used it to relax the trapezius muscle for people who have stiff necks, tight upper backs or tension headaches. Now, people are using it for cosmetic reasons. It can help change the shape of the neck itself, giving it a longer, more slender appearance. [Essentially,] a medical treatment is now being used for more cosmetic reasons," said Dr. Zeichner.
David Moatezedi, president and CEO at Evolus, maker of Jeuveau, said TikTok Botox trends are part of the mainstreaming of Botox. "'Barbie Botox' transitioned from a fringe category that was only available to dermatologists and plastic surgeons — now it is performed by nurses and PAs and available at med spas, which are becoming increasingly ubiquitous. It's [essentially gone from the] Neiman Marcus shopper who could afford it to the everyday woman and this younger generation that views this as part of her beauty regimen." Having worked in the category for 20 years, Moatezedi said he's seen a shift: "In the last handful of years, this category has become part of her conversations around her beauty regimen and everyday events." Forty-eight percent of the members of Evolus's rewards program are either millennials or Gen Z. According to the American Society of Plastic Surgeons, the amount of money that men spend on Botox treatments, sometimes dubbed "Brotox," has increased 400% since 2000.
Evolus refers to neurotoxin treatments as "performance beauty," rather than "medical aesthetics." The younger generation doesn't view injectables as a medical treatment, but as a beauty service, Moatezedi said.
Clinics like Peachy, Ever/Body, Formula Fig and Plump, to name just a few, have made injectables something to post about on social media, thanks to their aesthetically-minded studios. Long gone are the days of hiding what one does to one's face — now, it is often a point of pride, just another check on a list of "self-care" procedures.
Lisa Goodman, founder of GoodSkin, a bicoastal skin clinic, has also seen her patients adopt the language of trends. "Once there's a trend on social, we'll start to get an influx of calls at both of our bi-coastal clinics calling out the trend by name and inquiring for more information." Goodman noted that the coasts have different desires and adaptation habits, when it comes to the fast-moving trend cycle. "Los Angeles is much quicker to adopt a trend without asking questions. But when a prospective client in New York calls for Traptox, we do a holistic evaluation of whether that modality might be the right fit for them. They're much more understanding of the holistic approach we take to Botox."
Ever/Body, which will soon open its 15th location, is also seeing the age of its average patient decline. Social media is a part of it, said William Acevedo, the clinic's chief operating officer. "It's this overall movement that is creating awareness, promoting wellness, promoting health — [plus] you are paid dividends by starting earlier."
Anush Movsesian, aesthetic nurse practitioner MSN, FNP-C in L.A., said she's skeptical of the constant churn of trends, when it comes to Traptox, in particular. She declined to perform it on a client this week, she said. "They were barely able to move their head; their range of motion was screwed up because too much Botox was done in their traps. and only for aesthetic purposes. We have to remember that we're dealing with the human body and muscles that are controlling our motion. Sometimes as the provider, you can't just follow a trend because it's cool on TikTok. You need to do a proper assessment, making sure your patient really needs it, is going to benefit from it and is the right candidate for it. It's not right to just follow a trend."
Similarly, Goodman said, "The danger is that, if you're treating the traps, for example, there are other muscles that might be compromised — for example, the front of the neck, the back of the neck and your lower face." She also noted the importance of treating patients as individuals.
It's easy to drop your jaw at the prospect of teenagers getting Botox. The professionals contributing to this story pointed out that teenagers often get far more invasive procedures. For example, rhinoplasty is common. And earlier this year, this very newsletter covered the increasing popularity of the boob job among Gen Z. "I'm OK with injecting the younger generation. If I have an 18-year-old who comes to me very insecure about her very thin lips, who am I to judge? If I can minimally, tastefully enhance her lips and make her feel good about herself, why not? If I'm going to embrace rhinoplasty, which is permanent surgery, a temporary filler is not the end of the world," said Movsesian.
Ultimately, like "Strawberry Girl Summer" and the "Latte Makeup" look, TikTok trends will come and go. On the plus side, consumers are more educated than ever before. On the other, it is more important than ever that experts educate them even more — because most injectables require more education than can fit in a TikTok.
Spate Trend Watch: Pheromone perfumes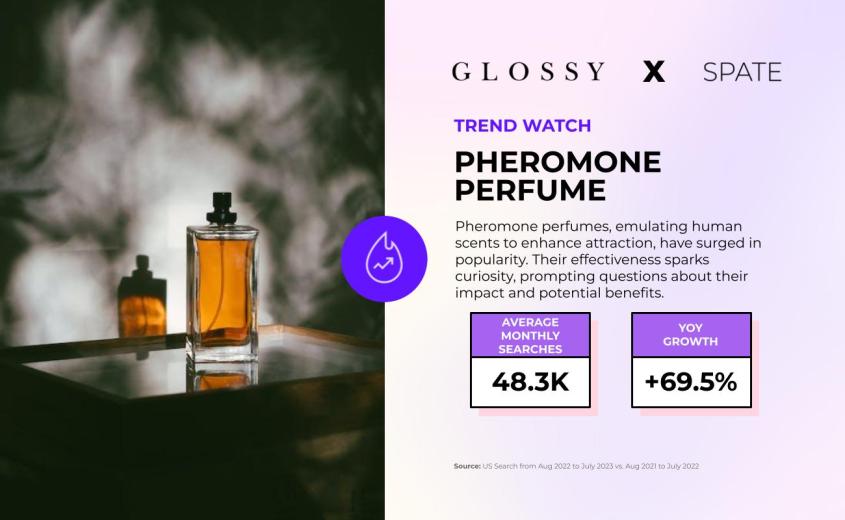 Glossy first touched on pheromone scents last summer. Now, the trend is experiencing a notable upswing, marked by high search volumes, at 69.5% year-over-year growth. Consumers are actively seeking out these perfumes, often searching for terms like "perfumes with pheromone" and "pheromone perfume for women." What, one might wonder, is pheromone perfume? The trend speaks to the idea that certain scents can help attract romantic partners.
Interestingly, the curiosity doesn't stop at gender-specific products; consumers are also showing keen interest in "unisex" pheromone perfumes. This suggests a growing awareness and acceptance of the potential impact of pheromones in scent-based attraction.
Names like Marilyn Miglin, Lush and Pure Instinct are frequently searched for in the context of pheromone perfumes. These brands seem to have tapped into the allure of pheromone-infused scents, enticing consumers with the promise of heightened attraction and interaction. However, relative to other trends in the fragrance space, there is relatively little competition in this space and room for growth.
"As the trend keeps surging, it's clear that pheromone perfumes have really sparked people's interest. The mix of scientific curiosity, the desire for more genuine interactions and the appeal of scents that tap into our primal instincts have turned pheromone perfumes into something captivating. The ongoing search for these products and the steady year-over-year growth show that it's not just about smelling nice. People want to feel a deeper, instinctual connection," said Spate co-founder Yarden Horwitz.
Inside our coverage
BTL Aesthetics hosts EmFest, an all-day festival to build brand awareness
How Touchland uses social media to make hand sanitizer a sell-out moment
Travel retail's beauty assortment is getting hipper as niche brands move in
Miss the Glossy Beauty Pop event? Catch up here:
How Chriselle Lim and Vanessa Hudgens revamped and rebranded their beauty businesses
From Influence to Entrepreneurship: Unveiling the Success Stories of Influencer-Founded Brands
Reading List
Outdoor Voices founder Ty Haney has moved on. Mostly.
Fragrance is having a tennaissance