To receive the Glossy Pop newsletter in your inbox every Friday, click here.
All products featured on Glossy Pop are independently selected by our editorial team. However, when you buy something through our retail links, we may earn an affiliate commission.
The teenage appeal of smelling like dessert hasn't lost its luster.
Teens in the early 2000s relished in the somewhat scandalous nature of Urban Decay's since-discontinued, shimmery Lickable Body Powders in flavors like cake and honey. There was also Jessica Simpson's fever dream of a brand, simply called Dessert Beauty, which sold edible lip gloss made to taste like buttercream and chocolate. Today, a popular take on the trend comes via Sol de Janeiro. Its products aren't edible, but they may tempt you. Its Brazilian Bum Bum Body Cream famously smells like vanilla, pistachio and salted caramel. The cream was one of the 8-year-old brand's first products, and its signature scent helped catapult Sol de Janeiro to cult status.
In 2022, Sol de Janeiro was spotlighted in many TikToks showing holiday wishlists and, later, gift-focused hauls. Gen Zers have been taking a collector's approach to getting their hands on the brand's body creams, washes, scrubs and pefume mists, buying each available scent. The hype led the brand gaining 100,000 followers in December alone — it now has 376,000. The hashtag #soldejaneiro has over 251 million views.
To promote its holiday collection, the brand tapped influencers including Darcy McQueeny (334,000 Instagram followers), Kathleen Fuentes (2.1 million Instagram followers), Achieng Nugutu (294,000 TikTok followers) and Erika Priscilla (1.2 million TikTok followers). Its Mist Master Mix, a kit of four mini perfume mists, sold out two weeks after it launched.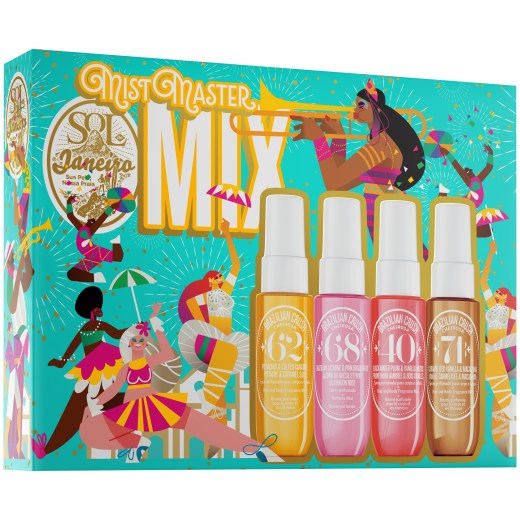 On December 27, keeping up the momentum, the brand launched its first body oil, the Bum Bum Firmeza Body Oil ($52), in its original signature scent. It's now running an influencer campaign for the product, which started in December and will wrap in late February. According to the brand, it contracted nearly 50 influencers across Instagram and TikTok for the campaign, and is also testing YouTube Brand Connect, which powers influencer marketing campaigns.
Just this week, TikTok's "it" girl du jour, Alix Earle, organically posted a get-ready-with-me video where she spritzes the perfume mist all over her body as she gets ready for class.
If you explore the content featuring the brand, you'll find countless reviews comparing the scents, illustrating the fact that they've become collectibles. Of course, you can also find people reviewing potential dupes for the cream — a Costco body butter, for example — as well as shouting out one of Sol de Janeiro's perfume mists, Cheirosa 68, as a potential dupe for Maison Francis Kurkdijan's TikTok-famous, and very expensive, Baccarat Rouge.
Tribe Dynamics, which tallies earned media value, said Sol de Janeiro had $32.3 million of EMV in 2022, an increase of 41% from the previous year. This was the result of more than 4,000 creators talking about the brand, a 16% spike from the prior year. The number of total posts also increased, by 6%.
According to digital trend-spotting agency Spate, Sol de Janeiro received 430,000 average monthly Google searches in 2022, an 18% increase from the prior year. Its top-searched product is the Brazilian Bum Bum Cream, which receives an average of 198,000 searches per month.
"Across fragrance, we've seen consistent growth of scents described as gourmand or dessert-like — consider YSL Black Opium, whereasearch increased of 36% year-over-year, and Tom Ford Lost Cherry, up 12%," said Yarden Horwitz, founder of Spate. "Consumers are even increasingly searching the term 'gourmand' alongside fragrance — that [phrase] is up 12% year-over-year. There is also rising interest, of 11% year-over-year, in fragrance featuring vanilla, which is a key note in Brazilian Bum Bum Cream. Sol de Janeiro is offering this popular scent profile at a more accessible price point," she said. The fact that consumers are searching "gourmand," used in the perfume world to describe scents that smell sweet, and almost edible, indicates just how mainstream perfume has become — a trend that can also be seen on #PerfumeTok.
Tamera Ferro, Sol de Janeiro's svp of global marketing and growth, noted, "There are so many fun scientific facts about vanilla being the most comforting scent for humans. Tied with our packaging and bright colors, [the product] is very joyful and very comforting. We all need that right now."
The perfume mists cost $24 for 3 ounces and $35-$38 for 8 ounces. Baccarat Rouge costs $325 for a smaller bottle.
"Gen Z is looking for quality and for a bit more of an elevated experience," Ferro said. According to Sol de Janeiro, 59% of its perfume mist shoppers at Sephora are younger than Sephora's average brand demographic and are new to the brand.
Sol de Janeiro's tagline is, "Love it. Flaunt it. You've got it." And Ferro said that message of self-confidence also resonates with Gen Z. "We're cruelty-free, we're vegan, we're all about joy and happiness, we talk about positivity and warmth, we're inclusive. We align with who they are and what they're looking for in a brand," she said.
Ella Nicole Bedingfield, a 17-year-old U.K.-based content creator whose Christmas haul included a veritable bounty of Sol de Janeiro, said, "I've loved the brand for years, especially scent No. 62, which has recently become popular on TikTok. Christmas was just an excuse for a restock of my fave products. But I believe the popularity of the brand is well deserved — the body mist smells incredible."
Featured
Visit the Pop Shop to browse all products featured in Glossy Pop.
Launches to know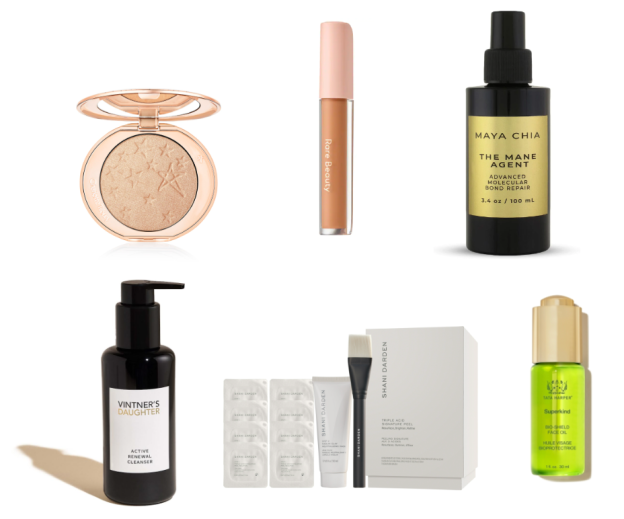 Charlotte Tilbury Glow Glide Face Architect Highlighter, $48
Charlotte Tilbury has many beloved highlighting products, from the primer-highlighter hybrid Hollywood Flawless Filter to the TikTok fan favorite wands. Now, it adds powders to the mix — available in six shades, so there's an appropriate glow for every skin tone.
Rare Beauty Positive Light Under Eye Brightener, $24
Rare Beauty launches tend to stir up a lot of excitement, so it's not totally surprising that three out of six shades of this product are currently sold out on Sephora's site — four are currently available on Rare's own site. The brightener, which has a cooling metal applicator, can be applied with a couple taps of the finger to brighten dark circles on the go.
Hair bonding treatments have hit the clean beauty world. Maya Chia, the indie skin-care brand known for its use of chia seed oil, is expanding its hair collection with this at-home bonding treatment that helps repair hair and improve its volume.
Vintner's Daughter Active Renewal Cleanser, $98
Vintner's Daughter is now 10-years-old, and to mark the occasion, it just launched its third-ever product — spotlighting an unprecedented pace of expansion in the overwhelmingly crowded beauty space. The cleanser has a creamy, milky texture that, when applied to dry skin with wet hands, can also help remove makeup. Like the brand's other products, it's filled with fermented botanical ingredients.
Shani Darden Triple Acid Signature Peel, $125
Not everyone can get a treatment from celebrity aesthetician Shani Darden, but this kit, which includes eight at-home peels, is the next best thing. The two-step treatment uses a peel that blends glycolic acid, lactic acid and mandelic acid. That's then followed by a neutralizing clay mask that works to deep clean the pores and restore the skin's barrier.
Tata Harper Bio-Shield Face Oil, $165
Tata Harper continues to expand its sensitive skin-focused "SuperKind" collection. The latest addition is this face oil, which includes 23 botanical ingredients like oat ceramides, vitamins C and E, and calendula.
Inside our coverage
John Legend debuts Loved 01 in collaboration with A-Frame incubator
HipDot is creating 'collectible experiences' with music-themed palettes
Beekman 1802 pivots social media focus to nurses
Reading list
Makeup by Mario secures minority investment at $200 million valuation
They're cover girls. They're in their 70s.
Kim Kardashian now owns a piece of Princess Diana's wardrobe