John Legend is the latest male celebrity to throw his hat in the crowded ring of celebrity brands, with Loved01, pronounced "loved one." The brand will launch with six products, through CVS in February and at Walmart in March. Legend created the brand with A-Frame, the company behind Naomi Osaka's Kinlo, which dubs itself "suncare for melanin-rich skin," and Gabrielle Union's Proudly, which is "for melanated babies." Legend's brand has also been designed to cater to melanated skin, which, he said, is the brand's raison d'etre.
Legend has earned his professional moniker. A singer, songwriter, pianist and record producer, he is one of few to achieve EGOT status by winning an Emmy, Grammy, Oscar and Tony. He has 15 million Instagram followers.
Legend had thought about doing a skin-care line before Loved01's inception. But, he said, "I didn't want to just do it just because I was a famous person with good skin." When A-Frame approached him with its idea of building brands around celebrities that are also "focused on a customer that isn't being adequately served," he considered it a good reason to exist, he said.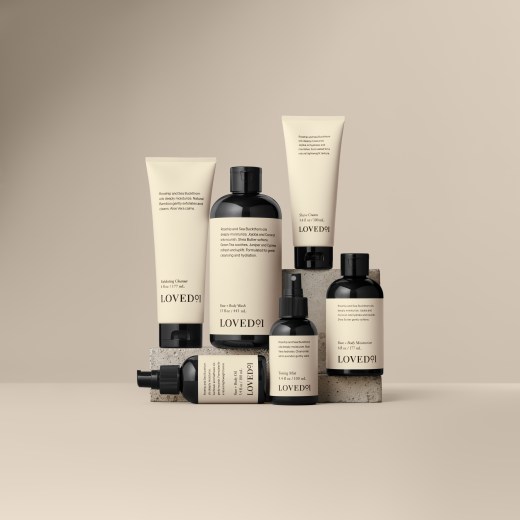 Legend's launch follows a number of celebrity brand launches, particularly by male celebrities. Brad Pitt's Le Domaine launched in September. That was closely followed by Travis Barker adding skin care to his Barker Wellness brand and Jared Leto debuting his Twentynine Palms brand. The onslaught of launches received a swift backlash, seen by many as celebrities inserting themselves into an industry where they hadn't earned a spot. "Consumers are sniffing out if there's a true reason to believe in the celebrity brands that have launched," said Kia Lowe, president of Loved01.
While it's common for hair care products and, increasingly, makeup products to be designed to cater to Black and brown communities, that's less common in skin care, Legend said. In the process of creating the brand, he learned about the differences in melanin-rich skin, such as skin hydration issues and hyperpigmentation, he said.
Skin-care brands catering to melanin-rich skin is a growing category that Glossy first reported on over a year ago. "There shouldn't be [just] one brand that speaks to melanin-rich skin," said Lowe. "Melanin-rich skin deserves choice, in the same way the general population has a lot of choice in their skin-care and hair-care and beauty regimens."
In addition to serving the needs of an underserved community, access and price point were key motivating factors for Legend. "Not only are we going to do it in a way that's formulated for melanin-rich skin — keeping that customer first and foremost in our mind — but we're also selling it at an affordable price and in stores where everybody shops," said Legend. He noted that many celebrity brands' products cost $35-$40 and can only be found at Sephora or the brand's website. "We wanted to be accessible, and also have that level of luxury and care that everybody deserves but maybe can't afford."
This is not Legend's first time playing in the beauty space — he's been an ambassador for Japanese luxury skin-care brand SK-II, as well as Kiehl's and Axe, among other brands. In addition, Legend was an early investor in grooming brand Bevel. As a public figure, he said, "We're being seen a lot; we're being photographed a lot, and we're on television a lot. So it's important to take care of yourself."
Even before fame, Legend said he always focused on skin care. "I grew up in a family where self-care was important, and both my parents were also tailors. So we cared about how we dressed and looked. We went to church every Sunday and wanted to look Sunday fresh."
Loved01's first six products focus on hydration and feature rosehip and seabuckthorn oils. Future products will address other concerns, like hyperpigmentation. Products addressing sun protection and eczema are also in the works. The goal is to be a "full-service skin-care brand," said Legend.
Lowe and Legend emphasized Legend's involvement in creating Loved01 and said that will continue after the brand hits shelves. Legend said he named the brand with the team he has worked with for years to conceptualize the look and feel of projects including his tours and his wine brand, LVE. Of the name, he said, "It ties very directly to who I am, my music and my message to the world. But it's also about that ritual of taking care of yourself, loving yourself and caring for the loved ones in your life." Notably, Legend's children are featured in the brand's campaign.
As the brand hits store shelves, it will start to put out videos in which Legend explains his skin-care routine and the way to use the products. He will also visit some stores across the country where the products are being sold, for "in-person moments," he said.
Ultimately, the products can be used by anyone. However, "we want folks with Black and brown skin to know that we love you; we celebrate your skin," he said. "We want to ensure you have the proper care for your skin, and we're going to be committed to doing that."
He added, "As we grow and build out the product line, we're always going to have that customer first and foremost in our mind."