To receive the Glossy Pop newsletter in your inbox every Friday, click here.
With a new three-piece skin-care collection, Estée Lauder is making a bid for Gen Z. The collection, dubbed Nutritious, debuts on Sunday and will be available at all Ulta Beauty locations. It includes the 2-in-1 Foam Cleanser ($27), which can be used as a cleanser or one-minute mask; the Nutritious Radiant Essence Lotion, a toner or essence type of product ($42); and another hybrid, the Melting Soft Creme/Mask, a moisturizer and mask ($48).
To promote the collection, the 77-year-old brand is launching a TikTok-focused campaign featuring four influencers, as well as teaming with college student-focused publication Her Campus on paid content and activations. Both initiatives are intended to meet Gen Z where they are, said Jennifer Johns, Estée Lauder vp of marketing for North America. "Partnering with relatable voices and encouraging product testing on TikTok is important for us in reaching this audience," she said. Regarding the Her Campus partnership, she said, "We know [college-age consumers] value the insights and opinions of their peers."
In addition, Estée Lauder will seed Nutritious samples to micro-influencers via an undisclosed gifting platform and will send mailers to 100 college-age influencers in the Her Campus network. Those will include a branded sweatshirt, a headband and a water bottle. At the same time, it will invest in paid content on hercampus.com and sponsor 30 "wellness-themed" sampling events across different college campuses. Different Her Campus chapters nationwide will be given funds to host an event based on the interests of the local community, whether it's yoga, meditation or a campus walk, Johns said.
Estée Lauder has tapped four TikTok partners, though Johns only shared two: Clarke Peoples (483,000 followers) and Miyaeva Renae (6.8 million followers). She said the creators were chosen for their alignment with the ethos of the new collection: "They are confident, optimistic and purpose-driven, with a focus on routine, holistic wellness and a balanced lifestyle," she said. They've been testing the products for the past 2-3 weeks and are permitted to incorporate them into their sponsored content however they see fit, she said. The hashtag being used for the campaign is simply #Nutritious, and content will begin to go live next week.
Johns said Estée Lauder chose Ulta Beauty as a retail partner, given its "youthful, eye-catching visual merchandising." She added that the branding and marketing for Nutritious "take cues from Gen Z themselves, [in that they] showcase authentic, approachable language and graphics, and a diverse cast of models that reflect the Gen-Z consumer."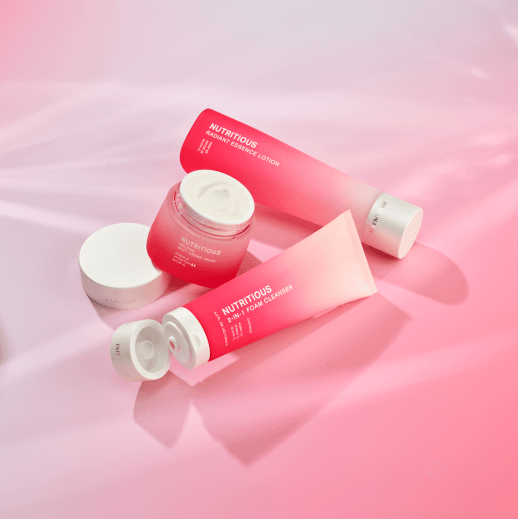 Estée Lauder previously went after millennials with a sub-brand, The Estée Edit, in 2016. Kendall Jenner and Irene Kim fronted the marketing. But it shuttered after a year.
According to Jennifer Palmer, svp of global skin-care marketing and product development at Estée Lauder, with Nutritious, "Estée Lauder saw an opportunity to create something specifically geared toward younger Gen-Z consumers looking for high-performance beauty products that are ingredient-focused, consciously formulated and designed to meet their specific skin needs."
Palmer said that developing the three-piece collection was the result of conversations with younger consumers around the world, who shared their skin-care concerns, "with the most prominent being that their skin was out of balance." Estée Lauder found this could be attributed to a variety of factors ranging, from "over-cleansing to staying up too late," Palmer said.
"Nutrition caters to grumpy skin that faces imbalances, such as enlarged pores, excess oil, irritation, redness and dullness," she said. She added that the products are lightweight, oil-free, non-sticky and refreshing in texture, to appeal to its intended demographic. And, she said, they were developed for and tested on a variety of skin types.
The fact that Nutritious was designed with this younger customer in mind is meant to be apparent at every touchpoint, Palmer said. "We know Gen Z values transparency, so we are leaning heavily into ingredient-focused communications around our 92-97% naturally derived formulas," she said. "We developed the packaging to be playful and approachable. Eye-catching colors, graphics and icons speak to the ingredients and benefits in a playful yet educational way."
She added, "Estée Lauder is making strides on all of our products through the lens of sustainability innovation. Nutritious is the first Estée Lauder collection to be verified by the Environmental Working Group," referring to the nonprofit that researches and analyzes the ingredient safety.
Mejuri launches year-long committee in support of reproductive rights
In partnership with the Don't Ban Equality coalition — a collective of non-profits including Planned Parenthood, the ACLU and others — Mejuri announced a yearlong initiative on Wednesday, timed to International Women's Day. It joined with like-minded brands including Nudestix, Bala, Saysh, Universal Standard, OkCupid, Tinder, Oui The People and Ashya on the yearlong project, called The Year of Action Committee, which will be multi-faceted in its execution.
Noura Sakkijha, Mejuri's co-founder and CEO, said there is a through line between the conception of the brand and the reason reproductive rights are an issue important to both her and the company. "I founded Mejuri on the premise of the democratization of the fine jewelry industry, addressing inequality while promoting inclusivity. The empowerment of the individual's decision to choose to buy themselves a piece of jewelry, which was not the cultural norm at the moment of the brand's inception, is part of a wider conversation on the fundamental right of the individual to design the life they want to live," she said. "The loss of access to comprehensive reproductive health care directly impacts people's ability to have access to resources that allow them to design the life they want. This affects the well-being, safety and overall potential of our community and team, and it is our collective responsibility to protect them and each other."
In the aftermath of the Dobbs v. Jackson decision of June 2022, Sakkijha said she knew she wanted to take action and make Mejuri's position known to its community — the brand has 1.1 million followers on Instagram. Mejuri was one of the earliest to respond, as reported in the Pop newsletter in May.
"We were one of the first brands to speak out at the time, but we wanted to do more. We are not experts in this, and we didn't know how we could have a direct impact," said Nicole Tapscott, CMO at Mejuri. "We reached out to Planned Parenthood to ask what they thought would make a difference. They said our voice and our reach were the critical ways we could help protect access to health care and advocate for equal rights, by keeping the conversation in the cultural zeitgeist."
Also based on feedback from members of Don't Ban Equality, Tapscott said, Mejuri realized there would be more power in numbers and invited other brands to participate in The Year of Action Committee, which will include a number of activations like a Los Angeles-based fundraiser hosted by actor and activist Sophia Bush at the end of March.
The main goals are to keep the conversation alive and the community informed. "We want our community to feel as educated as possible when they're discussing this with friends and families, and we want to make sure they have tools they can use to get access to resources," Tapscott said. "But we also want to create real meaningful action."
For Women's Health Week in May, the brands are organizing community walks. "We have an amazing fitness instructor partner provided by Bala and a mental health expert who will lead some of the discussions on the challenges that women face [within] reproductive health care, including infertility and miscarriage."
The Year of Action Committee will also partner with Planned Parenthood to provide workshops at American colleges, though details are still in the works. On the anniversary of Dobbs v. Jackson, it will create murals in major cities featuring impactful messages about reproductive health care. "The committee meetings are ongoing and we're always brainstorming new ideas for fueling conversation, [knowing] the majority of people in the United States are against the overturn of Roe v. Wade," Tapscott said.
Both Sakkijha and Tapscott said it's important that their efforts are not a "flash-in-the-pan." "Brands need to hold themselves accountable constantly, not just on commemorative occasions," Sakkijha said. "Many gender inequalities still exist. This is one of the most pressing issues at the moment, and it requires time and resources."
Though there was no mandate to make a financial donation to be a part of the committee, all of the involved brands have donated to Planned Parenthood, Sakkijha added. As for Mejuri, in addition to its financial donations, she said, "We have dedicated a significant amount of internal resources to bring the committee to life. We've also invested in external consultants to project manage and act as advisors, and [develop] our upcoming fundraising dinner. This was not something we had budgeted for a year ago, but I am committed to investing what it takes to make this as impactful for our community and all those affected."
Inside our coverage
Model Madison Headrick launches a beauty brand catered to travelers
Tatcha's experiential, meditative pop-ups are driving sales
Fig.1 enters CVS with a micro-influencer campaign
Reading List
Microinfluencers on Parade: The social-justice panties brand tries to go mainstream and still be cool
Beauty's new queen of N.S.F.W.
Naked ambition: Barbara Sturm is the jet-setting name behind one of the biggest skin-care success stories in recent history