It's been nearly a month since an opinion draft leaked revealing the likelihood that SCOTUS will reverse Roe v. Wade. Since then, Glossy has tracked how beauty and fashion brands have responded. Some have used Instagram — a modern billboard or press release of sorts — to take a stance, announce a donation or do both.
As of Wednesday, 62 beauty and wellness brands have signed on as partners of Don't Ban Equality, a coalition formed in 2019 and backed by nonprofits. They include Planned Parenthood Federation of America, the Center for Reproductive Rights, the American Civil Liberties Union, NARAL Pro-Choice America, National Women's Law Center, National Women's Law Center and the Center for Reproductive Rights, as well as venture firm Rhia Ventures. The latter conducts research on why access to reproductive health services is a business imperative.
"The beauty and wellness industry has long been a leader in workplace and gender equality. But gender and workplace equality cannot be achieved if access to reproductive health, including abortion, is restricted," Don't Ban Equality states on its website. Don't Ban Equality is running ads in support of the initiative on the websites of Vogue, Allure and Refinery 29, which link back to the statement that all brands involved signed. In summary, it states that each company believes that abortion rights should be protected and that true workplace equality is not possible in an ecosystem where access to reproductive health care is restricted. The full statement can be read below:
We believe that access to health care is fundamental to achieving equality in the workplace.
We know that when everyone is empowered to succeed, our companies, communities, and economy are better for it. But we will never have equality if reproductive rights are restricted.
Restrictions on access to health care, including abortion, significantly impact our industry. Our workers and our customers. Overturning Roe v. Wade could cause more than 36 million women in 26 states to lose access to this essential health care.
Restrictions on reproductive rights hinder our workers in and out of the workplace and negatively affect our
efforts to promote equality and diversity at our companies.
We believe in protecting the well-being of all of the people who keep our companies and communities thriving, day in and out. We also believe everyone should have access to comprehensive reproductive health care.
"We know that 80% of the American public thinks abortion should be legal, and in these unprecedented times, it's crucial for companies to engage in conversation and act in support of abortion access," said Shantelle Dockett, associate director of corporate engagement at Planned Parenthood. "Planned Parenthood is working with businesses, company leaders and employees to address the growing restrictions on abortion access because these laws harm workers, businesses, families, communities and state economies."
Since the leak occurred, Planned Parenthood has seen a groundswell of corporate support in the form of public statements and donations from beauty, wellness, fashion and other industries, too. Dockett said there has been a "significant uptick" in brands "engaging both publicly and privately around the Supreme Court draft decision to overturn the constitutional right to abortion."
Brands that have signed on to the Don't Ban Equality coalition include Kendo-owned Fenty Beauty, Fenty Skin, Ole Henriksen and KVD Beauty, as well as Glossier, The Body Shop, Halsey's About-Face, Andrew Fitzsimons Hair, Goop, Glow Recipe, Saie, Tracee Ellis Ross's Pattern Beauty, Starface and Beekman 1802, among others.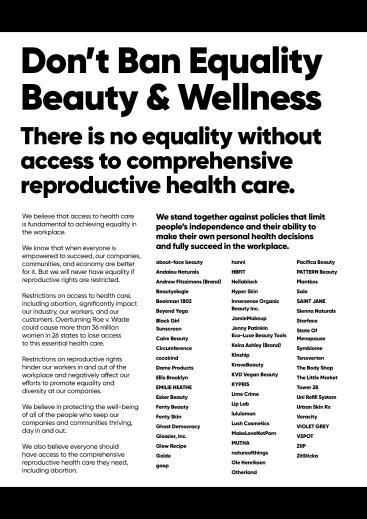 Representatives for L'Oréal, Estee Lauder Companies, Unilever, Coty and Revlon did not respond to requests for comment on why they have not joined the campaign.
"The Body Shop has campaigned for human rights for decades. We are a female-founded business, and empowering diverse women and girls is one of our core values. We have a long history of protecting the rights of women, girls and individuals across the gender spectrum," Lauren Higgins, The Body Shop's senior manager of U.S. public relations told Glossy.
The Body Shop has been a part of Don't Ban Equality since it first launched in 2019. "While there was concern around alienating customers, we never faced opposition," Higgins said. "Ultimately, we chose the approach that we felt first and foremost supported the health and wellbeing of our employees and the human rights of those impacted by the proposed restrictions."
Meanwhile, Kara Brothers, president and gm of Starface, stated the following in a May 25 press release for the campaign: "Teens and young adults are a huge part of our demographic, and we are committed to creating a world where everyone feels safe and supported to make decisions surrounding their reproductive health."
"The wellbeing of our people is our top priority right now – we live in challenging times," Higgins told Glossy, adding that The Body Shop has "shared ongoing internal messages of support acknowledging the heavy burden these bills place on our employees' wellbeing."
Following news of the leaked draft, The Body Shop offered paid time off for employees who "need space for self-care or for those who wish to take time off to volunteer or join local protests," according to Higgins.
"We also let employees know the availability of financial assistance for those requesting support for medical expenses or funds for out-of-state healthcare access through the Anita Fund, our employee relief fund financed by employees for employees," said Higgins. "The Body Shop is also working closely with Don't Ban Equality and Planned Parenthood to evaluate other internal actions should Roe V. Wade be overturned."