To receive the Glossy Pop newsletter in your inbox every Friday, click here.
All products featured on Glossy Pop are independently selected by our editorial team. However, when you buy something through our retail links, we may earn an affiliate commission.
Since May 2, when a draft of a Supreme Court decision that would overrule Roe v. Wade leaked, I have been watching the beauty and fashion industries. As both markets sell primarily to women, I wanted to see which brands would speak up and use their platforms to make a statement, announce a donation, direct their community to resources — or some combination of the three.
Tuesday morning after the Met Gala, I spoke to Andrew Fitzsimons, hairstylist to J.Lo, Camila Cabello and Khloe Kardashian, among others. Fitzsimons has been outspoken about the topic on his personal Instagram page, which has more followers than his namesake brand's page that launched about a month ago. His brand, Andrew Fitzsimons Hair, which was incubated by Maesa, is working on a response to the news, he said.
Then, I started compiling all responses from beauty and fashion brands. You can read the 23 responses from brands here, from LVMH-owned Benefit, which has nearly 10 million followers on Instagram, to months-old skin-care startups like Experiment and Squigs. Larger corporations have also issued statements independent of social media. Levi's published a post entitled "Protecting reproductive rights: a business imperative" on its corporate blog and stated that it would reimburse employees who need to travel out of state to obtain an abortion. Gucci, owned by Kering, announced it would do the same.
Historically speaking, the fashion industry has been fairly progressive, dating back to the AIDS crisis in the '80s. In 2017, the CFDA partnered with Planned Parenthood on a campaign called "Fashion stands with Planned Parenthood." In the two extremely saturated markets, 23 brands making social posts and two issuing statements is minuscule.
For the founders of the brands that chose to post, however, they said doing so was an easy decision, even though they know abortion can be a "polarizing" topic. "It threatens [women's] choices [and their ability to] design their lives. It was something easy for us to take the risk [on] and be vocal about. It impacts women's empowerment, which is the ethos of the brand," said Noura Sakkijha, founder and CEO of Mejuri, a direct-to-consumer jewelry brand.
Nicole Tapscott, CMO at Mejuri, had breakfast with members of her team the morning after the news broke Monday night. "We decided at that moment that it was a non-question that we were going to try and say something about this," she said. Tapscott reached out to Sakkijha about what the company might say. By Thursday, the company posted to its Instagram, which has 1.1 million followers.
Tapscott emphasized the brand wanted to ensure its donation (noted on the second slide of its social post, to Keep Our Clinics) had gone through and that messages of support were communicated to the internal team before its post went live. That included reminding leadership to support employees should they need to talk, take time to reflect or attend a protest. The post has over 15,000 likes and nearly 800 comments. One comment reads: "So proud of the company my daughters work at!" Unsurprisingly, others commented announcing that they would be unfollowing the jewelry brand.
"I would be remiss as a CMO if I didn't say there is a risk that we will get a negative reaction from some people in our community. That was something that had to be mentioned, but we felt it was worth it," Tapscott said.
Parade, the Gen-Z-focused, DTC underwear brand that launched in 2019, responded with a post on Instagram on May 3.
"I was texting with some of the team as the leak was reported and we wrote the email and response plan that night," Cami Tellez, founder and CEO of Parade, told Glossy. "Reproductive freedom has always been a core issue for us and we've never been shy about our unapologetic support.
"We spoke to some of our long-term nonprofit partners about how we could help and looked at what we could do immediately. [This] led us to turn on our 1% program to support grassroots organizations in key states, show up to the rally [held that day at Foley Square in New York] and share information with our thousands of engaged community members," Tellez said, referring to the brand's 300,000 followers on Instagram as part of said community.
"We've been working on a limited-edition collection to benefit organizations in this space since we know the decision would likely come in June," said Tellez, adding that the team plans to stay involved "As the landscape changes, the ways we can move the issue forward will change, too. We have to stay connected to the activists and organizations doing the work on the ground, so that we can take action in the most effective way possible for the entire movement."
For Lisa Guerrera, co-founder and CEO of Experiment, a new skin-care start-up, the question wasn't necessarily whether or not to say something, but instead how to do so in a way that makes sense. I asked Guerrera whether she and her co-founder were concerned about keeping investors happy. "No," Guerrera said, adding that, if she or any other founder felt that way, then the team "picked the wrong investors."
Guerrera landed on creating a meme, followed by a slide directing the brand's nearly 4,000 Instagram followers to Planned Parenthood, Keep Our Clinics and the National Network of Abortion Funds. "We just did what we felt. We were angry and upset, and we were tired that this is still an issue because it is a healthcare issue," she said.
"In a dark way, [it was] almost kind of funny, the juxtaposition with the Met Gala. You've got these wealthy celebrities who will never be touched by this a day in their life. If this [becomes] illegal, they have all the money in the world to get the healthcare they need. Other people do not," Guerrera said. "I found a screengrab and made a meme because that is what I know how to do. That post is our most-shared post." She noted that the brand wanted to make sure it did not confuse any followers, as abortion currently remains legal. "While this is still a draft opinion from the United States Supreme Court, it is enough to show their true intentions," Experiment wrote in its caption on Instagram.
"Beauty in the past has been very scared to speak up. In the past few years, we've seen a shift, from [all brands, at least those with a] millennial audience and younger. Gen-Z brands are even more outspoken, politically active or not even political, but act on their values. Gen-Z can smell B..S from a mile away," Guerrera said.
Collab of the week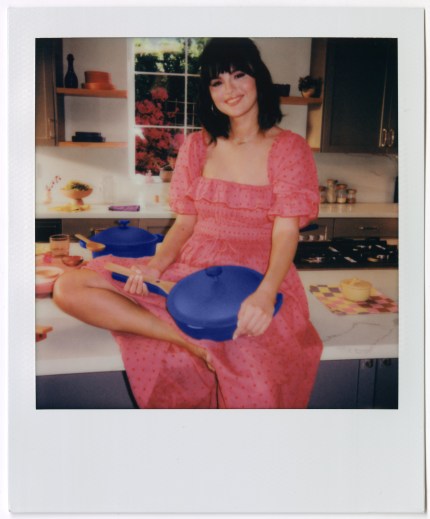 Selena Gomez teamed with popular DTC kitchenware startup Our Place on a collection of pots and pans. The collaboration sees many of the brand's classics in new, Selena-selected hues: Azul, a bright pop-of-color blue, and Rosa, a berry pink inspired by Selena's favorite Rare Beauty lip colors. Ten percent of the collection's proceeds will go to the Rare Impact Fund, the nonprofit affiliate of Rare Beauty, which works to expand mental health services for young people. Shop it here.
Inside our coverage
Gabrielle Union joins Dove's #DetoxYourFeed initiative
How Canopy is using collaborations to market humidifiers as a beauty product
The 'memeification' of Depp v. Heard now involves multiple beauty brands
Reading list
Where are all the plus-size spa robes?
Prism eyes are the latest TikTok trend coming for your under-eye concealer
This TikTok viral foundation is only $14 and 'as good as the high-end sh**'