After years of telling you what to buy, content creators and regular consumers on TikTok have decided to flip the script and tell you what not to buy — and they're calling it "de-influencing."
The hashtag #deinfluencing has 21.4 million views and has increased in popularity even in the past week.
"De-influencing" speaks to a convergence of cultural factors: There's a deluge of beauty launches, the beauty industry is more crowded — and wasteful — than ever, and influencers, makeup artists and beauty editors are overwhelmed by the sheer volume of stuff.
Still, the pace of the content mill and the demands on creators mean they feel pressure to have something to say about every launch by a buzzy brand — lest you be the one creator who hasn't tried the new Haus Labs foundation or weighed in on Fenty's latest lip stain.
However, it seems something's gotta give. Influencers can't gasp in shock at the mind-blowing amazingness of every product they try. Every product can't work for every complexion, every skin type — every person. And perhaps most importantly, consumers can't feel pressure to, let alone afford to, buy every new launch that gets buzz on TikTok.
Another explanation for "de-influencing," according to Larry Milstein, founder of Gen-Z consulting agency PRZM, is the rapidity of the TikTok trend cycle. "It's so rapid that creators are spinning new or creative ways to offer recommendations or provide expertise. There can only be so many variations of 'my favorite x" before creators flip the script and provide recommendations on things to avoid," he said.
Dara Levitan, a New York City-based makeup artist and content creator with 205,000 TikTok followers, has a series on the platform called "Makeup Monday," where she reviews products purchases or is gifted. In a sense, she was early to the more critical trend, in that she added a "disclaimer" to a September video, urging her followers not to give in to any app-induced pressure they may feel. "Do not let anyone, including me, make you feel pressure to go spend money and live beyond your means, just to keep up with all the new makeup and all the new products that are constantly dropping. If you have a product that is beautiful and it works for you, stick with it," she said. The video has 550 comments, many of which praise Levitan's introductory statement. For example: "I followed so quick cuz of the intro statement," one commenter wrote.
Levitan recently posted a video labeled "Makeup I would not buy again," in which she mentions Pixi blush sticks, noting that she loved the colors, but found the formula too sticky, as her hair stuck to her cheeks when wearing it.
An influencer who only ever praises products could quickly be deemed untrustworthy — a topic that fuels ongoing, heated debate, whether it's about the veracity of an influencer's endorsements and ads or their potential use of filters.
A content creator who goes by Elle Grey, or @basicofcourse on TikTok (8,000 followers), pointed to the impact of the economy on consumer spending and the ability, or lack there of, to purchase based on influencer recommendations. "In the last 12 months, we've seen an extreme slowdown in the global economy. … As we enter into a recession, people are starting to feel the effects and are taking a closer look at their spending and consumption," she told Glossy. "Many [people] have gotten fed up with the constant barrage of micro-trends and 'must-have' items, especially as they take a closer look at their bank accounts." Grey, this week alone, has posted a number of "de-influencing" videos, as well as videos talking about how this trend relates to conscious consumerism at large. In one video, she lists buzzy items (Charlotte Tilbury makeup, On Running sneakers, the Stanley cup and "new makeup to look like Alix Earle"), many of which have gone viral on TikTok, and tells her followers they don't need them.
Brands can take "de-influencing" as an opportunity to receive honest feedback. Levitan said she's seen plenty of videos where creators comment that they love a product, but only for the packaging, for example. In some cases, the brand responds via a comment. Other times, they'll introduce a repackaging or reformulation, she said.
"Rather than react defensively, this can be an opportunity for brands to respond with openness and honesty through effective community engagement," Milstein said. "Is there a reason something fell short? Are there ways this feedback is being handled or informing future improvements? Audiences aren't just watching videos on TikTok, they are reading the comments. So having a plan to address constructive criticism is key."
Maddie Wells (300,000 followers), also started "de-influencing" before it had a name. She created content while working in beauty retail and started a series where she'd comment on items she noticed were the "most returned." In a recent example, she mentions a Mario Badescu product, an E.l.f. primer and an Urban Decay foundation. Beneath the video, commenters debate the product or chime in to defend it.
"I was seeing people manically buying products just because they saw someone say it was good," she said, noting that this often meant they weren't taking their own skin type into account. "Then they would be disappointed when the product didn't work or that it was just a really good marketing tactic by a brand who paid influencers to say they liked it."
Wells also sees the "de-influencing" trend as an opportunity for customers and influencers alike to lean into the fact that products cannot serve all people equally. "I hope brands and influencers start thinking about who [a product] would be good for — what skin type and what skin concern, be it mature skin, dark spots, shade range or sensitive skin," she said. "This could be a trend that allows micro-influencers to shine because they could reach their niche."
Today, there's almost as much TikTok content about influencer marketing as there is influencer marketing itself. Clearly, even people whose daily lives have nothing to do with the beauty or marketing industries have wised up to both. "People are starting to catch on to the fact that brands pay for the opinions of influencers. They want truthful, authentic reviews," Wells said.
According to Influencer Marketing Hub, the influencer marketing industry was worth over $16 billion in 2022, and will continue to grow. "As TikTok increasingly becomes a search engine among Gen Z, knowing what to 'avoid' can sometimes be just as critical as researching what to buy. It will be interesting to see how this converges with potential paid content down the line," Milstein said.
Even though "de-influencing" may cost brands some impulse-purchase revenue, brands that listen to constructive criticism can only "establish stronger trust and improve customer retention," she said.
Spate trend watch: Water-based beauty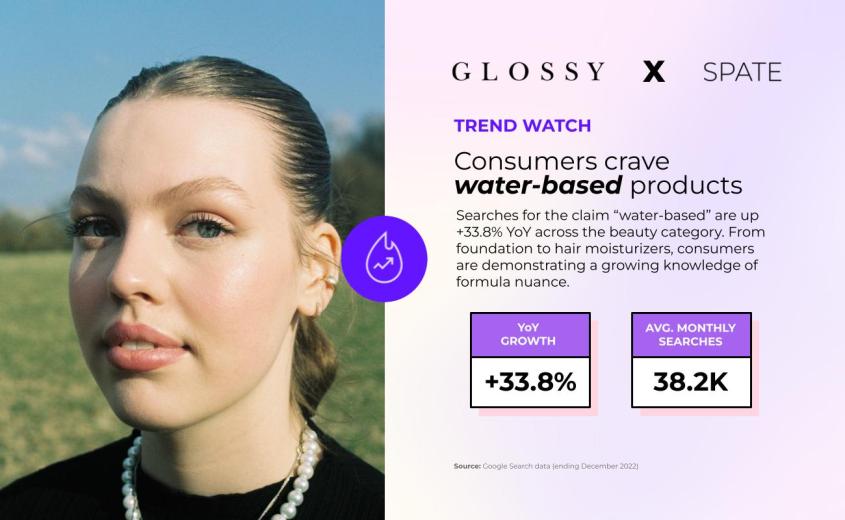 Thanks to social media, and cosmetic chemists and other members of the beauty industry becoming influencers in their own right, it's now easy to be a well-informed consumer. Since the early days of the pandemic, consumers have demonstrated a growing knowledge of ingredients, especially when it comes to skin care and hair care. Many have proven that they won't trust a product unless its efficacy can be tied to at least one ingredient, whether that's niacinamide, tretinoin or rosemary oil.
As consumers continue to flex their ingredient knowledge, they're also gaining an understanding of formula nuance. Across the beauty category, searches are rising for "water-based formulas," up +33.8% since last year, according to digital trend forecasting agency Spate. Consumers are searching for water-based foundation (+60.9% YoY), primers (+40.4% YoY), moisturizers (+29.6% YoY), hair moisturizers (+21.2%) and even nail polish (+21.7% YoY).
"As this trend continues to grow, brands have an opportunity to highlight preexisting water-based formulas or create new ones. This is especially true as most searches across water-based trends are unbranded," said Yarden Horwitz, Spate co-founder.
Inside our coverage
Exclusive: Tarte CEO Maureen Kelly sets the record straight on the brand's influencer trip to Dubai
Celebrity brow artist Kristie Streicher launches her own brand
Too Faced taps creators for traditional ads celebrating Better Than Sex
Reading list
Is sea moss the big superfood of 2023? Kourtney Kardashian says yes
Bobbi Brown doesn't want you to contour with her new Jones Road bronzers
Gen Z consumers are skipping deodorant — will they foul the deodorant market?