All products featured on Glossy Pop are independently selected by our editorial team. However, when you buy something through our retail links, we may earn an affiliate commission.
For its first-ever TikTok campaign and challenge, Haus Labs did not tap an agency to write a jingle about makeup. Instead, it leaned on its famous founder. The campaign, which launched on Monday, was spurred by a post by Gaga to her 7.7 million TikTok followers. It puts a spotlight on the brand's newest launch, the Triclone foundation, which launched on September 8. The product has quickly become the brand's No. 1 bestseller.
"We knew we wanted to do something groundbreaking and fabulous for our groundbreaking and fabulous foundation. … TikTok is all about transformation, it's all about a viral sound. It's a place for authenticity that welcomes everybody, at all levels. We knew when we launched the foundation that our big bet, in terms of time and money spent [outside of product development], was going to be TikTok," said Kelly Coller, Haus Labs' CMO.
"TikTok has transformed how people discover and shop for beauty products, and Haus Labs TikTok has experienced exponential growth. From May to September, we increased our TikTok followers by 151% and social engagement by 94.2%," said Ben Jones, Haus Labs' CEO, noting that they beat out more than 20 makeup competitors.
The campaign will center around a new audio clip, designed to riff on an existing Lady Gaga meme, pictured below.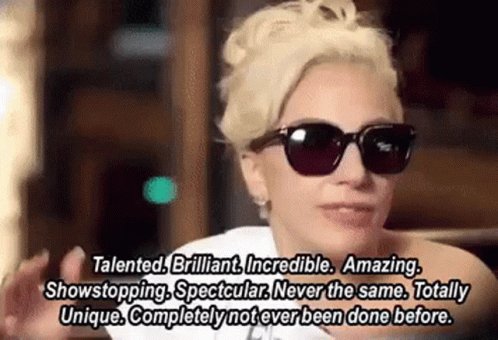 In the new audio, Gaga is heard saying "groundbreaking, totally epic, smooth like butter, second skin, whoa bitch…" among other dramatic statements that speak to the transformative effect of the new foundation. Both TikTok and Sephora partnered with Haus Labs to create the campaign. Those who participate in the challenge, using the original audio and the hashtag #HausLabsFoundation, will be entered in a contest. One winner, chosen at random, will receive a $1,000 gift card to shop at Sephora.
After Gaga's TikTok introduction of the campaign goes live, the brand has 10 other creators lined up to post, including Mikayla Nogueira and Spencer Hedges. Hedges, aka @PaintedBySpencer, has already called the product the "foundation of the year."
The creators selected for the campaign span all "ages, shapes, sizes and [races]," said Coller. "Some are the biggest folks on TikTok and some are micro-influencers. We wanted it to be a range and very diverse, because that's exactly what our foundation is about. It's also what our brand is about," she said.
"Mikayla [Nogueira] is an incredible Tiktok creator; we absolutely adore her for many reasons. She's spoken about her initial troubles with skin care. She is just a very authentic person, who is known for real reviews and real transformations. And we love the conversation that she and our founder have been having online about mental health," Coller said.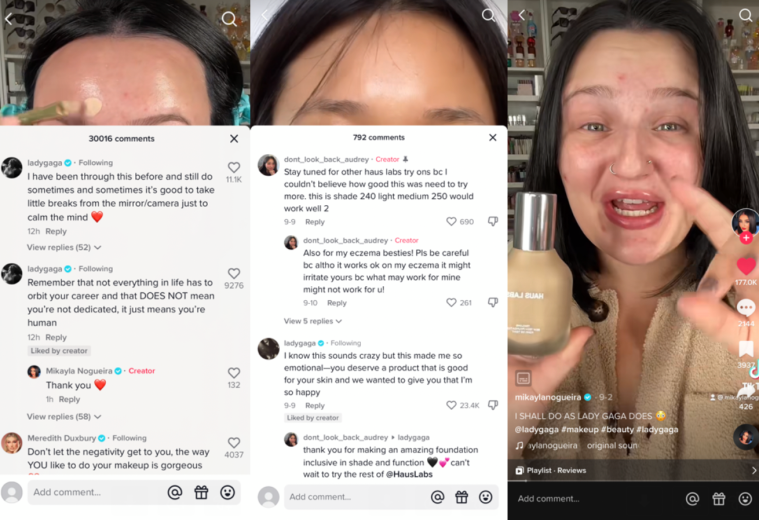 Dave Marchi, Haus Labs' vp of brand marketing, PR and partnerships, noted how "actively engaged Gaga is at all hours of the day, no matter where she is." He said that he often sees content about Haus on TikTok, and "Gaga has already commented."
"She is so dialed in and so excited about the foundation and TikTok, in general," Marchi said.
The brand is confident that the campaign will drive brand awareness, as well as inspire TikTokers to try the foundation themselves — though using it in one's content is not a requirement to win the contest. "We knew that this transformational product, with this a-ha moment was going to work on TikTok. We knew that having a new viral sound would explode the internet. And we also know that, when you have Gaga, she will make it hers, make it better and explode it in a way that nobody else can. It's sort of like the Holy Trinity of recipes," Coller said.
Visit the Pop Shop to browse all products featured in Glossy Pop.