Etsy's shares fell last week when it was accused by the research firm Citron of being a haven for counterfeit goods. Citron focused its criticism on the impact of these counterfeit sales on the brands the products copy. But there's another contingent harmed when marketplaces harbor counterfeit goods: other sellers.
According to the Indie Sellers Guild, a non-profit organization made up of nearly 3,000 independent sellers on platforms like Etsy and Amazon, the presence of counterfeit and mass-produced goods on Etsy poisons the well for the legitimate handmade goods on the platform. Etsy is meant to be a place where consumers can buy handcrafted goods from individual creators, said Mattie Boyd, a member of the ISG's member-elected board of directors. But, they said, it's obvious that there are many sellers relisting items from Alibaba and other e-commerce sites and claiming they're handmade.
This can be seen in the dozens of identical product listings by different sellers on Etsy, many of which even use the same product imagery.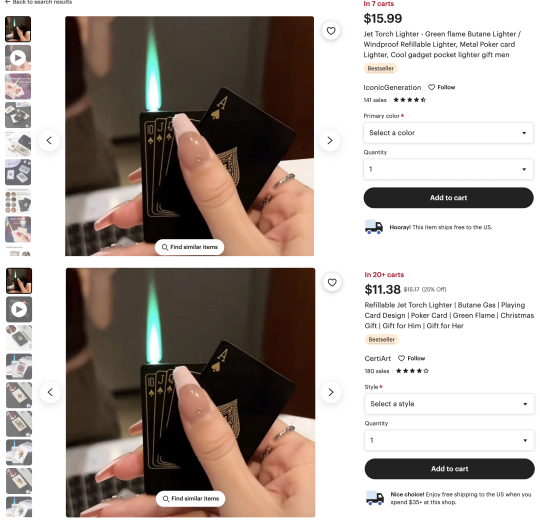 "It puts legitimate sellers at an unfair disadvantage against the ones who just sell something from Alibaba at a huge markup," Boyd said. "And it puts buyers in a tough position where they don't know who to trust when they're looking for legitimately handmade goods."
The criticism from sellers could undo Etsy's reputation as a place where consumers can shop small. In the company's earnings report on Wednesday, when it reported $4 billion in revenue, Etsy noted strong performance on Small Business Saturday and Giving Tuesday. "We believe [this] indicates that buyers associate Etsy with shopping small and making a positive impact with their purchases," a company statement said.
Boyd is one of the founding members of the ISG, which was formed last year after a mass strike by more than 30,000 Etsy sellers protesting fee hikes for sellers. After the strike won some small but significant concessions from Etsy, the ISG was formed to continue fighting for more favorable terms for sellers over time, Boyd said.
Because sellers on an open marketplace like Etsy are not a unified workforce, unionization, in the traditional sense, is impossible. Instead, the ISG is the community of sellers' best attempt at forming a unified front, through which they can advocate for sellers and negotiate with the platform companies. Sellers face a similar problem to, for example, Uber drivers or Postmates deliverers who are classified as contractors rather than employees and don't get the same benefits and protections that employees do. Those jobs have also formed loose coalitions across companies, like Los Deliveristas Unidos, to collectively push for better conditions and terms.
Boyd said the same principle could also apply to people who make money from — and for — a digital platform, such as YouTubers and OnlyFans creators. Right now, the ISG is working with DuPaul University to survey a wide pool of sellers across marketplaces to put data behind some of these concerns. The ISG will publicly release the results this year and use them to create an accreditation program to help sellers find marketplaces with better practices.
A spokesperson for Etsy told Glossy that the company will be releasing a transparency report in the coming weeks explaining how it has invested in fighting counterfeits on the site.
"Since 2018, we've quadrupled our investments in the trust and safety of our marketplace. In 2022 alone, we put $50 million toward these efforts," the spokesperson said. "We added sophisticated tools to help automatically detect problematic listings and we have dedicated teams that work to remove infringing items."
Throughout the course of the Etsy strike last year and afterward, the ISG has received very little official communication from Etsy, even as the company has given into some requests.
"It is obvious that management has not done enough to control this problem, which calls into question the quality of its internal metrics reporting and the viability of its revenue base," said Andrew Left, founder of Citron Research, which released the report on Etsy counterfeits. "Etsy has become a company whose corporate culture on transparency and reporting should be challenged."
One of the ISG's early problems was with Etsy's Star Seller program, a badge given to sellers who meet certain criteria. It gives sellers top placement in search results, as well as other benefits. The ISG alleged that the Star Seller's requirements, like completing a minimum of 10 orders in a three-month period, incentivizes the Alibaba product flippers at the expense of creators who are actually hand-making their goods. Etsy changed the policy in May 2022 to require only five orders, without acknowledging the ISG's campaign directly.
While much of the ISG's work has focused on Etsy, Boyd said similar problems exist for sellers across marketplaces. And Etsy sellers unhappy with sudden 30% fee increases, as the platform enacted last February, can't just switch to selling elsewhere, since other big platforms are also frequently home to counterfeits.
"There are a few alternatives around — GoImagine is one that comes to mind — but Etsy really is the leader of the pack when it comes to handmade e-commerce marketplaces," Boyd said. "So even if any of the competitors have more favorable policies, users would have to weigh that against a much smaller pool of buyers on those other sites."
Amazon has regularly been accused of allowing counterfeit goods on its platform, so much so that it has scared off some luxury and fashion brands that have avoided selling there.
When asked why the ISG is set on improving things for sellers at Etsy rather than encouraging sellers to go elsewhere, ISG president Kristi Cassidy said it's a combination of practical reasons and pride.
"We can't lose the income Etsy brings, even as that income keeps shrinking. But it's also the knowledge that Etsy has this huge buyer base because of us," Cassidy said. "We built Etsy by making awesome stuff, being awesome to do business with and promoting the heck out of it, back when it did have amazing terms — before the Wall Street takeover of 2017. If we left, we'd be throwing in the towel on more than a decade of hard work and starting again elsewhere, in the hopes that we'll be treated better in the future. It makes more sense to fight for the marketplace we already built than to try to build another."