Light on beauty YouTubers and heavy on TikTokers, VidCon's pandemic comeback showed the changing face of the influencer industry. 
Held last week, the annual Anaheim-based gathering brought together influencers, their fans and industry professionals from across a wide swathe of platforms and categories. Although originally a YouTube-centric event, mobile ring lights outnumbered vlog cameras thanks to TikTok's dominant presence as the official partner of VidCon for the first year. When it came to the beauty influencers' presence at the event, that meant more "multi-hyphenate" TikTok stars and fewer members of the original beauty YouTube generation. 
"In previous years, beauty creators definitely had a strong hold on VidCon programming and audiences. In 2022, we noticed a shift towards mostly featuring personality-based creators, comedians and gamers. Beauty creators certainly were involved, but with all the noise of so many other genres, it felt lost," said Jake Webb, founder of Slash Management, which represents talent including Nikita Dragun. 
Beauty influencers certainly had a presence at the event, however.
"As a whole, VidCon doesn't specifically focus on beauty, but I think that's a benefit and a strength to beauty creators," said Hyram Yarbro, skinfluencer and founder of Skincare by Hyram, who took part in a panel to discuss his brand. "As we've seen over the course of the last year on beauty YouTube and beauty TikTok, social media has really started to change," with less consumption of "tutorials and the information-dense videos," he said. "People are changing their viewing habits, and they're really interested in seeing a more diverse stream of content." 
"The beauty tutorial is dead. Beauty creators need to adapt to that until the trend for tutorials circle back," said Webb, who noted that his client Dragun has not posted a YouTube tutorial in 10 months. She is, however, active on Instagram, Snapchat and TikTok. 
Many of the featured VidCon headliners who have done beauty content or brand partnerships are known primarily for non-beauty posts, such as TikTok stars Charli D'Amelio, Elyse Myers and Anna X Sitar. 
"Recently, I've been trying to figure out what category I fit into," said TikTok influencer Riley Hubatka (8.6 million followers), who appeared on the beauty-focused "State of Glamour" panel with Aysha Harun (333,000 Instagram followers) and Alannized (full name Jose Alan Macias Perez; 853,000 Instagram followers). Hubatka's big break came after she initially gained around a million followers in the span of a month on TikTok from the virality of her "point of view" videos. Now, she estimates that 75% of her content is beauty or lifestyle-focused; she also just launched a nail collab with Olive & June. "As I've gotten older and I've gotten more into the beauty industry and learning about different makeup brands and different techniques, a lot of my content has kind of shifted that way naturally," she said. 
The focus on non-beauty-specific influencers coincided with the dominance of TikTok at this year's VidCon, which was founded by YouTubers and was originally held in partnership with YouTube. One panel sponsored by TikTok was called "Modern Multi-Hyphenates," since TikTok's top stars often simultaneously function as beauty influencers, dancers, fashion founders, pop stars and/or actors, all in one. 
"There are so many different kinds of people that are learning or contributing to the beauty world," said TikTok star Makayla Did (1.1 million TikTok followers), who participated in the TikTok-sponsored "Beauty on a Budget" panel. While beauty YouTuber Louie Castro took part, the rest of the panel was comprised of TikTokers famous for a range of content, including Jasmine Gonzalez (5.3 million followers), who is known for her dance and lip-sync videos, and Adam Ray (6.8 million followers), who rose to fame playing the comedic character "Rosa."
Did is especially known for her ultra-viral "I did it" audio track on TikTok. In addition to the beauty panel, she took part in a talk about music. She is also a musician and posts singing, dancing and comedy videos, in addition to beauty. 
But the original beauty YouTuber presence was still present, albeit smaller than in previous years.
VidCon is "R&D for me as an OG or YouTubing creator," said One/Size founder and original beauty YouTuber Patrick Starrr, who participated in a talk on the "industry track" portion of the conference for professionals. He uses the conference "to see how platforms are activating and what their priorities are."
He added, "I also get insight from my peers in this space [on] what's working for them and how I can implement change and pivot my strategy."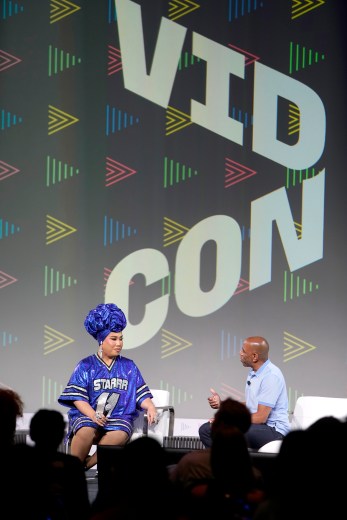 "Our No. 1 way of converting is influencer partnerships," said Starrr of his brand. "Connecting commerce to content is our No. 1 strategy." 
At Starrr's talk, he emphasized that he has steered clear of all of the drama that brought down an earlier generation of top beauty YouTubers. Those involved in the various "Dramageddon" meltdowns like Jeffree Star were absent from VidCon events, apart from a James Charles appearance at Instagram's and Amazon's VidCon afterparties.
Despite the dominance of TikTok at the event, beauty creators emphasized that they're using a range of platforms. In addition to TikTok, the other big players in social were all present. YouTube, Spotify, Meta, Discord, Pinterest, Snapchat and Twitch were also event sponsors, with multiple panels dedicated to each. Amazon and Roblox were also in attendance as they're beginning to bet big on influencers, as well.
Starrr said TikTok, YouTube and Instagram are his top three platforms. "Coming from the age of long-form, horizontal formats, it's so weird to see such little effort for a 15-second, 30-second video, because I was used to capturing [content] on my professional camera, editing on my desktop, exporting, uploading, and having that full process and experience. Now it's all done within your phone, and you're able to connect much easier and faster. I'm adjusting to it, but it's a lot more fun." His talk was a conversation with Malik Ducard, chief content officer of Pinterest, where Starrr uses the platform's new creator-focused video features.
"Out of every single platform, I've had Pinterest the [longest], since 2010 or [20]11," he said. 
Creators have been using TikTok-style short video formats across platforms, including Instagram's Reels and YouTube's Shorts. 
While these other platforms "are trying to be like TikTok," Jasmine Gonzales said of competing platforms, "I haven't seen anything better than TikTok," when it comes to engagement. She said she currently prefers posting on Snapchat due to its better rates for engagement than other platforms, as part of its creator payment program. 
Another digital medium being hyped at the event: the podcast. On June 16, Yarbro became the latest beauty influencer to break into podcasting with the first episode of his new podcast, Justaposition. With Spotify as a sponsor, VidCon featured several talks on podcasting, including the growing popularity of video podcasts.

"In this new age of so much content creation and so many people engaging with content, we see a very funneled vision of who a lot of people and creators are, but don't really get to learn a lot about what's going on behind the scenes," said Yarbro of his new podcast's differentiator. 
Yarbro's brand Selfless by Hyram was among several beauty companies that were on-site to engage with creators and fans. It sponsored a booth on the main floor. TooFaced was present to meet with influencers and hand out gifts, while beauty brands Pixi and Pop Beauty also sponsored booths. 
While short video is a dominant post format for now, creators expect to see changes in the social media landscape.
"People are eventually going to want something in maybe a 15- or 30-minute setting, again. For the next few years, we'll experience the success of short-form content, but people really want to connect and get to know a person," predicted Starrr.