All products featured on Glossy Pop are independently selected by our editorial team. However, when you buy something through our retail links, we may earn an affiliate commission.
Menopause has become a category unto itself, within beauty and wellness. And the brands making it mainstream are increasingly popping up at Target and Ulta Beauty.
Last April, Glossy assessed the growing marketplace, asking, "More menopausal beauty and personal care brands are coming to market, but is the world ready?" It spotlighted brands including Womaness, which launched at Target, and State Of, now led by Stacy London. And of course, there are other brands in this space, as well, including La Maria and Pause Well-Aging, many others. In a sign that the space continues to gain traction, Womaness has just expanded to Ulta Beauty. In the fall, Naomi Watts will partner with Amyris to launch a brand in the menopause space.
The latest entrant to the space is Phenology, a brand backed by health tech brand incubator, Hologram Sciences, which is launching Monday, May 2, with ingestible supplements (including gummies and a caffeine and L-theanine-filled mint), topical products that cool during a hot flash, moisturizer for menopausal skin and even tech, a true point of difference for the brand. It will offer a "first-of-its-kind, at-home hormone testing lab," which will allow users to test and monitor their progesterone levels via their saliva.
A corresponding app "facilitates an assessment to help you understand where you are in menopause, as menopause has multiple stages," Graham said. "It's our way to help women feel supported through the journey, and it's the way that we deliver coaching. You can get free coaching via text from people who are specially trained in lifestyle, behavioral modification and other things that you can do to help decrease your symptoms and make you feel better." Usually, the "coach" is a registered dietitian with continuing education on menopausal issues, and they offer guidance on nutrition, meditation and mind-body connection techniques, she said.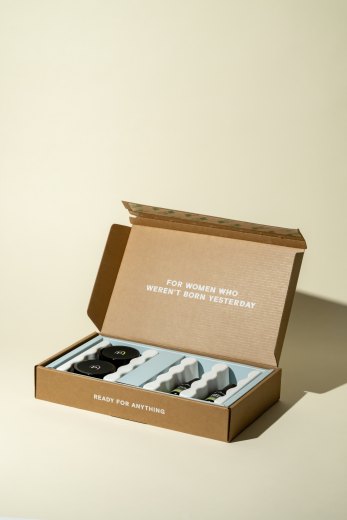 "There are three universal truths in [the conversations we have with women about menopause]. One is them saying, 'I feel dismissed by my doctor.' The second is, 'I'm totally unprepared; I don't know what menopause is. My mom never told me, and I don't talk to my friends about it.' The third is a hesitancy on their part to actually take action and get themselves relief. That's a pretty devastating thing to hear when you're interviewing hundreds of women — that they don't feel like they're deserving of treatment and care until things get 'bad enough,'" said Jessica Graham, general manager of Phenology and CMO of Hologram Sciences.
The impetus for Phenology, Graham said, came from the question, "How can how can we help women see menopause as a transition to a period of their life when they get to come first?" The beauty industry offered an entry point, she said. After all, "Where do women feel like they're at center stage and not feel dismissed? Where are they a part of leadership in a real way? That's the beauty industry, right? And so when we were thinking about how we would deliver our message, we wanted to wrap it up in an affirming experience that would also feel familiar to them," she explained.
Meanwhile, menopause-focused brand Mojo Wellbeing, launched in December, was created by Unilever's in-house incubator, The Uncovery, and currently sells three products on Amazon: two serums and a cooling mist.
"There is still a huge lack of medical resources and research, a lack of educated doctors and often misdiagnosis. In a study of 5,000 OB/GYN residents, by John Hopkins University School of Medicine, only 20% reported receiving menopause training, while 70% noted they would like to receive this," said Madison Li, global brands director at The Uncovery.
The brand has sought to address some of these shortcomings through its own work and content creation. "From [internal studies] we've found that 42% of perimenopausal women find it hard to know what products are best for them, and 32% don't know what brands to trust. When purchasing solutions for perimenopause and menopause it's important to first understand what symptoms you're experiencing," Li said, adding that the resources Mojo has on its blog are intended to help. Of the fast-growing market, she said, "The more brands that break through in the menopause category, the more awareness there will be around the topic, and hopefully a societal change will follow. It's time to let the stigma go."
The category's growth now goes beyond just topical, over-the-counter products, too. BTL Aesthetics, an aesthetic tech company, has recently debuted Emfemme 360, a non-invasive radiofrequency treatment that aims to help optimize lubrication, vaginal laxity, and sexual arousal both after childbirth and in relation to symptoms of menopause. BTL is also the company behind other common aesthetic treatments like EmSculpt, a muscle toning/fat reduction treatment often performed alongside Botox in dermatology offices.
"The key to the development of this technology is off the back of how women's bodies change as they age, as well as after childbirth," said OBGYN Dr. Kimberly Evans. "The stretching of the tissues and decrease in estrogen leads to an increase in laxity and a decrease in collagen. Decreasing estrogen leads to a decrease in blood flow, sensitivity and moisture. This technology was developed to allow women to address these concerns and lead more fulfilling lives," she said.
"The space is getting crowded, yes, but, a rising tide floats all boats," said Graham. "And when you're a woman's health advocate, there's nothing bad about increased investment, increased innovation, increased awareness, increased preparedness — which means increased relief for women. Providing choice for women is amazing. We're really glad to be part of a groundswell of taking this issue seriously."