Two weeks ago, several pre-teen and younger youths served as sources for an edition of this newsletter titled "Get Ready With Me, 9-Year-Old Edition — Aspiring beauty influencers are getting younger." All were chosen because they spend time on TikTok and use it to source recommendations about skin care and makeup — with which they're enthralled, a fact they made clear. Throughout the conversations, one name kept coming up: Katie Fang, a 17-year-old TikToker with 3.9 million followers at the time. She now has 4 million.
To get to the bottom of the Fang fascination, Glossy Pop booked an interview with her.
Fang dialed into the Zoom call from the University of Victoria, on Vancouver Island, where she is a freshman. She's had TikTok since it was Musical.ly, she said. During Covid, she would post outfit videos to an account that reached 120,000 followers. She eventually closed that account and started a new one. As made evident while reporting the story on the 9-year-old influencers, it's common for members of the younger generation to close accounts, open new ones or operate multiple accounts at once.
Then one day in February 2023, she created a video capturing her response to getting called into the restaurant where she worked. "I was on call that day, and I was so sure I wasn't going to work," she said. "So when I had to get ready, I was bawling my eyes out. And I was like, 'Oh, my God. This is so funny.' So I recorded myself on TikTok getting ready while bawling my eyes out. And that video just took off; it went viral." To date, it has 8 million likes and 39.5 million views. At the time, she had just 800 followers. She hit 1 million followers during the following month.
Following the success of the first video, Fang posted a makeup tutorial and then her first "real Get Ready With Me," she said, noting that she continued to see traction. "I was like, 'Oh, people actually like watching these videos.' And then I just started consistently posting them every day."
The rest, one could say, is history.
Fang is a frequent user of what is now called "preppy" beauty brands. They include brands with pastel packaging and pump-style packaging, like Drunk Elephant with its pump-jar moisturizers, she said. Her favorites include Glow Recipe, The Ordinary, Saie, Sol de Janeiro and Kosas. Her vocal love for Glow Recipe's Watermelon Glow PHA + BHA Pore-Tight Toner has been a boon for the brand. "Since Katie started using the Watermelon Toner in her routine, we've definitely noticed an increase in Watermelon Toner starring in different GRWM content globally, especially among the younger Gen-Z creators on TikTok," said Glow Recipe co-founder Christine Chang.
Glow Recipe, Fang said, was the first brand to reach out to her. "I post once every month for them, and that's pretty much it. It's like a six-month thing, and it ends in December," she said. Her other current partners include The Ordinary, Saie and Function of Beauty. Fang has also worked with Skims, Drunk Elephant, Sol de Janeiro and Current State.
As for what's resonating with her followers, Fang said, "Glow Recipe is kind of what made me take off, because I would always be using its toner in my Get Ready With Me videos and people would be like, 'What is that? What is that?' And then, it just became 'the' toner; it went super viral. … They also like anything that's 'clean girl' — like, Saie and Kosas are very 'clean girl makeup,' and that's what I like to use."
In July, Fang was signed by the talent agency United Talent Agency. "She first came onto my radar in June, when she had around 2 million followers," said Scarlett Perlman, an agent at UTA. "[She makes] content that grabs my attention. And we're looking for [creators] with high engagement rates. Katie has 4 million followers and is regularly getting over a million views a video — that's a 25% engagement rate, when the industry standard is 2-5%."
On the Zoom, Fang was refreshingly normal despite being in high demand. Days later, she traveled to NYC from Vancouver Island to join the ranks of influencers creating content with Scarlett Johansson at The Outset's NYC office.
"Sure, there's aspirational parts of her life where people are really looking up to her," Perlman said. "But it's the relatability that people are looking to connect with on a daily basis." She noted Fang's posts showing her "graduating high school, going off to college and crying when her mom dropped her off," which are "things that a lot of her followers are going through or will be going through."
"Her career is only just beginning," Perlman said.
Since posting her first of six YouTube videos two months ago, Fang has accrued 137,000 followers on the platform. On Instagram, she has 240,000 followers.
"She's just breaking the ice, when it comes to officially partnering with brands," Perlman said. "She's wanted to be organic, when it comes to her content, up to this point. … So we're being strategic by making sure each partnership that she does makes sense and is building upon what she already uses and talks about."
Both Perlman and Fang teased an upcoming brand partnership, which they described as Fang's most exciting to date. UTA secured the partnership after presenting the brand with a "compelling case study" about Fang's influence.
Young girls — many below TikTok's 13-year-old age threshold — are watching Fang's content and buying products based on her recommendations. To put things in perspective, Fang is four years younger than 2023's other biggest breakout star, also known for her "Get Ready With Me," content, Alix Earle. Of the newfound responsibility, Fang said, "I feel like they do take a lot of advice from me. I used to be like, 'Oh, I'm not gonna go to class today.' But now … I don't want to promote that. I don't want people [to think] it's OK to not go to class! It's good to say, 'OK, I have a long list of things to do today. I have three classes today, … and I have to get all these assignments done."
Though Fang has been occasionally venturing outside of her tried-and-true Get Ready With Me format and creating some lifestyle content, she said she has yet to tire of the Get Ready With Me format.
"I use different products in almost every video — so in each video, my audience is looking at something different. … They're like, 'Oh, what is she using today?'" So, keeping it fresh is part of the recipe, but Fang also recognizes her own relatability. "You don't have to have a crazy life to make a Get Ready With Me interesting. Just having things to say that are relatable to others makes it intriguing. That's like the most significant thing, for sure."
Collab of the Week: Jenny Bird x Favorite Daughter
Two "it" girl favorite brands — Jenny Bird, known for its chunky statement jewelry, and Favorite Daughter, Sara and Erin Foster's popular clothing line — have teamed up to create two holiday-gift-ready sets. Each contains a pair of hoop earrings and a coordinating ear cuff. "We try to be solution-oriented for our customers. So [with this] collaboration, we wanted to create essential wardrobe pieces that complement our ready-to-wear assortment," said Sara Foster. Jenny Bird, the founder and creative director of Jenny Bird, echoed the sentiment: "We instantly recognized our shared sensibility for creating a wardrobe of high-quality essentials. And [we have a] shared community of multi-hat-wearing women who need their purchases to be workhorses. Each kit provides an ear stack of steady Eddies you can rely on." Shop the gold here and the silver here. 
Spate Trend Watch: Glitter lips are sparkling on TikTok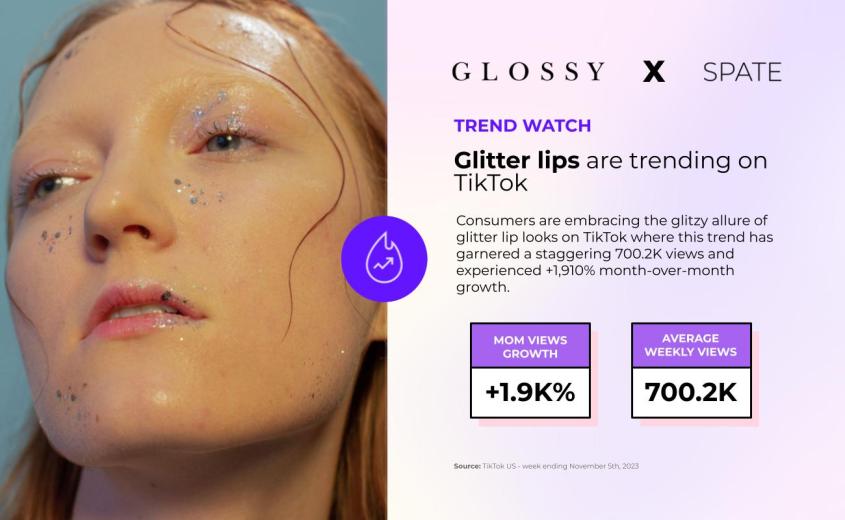 Glitter lips are the latest consumer trend, according to Spate, and TikTok is fueling its popularity. The hashtag #GlitterLips has 436.5 million views on TikTok, with an average of 700,200 weekly views and 1,910% month-over-month growth on the platform. It seems beauty enthusiasts are looking for new ways to sparkle this holiday season.
Consumers are achieving the glitter lip look using a variety of products. Many are blending lip glosses and lipsticks for a customized sparkle, and some are topping off the look with a glitter powder. And they're sharing their methods on TikTok in step-by-step makeup tutorials.
One product that has sparked significant hype within the glitter lip trend is the Dior Forever Liquid Sequin Liquid Lip, which creates the look for the user in one simple step. When applied, the innovative product appears matte, but it bursts with glitter when the lips are pressed together. Consumers are not only trying and reviewing the pricey ($50) product, but they're also exploring similar products that promise the same magical transformation.
"Glitter lips are another way consumers continue to add sparkle to their looks, following the lead of trends like hair tinsel and face gems. This trend comes just in time for the holidays, too, with its festive vibe and transformative texture. Brands that don't have time to include a glittery lip option in this year's holiday assortment should consider how other products in their lineup — like glitter eyeliners or shadow toppers — can offer an alternative," said Yarden Horwitz, co-founder of Spate.
Inside our coverage:
Knix launches 'The Invisible Period' campaign to educate and break taboos about perimenopause
E.l.f Cosmetics makes its Roblox debut
Mona Kattan on growing Kayali: 'Every delay has a blessing'
Reading list:
Why don't women's clothes have more pockets?
What does Gen Z think of Goop?