To receive the Glossy Pop newsletter in your inbox every Friday, click here.
All products featured on Glossy Pop are independently selected by our editorial team. However, when you buy something through our retail links, we may earn an affiliate commission.
Everyone on TikTok is documenting themselves getting ready, whether it's for school, to go out or to go to a funeral (yes, really). Influencers make careers of it (see: Alix Earle). Normal people do it. And as of late, 9-year-olds do it, too. They're using buzzy brands like Drunk Elephant, Bubble and Glow Recipe, and they're filming the process.
There's a lot to be said about that. Do kids need peptides? No. Do they need a skin-care routine? Probably not. Is it bad for them to have one? Not necessarily. Should they be filming it and sharing it with the world? Highly debatable. But more on all that later.
This week, instead of CEOs and CMOs, I interviewed Dr. Caroline Blackman, a psychiatrist and mom of a 9-year-old skin-care enthusiast, and Dr. Amy Wechsler, who is both a dermatologist and psychiatrist. I also interviewed Sari, 10, who lives in Merrick, New York, and sisters Matilda and Leila Johnston, ages 13 and 16, respectively, who live in L.A. Sari's last name has been omitted by request. Unsurprisingly, the youths made for some great Zoom interviews.
Sari, who is in fifth grade, got into skin care and makeup mostly through her friends in the grade above her and, of course, through TikTok. She started with perfumes and cleansers — she likes Pink's Fresh & Clean Body Mist and Sol de Janeiro's '68 Beija Flor Hair & Body Fragrance Mist. Then she learned about the Glow Recipe toner and Drunk Elephant moisturizer from the TikToker Katie Fang (3.9 million followers). "After [Fang], those products, like, blew up because she used them," she said. Sari spends about 10 minutes in the morning and 10 at night on her skin-care routine, she estimated. When asked what the goals for her routine are, she said, "Maybe for my skin to be better when I'm an adult. I don't want to have wrinkles or look old. I kinda want my skin to look good in the future — to have, like, shiny skin, naturally gorgeous skin, no bumps or rashes." Whether or not she can wear makeup to school is a topic of debate with her mom, Ali. When Sari has time, she tries to sneak on "a little blush," she said, but she doesn't do "a full face of makeup."
Sari has a general TikTok account, with a variety of content typical for a girl her age, as well as a second account dedicated to Get Ready With Me content — both accounts are set to private, with about 130 followers. Her mom has made sure those followers are people she knows in real life, mostly friends from school. Having multiple TikTok accounts is common among her demographic, as is separating out the genre of content on each account. She said she has not received comments, either negative or positive, that have impacted her self-esteem; she's found posting to be a fairly neutral experience. She watches TikToks with her friends, and sometimes they make them together. Of the Get Ready With Me account, she said, "I just feel like it's really fun. I'm doing a whole process and seeing how long it would take me step-by-step-by-step. And I like seeing myself, whether it's cringey or not."
When asked whether she thinks it's cringey, she said, "Maybe a little, maybe 75% [cringey]." She said that, when making the content, she's truly being herself, "comfortable" and "how I would be with my friends."
Sari has grown her skin-care collection via gifts from an aunt, trips to Sephora with friends where she's sometimes allowed to pick out one new thing, and special occasions like birthdays and visiting days at sleepaway camp.
On that note, while at sleepaway camp this summer, Sari said she was most concerned with missing a response from Bubble regarding her application to be an ambassador — her parents agreed to provide updates. When asked why the ambassadorship meant so much to her, she said, "Younger kids should be able to have a say [in giving feedback on products to brands] because, most times, younger kids have more sensitive skin than older adults. … Also, I feel like … I kinda want some free products."
I looked into this for Sari and, unfortunately, she has to wait a few more years to become a Bubble ambassador — the brand's youngest are 13.
In Piper Sandler's 2023 "Taking Stock With Teens" survey, it found that teens are spending an average of $324 per year on cosmetics, skin care and fragrance, which is 23% more than in 2022. Their spending on cosmetics averaged $127, which is the highest since 2019 and 33% higher than in 2022. Average survey respondents were 16 years old, making them a few years older than Gen Alpha, who were born after 2010.
While one may think kids simply don't need skin care, Dr. Wechsler said she sees some potential benefits to habit-building at such a young age. "Routines are healthy. Routines get us into the habit of things and make us feel like we're in control of our day," she said. "[At the same time,] I think some of the products are not good for [kids], that is for sure. Some of them are way too harsh for kids; it's rare that a 9-year-old's oil glands are turned on on their face."
For some kids, Dr. Blackman thinks the fascination with skin care is not necessarily even about using it, so much as collecting it. She likened it to baseball cards of yesteryear. Her daughter and her daughter's friends are currently into "preppy skin care," which is defined by products with bright and colorful packaging, according to Matilda and Leila Johnston — their mom is Rosie Johnston, founder of the fragrance brand By Rosie Jane. The hashtag #preppyskincare has over 128 million views on TikTok. Walmart has a landing page dedicated to the trend. Many of the brands that are popular with this younger cohort — like Bubble, Glow Recipe and Drunk Elephant — are affiliated with the preppy skin-care trend. Tree Hut shower scrubs and Touchland hand sanitizers make ample appearances under the hashtag, too. Notably, Bubble is the only one of these brands that specifically targets a younger demographic.
"In [pre-pubescence] and before adolescence, kids collect things and are not yet as interested in their appearance," Dr. Blackman said. "Once adolescence hits, the objective changes from collecting products to using them to become more sexually attractive or to treat common skin concerns that rarely show up before adolescence,"
Dr. Blackman's daughter's products are organized in a beautiful case, almost like "collectibles," she said. And like Dr. Wechsler, Dr. Blackman does not take issue with kids using skin-care products. As a beauty junkie herself, she said, "It's fun and it's light … if you're into beauty and you love products and you love trying new things. There's no harm to that." She is, however, wary of kids being on social media, at all, before they reach 13.
Interestingly, Matilda and Leila Johnston often film themselves creating influencer-esque beauty content, such as GRWM videos, but don't post them.
"It just makes me feel like I'm an influencer. It's not like I go back and watch it," Matilda Johnston said. "Last year, I was really into buying a lot of skin care, so I bought like Drunk Elephant and Glow Recipe and, like, all the popular brands. They're expensive and they looked cool, and it was, like, a trend to get them," she said. "But none of them really worked [to clear acne] and they made me break out, so they're just sitting in my closet."
Spate Trend Watch: Halloween hairstyles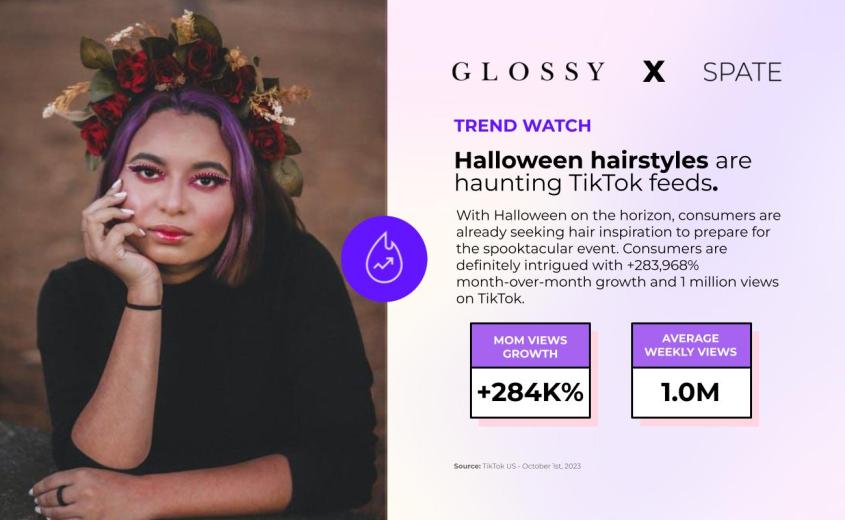 With Halloween approaching, TikTok is obsessing over "Halloween hairstyles." Views of posts featuring the look have increased 283,968% month-over-month, to 1 million. Hair has become a canvas for Halloween style, and purple, red and orange hair color is proving popular. Other hair trends include highlights and intricate braids suitable for "Game of Thrones"-inspired costumes.
Meanwhile, parents of little trick-or-treaters are also seeking Halloween hair ideas for their kids. On TikTok, many are exploring hairpieces, animal ears, spider legs and crowns.
"Halloween serves as a canvas for individual expression and a means to embrace the season's essence. It's the perfect occasion for exploring unique hair hues and styles," said Yarden Horwitz, co-founder of Spate. "It offers brands the chance to tap into this vibrant, creative energy and connect with consumers on a deeper, more personal level."
Inside our coverage
Jewish jewelry designers take action through Star of David sales
Violette Serrat on building Violette FR to be a 'modern maison'
Exclusive: Alo Yoga launches Alo Atelier luxury collection
Reading List
Goop to launch mass market beauty, wellness brand at Target, Amazon
What are Russian manicures? The controversial TikTok nail trend, explained
Hero Cosmetics founder Ju Rhyu on selling 1 billion patches and what's next