In February, Instagram announced Broadcast Channels, which it described as "a new way for creators to deepen connections with followers." It rolled out access to the feature to select users in June. A number of influencers have since toyed with the tool, using it in various ways and at various frequencies.
According to Instagram, Broadcast Channels has only officially rolled out to creators, but some businesses have been able to use it by having creator accounts. Instagram declined to provide further comment for this story.
Among them are jewelry brand Dorsey, via founder Megan Strachan's account. On the Broadcast Channel — which has 738 followers, compared to Strachan's 30,000 — it has shared a couple of updates, with the latest being a teaser for its fall collection, on August 21. However, Strachan hasn't posted to the channel since then. Meanwhile, makeup artist Katie Jane Hughes, who launched her brand, KJH.brand, on September 26, has a Broadcast Channel dubbed The KJH.brand daily, with 4,400 members. She has posted there a handful of times, most recently on October 5, when she shared a funny video. She also used the channel to hype up the launch of her brand in the weeks leading up to it. On September 28, she wrote a note thanking members for trusting her and giving her first product a try.
But one that has taken to the feature in a much bigger way is Favorite Daughter, the clothing brand co-founded by Sara and Erin Foster, the sisters who are also influencers, podcasters, writers, actors and investors. In 2015, the sisters co-created the VH1 mockumentary "Barely Famous."
The brand launched its broadcast feature on September 13. There, for the last month, Sara and Erin Foster, their sister Jordan Foster, who is the brand's style director, and Laura Galvan, its social content manager, chat about their look of the day, the brand's new styles and fashion tips, and engage in general banter — something the sisters, in particular, are known for.
After posting an initial introductory message, the brand kicked off the channel with a poll: "Hi guys! We are currently in our Spring '24 review meeting and are so excited about this gauze set!! We need your help deciding on what color we should make it!" Broadcast is a one-way conversation — the audience can only interact via emoji. Eighty-eight participants "voted" by way of emoji heart.
The next day, the brand shared that it had launched its Erin jeans in a new shade, adding, "Let us know if you have fit questions in the DM."
The Foster sisters all have large followings of their own, fueled by their many projects. Sara has 716,000 followers on Instagram, Erin has 614,000, and Jordan has 92,000. And many have opted in to getting closer to the sisters through the Favorite Daughter Broadcast Channel. All four women running the channel have found it to be a low-pressure option for sharing content with the brand's community. Favorite Daughter has 125,000 Instagram followers, and 1,500 have joined the Broadcast Channel. The brand does not yet have data on who has joined.
On some days, they're more active in the channel than on others, and engagement varies. An "average" post may get 30 likes. Meanwhile. a picture of Jordan Foster wearing a silk black blouse with a lace bra peeking out received 90 reactions, including some fire emojis. And Sara Foster's response — "Ohhhhhhhh love that ur heading into your slutty era! It's fun here!" — received 135. A coupon code timed with National Daughter's Day also did well, with 106 reactions. Finally, a note from Erin Foster, sent Wednesday morning, has received 435 reactions. It reads, "The world is scary right now, just want to send everyone love and hope you are okay doing alright ❤️"
"Girls in their 20s and 30s kind of view [Erin and Sara] as their cool sisters that they can also get advice from. And Jordan has created this unique style relationship with our audience — people are reaching out to her with style questions all the time. The sisters are all getting DMs," said Jennifer Hawkins, svp of marketing and e-commerce at Centric Brands, Favorite Daughter's parent company. The brand is working to expand its presence on TikTok, where it currently has 6,700 followers and has launched on TikTok Shop. And it's preparing to launch live shopping with Bambuser.
"From day one, a big part of why Favorite Daughter has done so well is that customers feel like they know us," Jordan Foster said. DMs have long been an important mode of communication for the brand, she said, but it's become nearly impossible for the three sisters to answer all the messages they receive. "We can't be doing DMs all day every day — there are too many people. So broadcast is the perfect way for us to just be ourselves, but let people in — almost like a little mini reality show about the brand," she said. If you follow the Broadcast Channel, at times, the sisters will rib each other, adding to the feeling that you're getting an inside view.
She added, "It feels like a friendship with our customers. It's a guaranteed way to feel connected to the brand."
Particularly given the newness of Broadcast Channel and the fact that, unlike posting to the grid, it is not yet an expectation, there is far more flexibility for how a brand or individual makes use of the feature. "They just hop on organically, when the time is right for each of them; There isn't an editorial calendar," Hawkins said. "It creates constant content, without the pressure of, 'Oh, I have to do content today. I have to do a get-ready-with-me.' They don't feel any pressure to have anything be perfect or precious [on broadcast]."
Sometimes, the content is not even original. "We're posting things there that were posted in other channels. But the engagement is way higher," Hawkins said. She noted that Sara and Erin Foster's content always sees more engagement, compared to the brand's campaign imagery.
According to Hawkins, "The audience can feel that it's authentic and organic. I think that's really the biggest benefit." However, the brand will become more structured in its use of the channel, as time goes on, she said.
Though it is too early to define precise correlative data, both Hawkins and Jordan Foster noted that they have seen upticks in sales when specific items are mentioned on the broadcast channel. "When I posted that William Sweater, there was a slight uptick in sales," Jordan Foster said. This may be because she also included actionable styling advice, which is her expertise.
Still, according to Jordan Foster, the Broadcast Channel is not about sales or pushing products; bolstering the brand's "relationship with customers" is the goal.
Spate Trend Watch: Espresso Eyes prove food-related makeup trends are not going anywhere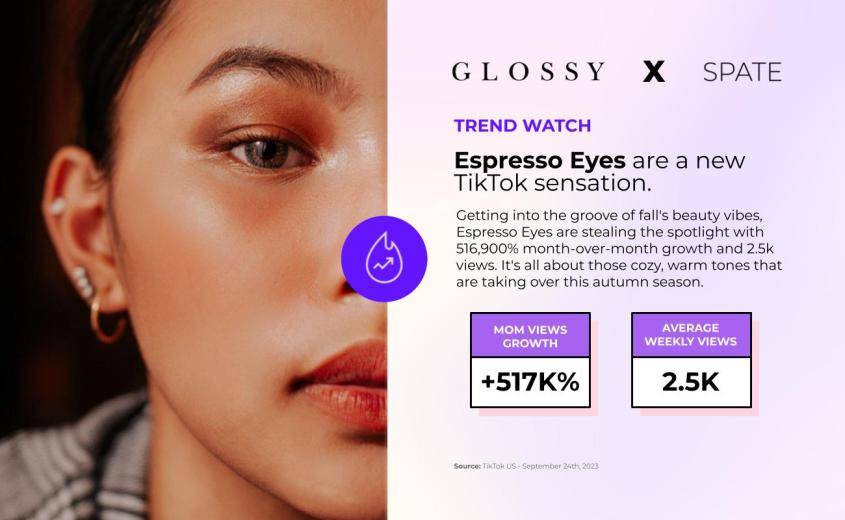 Fall trends have emerged, and one of TikTok's favorites is "Espresso Eyes," which boasts a 517,000% month-over-month surge in popularity. Though this new trend only sees an average of 2,500 views per week, its growth has made it one to watch. The trend refers to smoky eye makeup in shades of brown, often with black winged liner. It's not a particularly groundbreaking trend, as fall has always been synonymous with warm, cozy, earthy tones.
NYX Cosmetics has the top-viewed TikTok post correlating with the trend. In a very simple nine-second clip, the brand demonstrates an up-close application of eyeliner. In the post's comments, the brand states that the woman pictured in the video is using its Slim Eye Pencil in dark brown and its Wonder Pencil Micro Highlighter.
It's important to note that trends like "Espresso Makeup" and "Latte Girl Makeup" are not exactly new. Instead, they're like living manifestations of the app's obsession with manifesting, with a focus on the next big thing. These creative reinventions inject new life into old trends, making the beauty landscape an ever-evolving playground of ideas.
These trends are a "reminder that beauty is an ever-revolving tapestry of creativity and innovation, where what's old becomes new and trends continue to evolve, ensuring that beauty remains an exciting and ever-changing realm," said Yarden Horwitz, co-founder of Spate.
Inside our coverage:
MAC Cosmetics taps TikToker 'Tube Girl' to move at the 'speed of culture'
Beauty & Wellness Briefing: You're about to hear about Allergan's new Skinvive treatment everywhere
Civil Pleasures wants to make cigars fashionable
Reading list:
Feminine care brands team up to reimburse customers for tampon tax