To receive the Glossy Pop newsletter in your inbox every Friday, click here.
All products featured on Glossy Pop are independently selected by our editorial team. However, when you buy something through our retail links, we may earn an affiliate commission.
In beauty, ingredients, much like product formats, go in and out of style. There is always a lab working on a new version of something and an influencer or editor declaring something the greatest thing since sliced bread. At times, the ingredients that are in vogue are more out there than others — think snail mucin and crystals, both of which had moments in the mid-2010s. At the time, the trends based on new, intriguing ingredients were fueled by the popularity of the many-step skin-care routine. It's worth noting that snail mucin is now back on trend, thanks in large part to TikTok.
In the past few years, however, skin-care routines have simplified, and with that, so too have the ingredients in focus. Last year, talk turned to glycerin, a classic, used-in-everything ingredient that moved in as hyaluronic acid's star power started to dim. Now, another skin-care classic is having a moment: peptides.
As described by New York City dermatologist Dr. Joshua Zeichner, "Peptides are small proteins that act as messengers that tell your skin to perform specific functions. Not all products with peptides are equal, as they may contain different peptides that do different jobs. The most commonly used peptides in skin care are those that help stimulate production of collagen, but others may offer hydrating, soothing or even brightening effects."
In recent months, a spate of popular beauty brands of varying sizes have launched products focused on peptides. Goop launched its $150 Youth-Boost Peptide Serum in July, and Glow Recipe launched its $45 Pomegranate Peptide Firming Serum in August. In September, Pai launched its $109 Bonne Nuit BioPeptide Renewal Night Cream and Naturium launched its $25 Multi-Peptide Advanced Serum. Maelove is launching its $48 Peptide Squad Collagen Renewal Serum on November 6. And the list goes on.
On TikTok, the hashtag #peptide has 235 million views — though much of this content is also about injectable health treatments, as injected peptides can allegedly aid in weight loss and muscle building. Meanwhile, #peptideserum has 30 million views and #peptidesforskin has 13.5 million.
The beauty insiders and experts who served as sources for this story had different opinions about the peptide revival, including why it's happening and whether it's merited.
According to digital trend forecasting agency Spate, peptides see 661,000 searches on average each month, which represents a 9.5% boost since last year. In January, "peptide moisturizer" ranked fourth out of the top 10 predicted skin-care trends on Spate's Predicted Trends Report. Searches for "peptide moisturizer" have grown 26.8% year-over-year since the start of the year.
"According to our head of R&D, peptides are having more momentum again because 'they bloody work,'" said Sarah Brown, founder of Pai Skincare.
Glow Recipe co-founder Sarah Lee said, "We were always fans of peptides, but not a lot of people can articulate what peptides do. They're amazing ingredients — time-tested and proven. So we wanted to educate around them and put the Glow Recipe spin on it [with our new launch]."
In September, Cetaphil launched a four-piece skincare collection called Healthy Renew, centered around peptides. It includes a serum, an eye gel, an SPF day cream and a night cream. "We had been considering launching into anti-aging for a while, but we had to figure out how we were going to do it in a way that would support [our customers with sensitive skin]," said Katherine Rouse-Bailey, Cetaphil's marketing director. "We know that, with sensitive skin, certain ingredients like retinol can be irritating or a bit harsh, [to the point where] people are unable to use them every day and you can't get the full benefits." Peptides were the brand's answer. Rouse-Bailey said the brand took its time testing the products against .03% retinol "and found the same results, in terms of its effects on wrinkles and improving fine lines."
In addition to products that treat the full face, peptides in lip products have become a big trend, thanks in part to Hailey Bieber's Rhode Peptide Lip Treatment. Echoing this point, in a September TikTok, dermatologist Dr. Shereene Idriss said, "Peptides are literally in everything, and we have our friend, the Biebs, to thank for that."
Though Rhode was not the first brand to use peptides in a lip balm, it has sold over 1 million of the hero product. ReVive launched its Intensite Moisturizing Lip Balm, with peptides as a hero ingredient, in 2015. And in February, Ole Henriksen launched its Pout Preserve Peptide Lip Treatment. In September, Allies of Skin launched its Peptide & Ceramide Repair Lip Balm, and Persona Cosmetics launched its DayMask Peptide Lip Balm. Brands including Iris & Romeo and Nudestix also include peptides in their lip products. "Lip treatments" were a top format searched in tandem with the search term "peptides," according to Spate co-founder Yarden Horwitz.
When it comes to sussing out which peptide products may be worth the hype, it's worth checking if the brand is addressing the delivery system it's using, said Alex Padgett, a cosmetic chemist who educates about skin-care formulas on social media — she has 131,000 TikTok followers.
"I look for peptides that have gone through in vivo or ex vivo testing to show that some of the peptide is getting into the skin," Padgett said. "Some peptides have impressive results in vitro, but that doesn't mean you'll see the same results when the peptide is actually applied to skin in a formula. It faces the challenges of getting across skin's barrier, evading degradation from enzymes in skin, and actually finding and reaching the relevant site of activity in the skin." In short, some, but not all, peptides are worth the hype the ingredient is currently getting.
Naturium, for example, has encapsulated its peptides in its new serum, a technology Padgett approves of. "Encapsulation is almost like its own little mini formula," Yara said, noting that keeping the peptides separate from the rest of the formula allows them to stay stable and potent, and better able to penetrate the skin.
But, as with any skin-care product, what's perhaps more important are the results. "My skin just looks visibly better," Yara said of her own results after using her latest creation. When we spoke, the product had not yet officially launched, and she said she'd already finished 10 lab samples. "My skin has become firmer and it's become plumper-feeling. Every time I use it, I just love the way my skin looks."
Spate Trend Watch: Halloween nails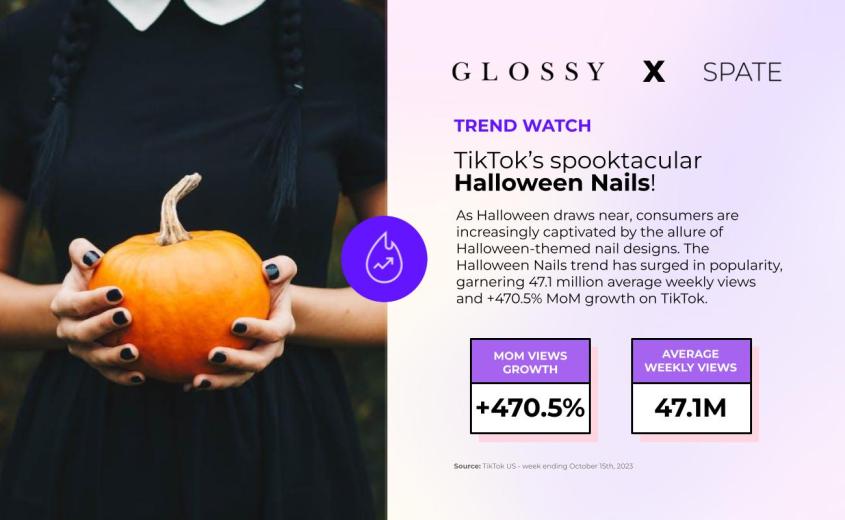 With Halloween right around the corner, consumers are getting their nails holiday-ready. To do so, they're diving into DIYs and scouring social for inspo and tutorials. "Halloween nails" is decidedly trending, with 47.1 million average weekly views on TikTok, which marks a 470.5% increase month-over-month.
Go-to styles this year include everything from Halloween baddie nails with extra-long, bewitching embellishments to designs inspired by zombies, Casper the Friendly Ghost or intricate spider webs.
One brand proving in sync with this trend is Kiss Products, which has embraced the Halloween spirit by offering an array of Halloween-themed press-on nails. They're not just following the trend; they're actively participating in it by creating engaging, paid videos on TikTok that resonate with consumers. One of its September posts demonstrating Halloween nails has 3.1 million views, 133,000 likes and 246 comments.
"With the introduction of new beauty trends and digital marketing, the approach to beauty and holiday celebrations is evolving. Halloween nails go beyond being a passing trend; they symbolize the ongoing transformation in the beauty industry and the importance of personal expression," said Yarden Horwitz, co-founder of Spate.
Inside our coverage
Exclusive: E.l.f. targets the Latinx community with Manuel Turizo partnership
Influencer brand incubator FounderSix secures $12 million in funding
Watches are the next frontier for quiet luxury
Reading list
Global warming is causing a customer-service nightmare for beauty brands
Kylie Jenner built a beauty empire. Now she's coming for fashion.
Two beauty editors raise funds and create a safe community with product sales