All products featured on Glossy Pop are independently selected by our editorial team. However, when you buy something through our retail links, we may earn an affiliate commission.
It's a "Strawberry Girl Summer," as perhaps you've heard. ICYMI: Hailey Bieber declared it so via an Instagram post on August 2. In the first photo of the carousel post, Bieber appears fresh-faced, with strawberry-hued cheeks. In another, she has a Rhode-branded strawberry sticker on her nose. The post created a frenzy, in the way that Bieber's every move seems to do these days. (See also: "cinnamon cookie butter hair.") Beauty editors' inboxes swelled with pitches on red and pink products from every brand imaginable, aiming to capitalize on the moment and sell consumers on getting the Strawberry Girl look. The hashtag #StrawberryGirl now has over 50 million views on TikTok, while #StrawberryMakeup has over 211 million views.
When Bieber's brand, Rhode, launched in June 2022, it did so with a tight edit of products — or, "one of everything really good," as the brand put it.
That included a serum (the Peptide Glazing Fluid, $29), a moisturizer (the Barrier Restore Cream, $29) and, of course, the brand's quickly iconic Peptide Lip Treatment ($16). At the time, it came in three flavors: unscented, watermelon slice and salted caramel. Each sold out within three days and, together, they accumulated a 440,000-person waitlist. Since then, the brand has dabbled with limited-edition lip treatment launches, each of which has been promoted with highly editorial imagery featuring Bieber. In November 2022, the brand launched a vanilla flavor timed to Bieber's birthday. It became a permanent addition to the lineup in 2023, thanks to consumer demand. Then, in April, there was passionfruit jelly, which was available for about 24 hours before selling out. It was restocked a few weeks later and sold out again. Waitlists for all Peptide Lip Treatment launches beyond the first three have surpassed 570,000.
The company exclusively shared with Glossy that it will sell its 1-millionth tube of the product by September. The SKU is the brand's bestseller and has generated over 6,000 5-star reviews on Rhode's e-commerce site, which is its exclusive sales channel. Rhode's Vanilla Peptide Lip Treatment drove Google searches of "lip treatment" to an all-time high, according to Bender.
On Monday, a new limited-edition flavor, Strawberry Glaze, joined the assortment — it's also part of a collaboration with Krispy Kreme. In celebration of the launch, Krispy Kreme will temporarily reintroduce its Strawberry Glaze donut, which is no longer available, from September 1-4. The name is also a nod to Bieber's Strawberry Glaze Skin Smoothie, the $19 cultural phenomenon that is only available at Erewhon in Los Angeles.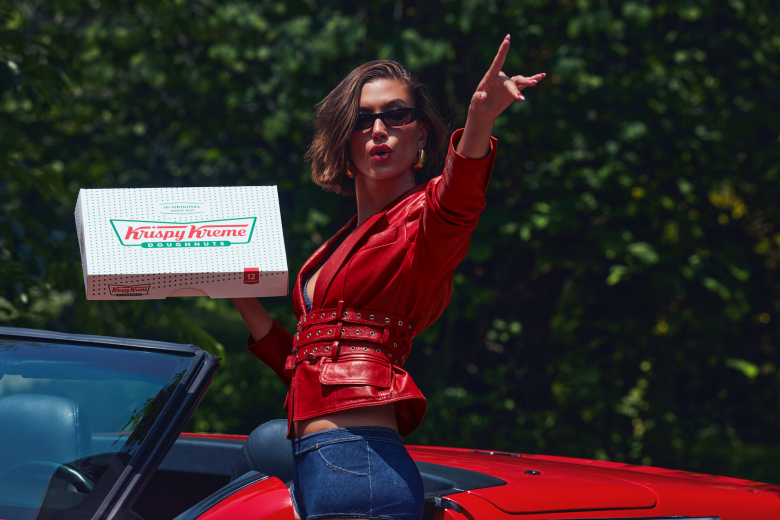 Last week, influencers including Kim Kardashian flooded Instagram as they received the product in the new flavor, which came in a strawberry-shaped box along with some Krispy Kreme donuts.
The collaboration with the iconic donut chain makes sense, given that Bieber has long hyped the concept of "glazed" skin. Last October, Vogue ran a story titled "12 of Hailey Bieber's best 'Glazed Donut' skin moments."
Although brands often have success with a lower-priced product, as they provide an accessible point of entry for new customers, the excitement around Rhode's Peptide Lip Treatment has been greater than anticipated, said the brand's CEO, Melanie Bender. "You can do everything to immerse yourself in data, but it's only successful at explaining the past; it does not tell us where culture is going. That's what intuition does. It really helps you see the opportunities that everyone else is missing because they're so past-focused," Bender said.
Bender attributed the lip treatments' success to "incredible visuals and campaigns," as well as a product "formula that actually brought treatment to lip."
Of the formula itself, she said, "[We used] peptides in a first-to-market way, taking cues from what we love about putting peptides on our skin, but [using them] in a way that's appropriate for lip. Another key ingredient in our PLT is cupuaçu, which brings suppleness to dry and dehydrated skin. It's also the national fruit of Brazil. Hailey is half Brazilian, so we love bringing in those personal elements."
Now, Bender said, the brand is determining which limited-edition flavors become permanent and how to further expand the PLT category. Bieber's pink-hued cheeks in the "Strawberry Girl" post spurred speculation that tinted products may be on the way — currently, all the Peptide Lip Treatments are clear. Bender would neither confirm nor deny the rumor. "One of the really special things about Hailey and this brand is the permission that she has to go into adjacent categories like color and other things," she said.