To receive the Glossy Pop newsletter in your inbox every Friday, click here.
All products featured on Glossy Pop are independently selected by our editorial team. However, when you buy something through our retail links, we may earn an affiliate commission.
About six years ago, high-profile NYC plastic surgeon Dr. David Shafer was administering filler to a female patient. As her boyfriend looked on, he asked the doctor a question: "Can I have that injection in my penis?"
Dr. Shafer described a lightbulb moment: He thought, "I don't see why not," he said. The boyfriend came back in the next day, willing to be Dr. Shafer's guinea pig. "We did just a couple of syringes. And then he called me like five days later, [saying,] 'This is amazing. But I want more,'" Dr. Shafer recalled.
Today, the protocol is one of Dr. Shafer's most requested services. He does 4-5 a day, with the procedure steadily gaining popularity via word of mouth and internet chatrooms. Starting this month, he's dedicated an entire floor of his Midtown East clinic to the procedure.
The procedure does have a name, which is SWAG — an acronym standing for Shafer width and girth. Treatments start around $15,000. Like facial filler, it requires maintenance, which costs around $7,000 per session. Dr. Shafer uses Allergan's Voluma, which falls under the company's Juvederm brand of fillers. A few other doctors have adopted the practice, while there are others who are injecting penises with "fat or silicone," according to Shafer.
Dr. Shafer works closely with Allergan. He approached the company, asking it to fund a study looking into the off-label use of Voluma for penis augmentation. Allergan agreed, and the trial began in February 2021. Though its completion has been slowed by Covid, it is well underway. "Part of the study [centers on] pictures and measurements, but [we're also] surveying the patient and their partner for satisfaction," said Dr. Shafer. "We're about two years into the study, [and we've seen] very high [personal] satisfaction, a very, very low complication rate and very high satisfaction for the partner, as well."
Yes, you're reading all of this right.
"In very simple terms, what I'm doing is taking dermal filler, which is FDA approved for the face, in most cases, and then using similar techniques but injecting it into the penis for enlargement — so girth enlargement," Dr. Shafer said, noting that he uses a cannula to place the filler. Most patients say it's not as painful as they expected, Dr. Shafer said. He uses a numbing agent before administering the filler.
As for what men are choosing to brave this procedure, first and foremost they have some disposable income. Men with micropenis or hidden penis are not candidates, nor are smokers, Dr. Shafer said. Initially, Dr. Shafer thought he'd have mostly gay, single men coming in for the treatment. However, it's been a far more diverse blend of patients, he said. "We get married guys, we get heterosexual guys." He said CEOs, celebrities, teachers and a prison guard have been among his SWAG patients. A number of trans men also come in for the treatment. There are even patients whose wives have had multiple children and who come in as part of a joint effort to improve their sex life.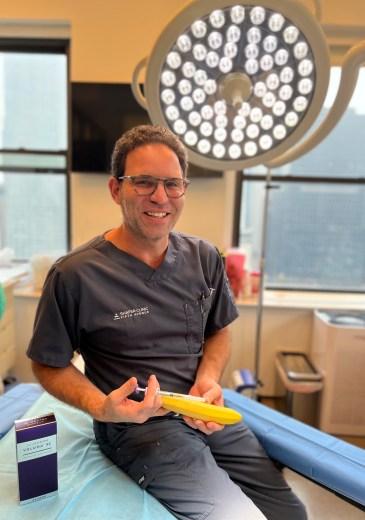 Dr. Shafer also assumed most men seeking the treatment would have a below average penis size — this, he said, is also not the case. "I have noticed that nobody is satisfied with what they're born with," he said. (Oppressive beauty standards: not just for women.) "A lot of guys who come in say that, when they went through puberty, somebody said something to them in the locker room or their brother teased them — that kind of thing — and it's really emotional for them."
Dr. Shafer does tell men they are above average, but said there's often a form of body dysmorphia. "When we do [the procedure], they say it's life-changing for them; it makes a huge difference for them in their outlook, their mood," he said.
Dr. Shafer put me in touch with a client, a 46-year-old writer who asked to go by Steve. Steve found out about the service via a Playboy story. "My original penis was average in thickness, and I thought it would be fun for my partners (and me) to rock a girthier one. I also liked that it's a non-invasive, completely reversible procedure with a very low incidence of complications. I'd read that it would look and feel like my penis had put on weight and that after most people get the treatment, they almost always want more," he said. "I didn't expect that the weight of the filler would lengthen my penis, in a flaccid state, as well as make it thicker when it's both soft and hard. It wasn't very painful, and any discomfort was very short-lived. The scary part was waiting for the lidocaine to wear off. There's nothing weirder than having no feeling in your most sensitive part."
Since his initial treatment, in August 2020, Steve has had eight follow-up sessions — for roughly $56,000. He is satisfied with the results. "Over several sessions, we've increased the circumference of my penis from 4.75 inches to 6.75 inches, making it significantly thicker than my wrist. However, it is a little squishier to the touch than a normal erection, which can be a bit of a giveaway."
Many men are, unsurprisingly, quite secretive about having filler put in their penis, but Steve is not. "I've told most of my close friends, several of whom have asked to see it. It gives quite the bulge, so I often see people quickly glance at my crotch area on the street. New sexual partners have remarked upon how thick it is. A few have asked if I've had anything done to enhance it, which, of course, I have! One partner lamented that my new proportions meant that we couldn't have anal sex anymore. You can't please everyone."
On the one hand, men even entering a plastic surgeon's office may be seen, by some, as progress — the same people who believe that plastic surgery and cosmetic procedures are the business of the individual and not a mark of societal decay, but that's a whole other story. Men have long been discouraged from taking any active interest in their appearance. In that sense, Dr. Shafer said his SWAG service has served as a gateway of sorts. That is to say, patients who get SWAG often come back for other cosmetic treatments. Then again, the fact that it's a treatment related to the size of the penis suggests that the cosmetic, appearance-related concerns men have tell a tale as old as time.
The great post-Christmas beauty product launch rush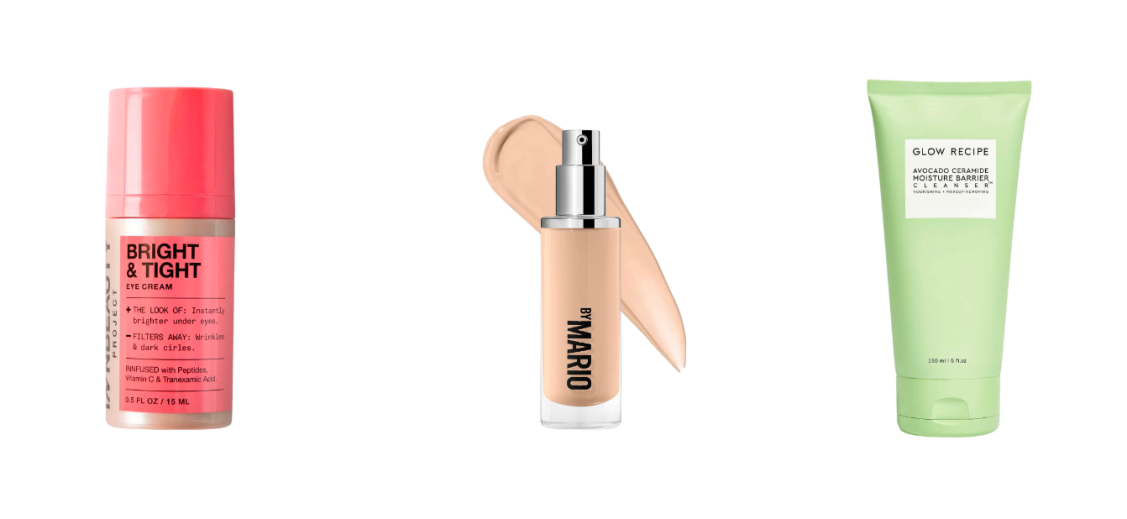 Every year, in the days right after Christmas, a flurry of beauty launches debut. This year was no exception. For example, on December 26, just days before the end of the year, Makeup by Mario's hotly anticipated SurrealSkin liquid foundation rolled out. I've always wanted to know why.
"Since shade selection is so personal, I always recommend a gift card, when it comes to gifting shaded complexion products," said Mario Dedivanovic, celebrity makeup artist and founder of Makeup By Mario. "And I decided to launch my SurrealSkin Foundation on December 26, when customers are in store with their post-holiday gift card."
Meanwhile, Glow Recipe launched a cleanser — the Avocado Ceramide Moisture Barrier Cleanser — on Sephora.com and Sephora's app on December 27. It just hit stores on Thursday. "A January Sephora launch sets the tone for the year, and we're focusing on healthy, strengthened skin for 2023," said co-founder Christine Chang.
Finally, also on December 27 at Sephora, Inn Beauty Project launched its first eye cream, dubbed the Bright & Tight Dark Circle Firming Eye Cream. Of the timing, co-founder Alisa Metzger said end-of-year is "one of [the brand's] busiest times of the year and when customers are shifting back to personal spending, often with gift cards in hand."
She added, "As a growing omnichannel brand, it was important for us to meet the customer demand and appetite for discovery during that week."
Featured
Visit the Pop Shop to browse all products featured in Glossy Pop.
Spate Trend Watch: Popular fragrance notes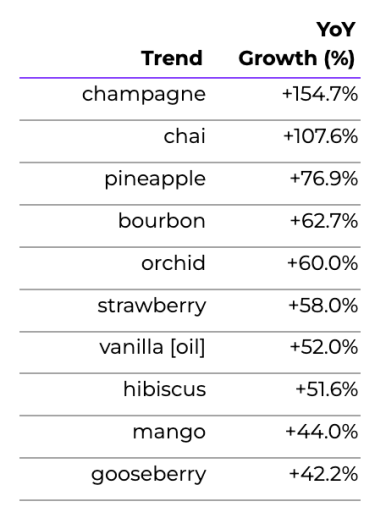 According to 2022 Spate data based on U.S. Google Searches ending on November 30, champagne, as a fragrance note, is on the rise. When paired with personal fragrance in search, it's seen +154.7% year-over-year growth. "Since 2021, consumers have demonstrated consistent, increased interest in personal fragrance. Once a result of having extra spending money, thanks to stimulus checks, the love of scented goods has outlasted lockdown-era spending trends," said Yarden Horwitz, Spate founder.
As of late, sweet, gourmand notes — like vanilla (particularly among Gen Z), chai and strawberry — have experienced a renaissance. "Other [popular] notes like pineapple, hibiscus and mango tell us that consumers are craving a tropical getaway or, perhaps, prepping for their winter vacation," Horwitz explained.
Inside our coverage
Summer Fridays' Marianna Hewitt and Lauren Ireland on entering the retinol category
Neutrogena now offers personalized vitamin supplements
Beauty & Wellness Briefing: The great pushback against 'New You' resolutions
Reading list
Six reasons to get excited about fashion in 2023
How the apocalypse came to fashion
This year is all about the cosy non-shoe