Introducing the Glossy+ Luxury Briefing, our newest member product uncovering the strategies driving the success of global luxury brands. Through Friday, you can save 50% on a three-month Glossy+ membership. Become a member here. To kick it off, we're rolling out the State & Future of Luxury Report in five parts over five weeks. Each will focus on a luxury category across fashion and beauty, and will feature insights from a focus group of luxury marketers, founders, investors and analysts. In addition, we've worked with Saks to compile exclusive insights from its panel of luxury consumers. This week, we take a look at the world of sneakers, streetwear and ultra luxury collectibles, and how the drive for increasingly niche, increasingly unique products is transforming the top end of the luxury spectrum. – Danny Parisi, senior fashion reporter, Glossy
Streetwear culture created a whole generation of new luxury collectors
At this point, no one needs to be told that sneakers can be high fashion. The confluence of the streetwear and luxury markets is a firmly established tradition thanks to innovators like the late Virgil Abloh and Nigo, the latter of whom was recently named the creative director at Kenzo. The apotheosis of this merging came in February when Pharrell Williams — a hip-hop artist whose fashion experience came from sneakers and streetwear — was named creative director of the biggest luxury brand in the world, Louis Vuitton.
While the aesthetics of streetwear and sneakers are different from traditional luxury, the underlying culture of highly limited products sought after by knowledgeable collectors has ended up slotting it in perfectly alongside products like handbags and fine art. Now, years into this convergence, the appetite among luxury customers for increasingly rare, niche and unique items has only deepened.
"Ultimately what drives collectors in any category is an appreciation of the product," said Josh Pullan, head of the global luxury division at Sotheby's. "Things that pique someone's interest, that are relevant to a particular moment in time or that have a nostalgic perspective are what resonate with collectors, whether that's watches or sneakers or a bottle of wine."
Pullan said that, in the last two years, Sotheby's has seen significant growth in buyers between the ages of 20 and 40, driven by categories like sneakers and sports memorabilia. More than 30% of Sotheby's buyers in the last year were brand new to the auction house. Pullan noted that those younger and newer buyers aren't necessarily looking for lower-priced or entry-point items. Many of them are bidding for the same six- or seven-figure items that older and more established collectors are looking for, as well.
The rise of streetwear and sneakers as luxury products has also bolstered other types of collectibles. StockX, a resale platform originally known for sneakers, has branched out over the last few years to categories like trading cards, collectible toys like Bearbrick and Funko Pop figures, and comic books. Last year, one of the platform's standout products, right alongside the Nike Dunk Panda and the Omega x Swatch Moonswatch, was a Lego "Stranger Things" set that grew 355% year-over-year in sales.
For many buyers, the value of these items is their status as investment pieces. A rare KAWS statue or a pair of sneakers worn in an NBA game by a major player are items that store value and appreciate over time. And for the highest reaches of luxury price points, even the most affluent consumers want to know that the thing they're spending hundreds of thousands, if not millions, of dollars on will hold that value into the future.
"In a perfect world, we'd love to think that these purchases are made for sustainable reasons, but really, people are thinking, "If I buy a bag, in 10 years, am I going to be able to sell it?" said luxury fashion influencer Charles Gross. Gross referenced Birkin bags reselling for $150,000 and a Louis Vuitton x Nike sneaker selling for over $300,000 last year. "A lot of houses are putting out these extravagant, extreme luxury pieces, and people keep them in their closet as investment pieces."
Often, the exorbitant price paid for these products isn't necessarily commensurate with their retail price or the brand's typical price point. Instead, it has to do with their extremely limited nature. For example, the Louis Vuitton x Nike sneaker that sold for $352,000 at auction at Sotheby's last year fetched such a high price because it was a size six, and only one pair was ever produced in that size. Conversely, a size 6.5 pair of the same sneakers, of which more pairs were available, sold for $72,000.
"The industry has done a nice job of shifting the mindset from spending on luxury to investing in luxury, and the secondhand market has been a big part of that," said Emily Essner, CMO of Saks Fifth Avenue. "Exclusivity and uniqueness have always been driving factors in the market — but also, the product, in and of itself, has to be super cool. It's not just exclusivity for exclusivity's sake."
Essner noted a recent collaboration between On Running, a brand known for its high-performance running shoes, and Loewe, the Spanish luxury house, that has been particularly successful at Saks.
"That was a good example of a really good mash-up — a great product with great marketing behind it," Essner said.
For brands, one of the appeals of going into these highly desired collectible items is that the customer for them is more resilient to the macroeconomic pressures that other sectors are facing. For instance, Frame, the denim brand that sells jeans in the $200 range, recently began selling ultra-limited, Swarovski-crystal-studded jeans for $12,000, in a bid to draw in affluent collectors looking for an exclusive product.
"We're definitely in a period of uncertainty at the moment, in the larger sense," Pullan said. "But the people who are looking for the best of the best will continue to chase those objects. We just did a world record for a Rolex JPS Daytona watch, which sold for $2.5 million the other day. It's the highest price ever paid for that model. Despite the macro environment, people will always chase sublime things like that."
By the numbers: What drives luxury shoppers to purchase?
Powered by Saks Consumer Insights
As part of our industry research, Glossy teamed with Saks Fifth Avenue to survey 3,944 luxury consumers on their shopping habits. This week, we're taking a look at one important question: What inspires you to make a purchase?
Respondents were given a list of inspirations, ranging from seeing an ad on social media or a post from an influencer to receiving a recommendation from a friend. They were asked to indicate which had inspired a purchase of a luxury good in the last three months.
The clear winner, by far, was an email or a text directly from a brand or retailer, with 49% of consumers saying such a message inspired a purchase. Below that, at 35% and 32% respectively, were recommendations from friends and ads on social media. At the bottom of the list, at around 10%, were inspiration from fictional characters in a TV show or movie and TV commercials.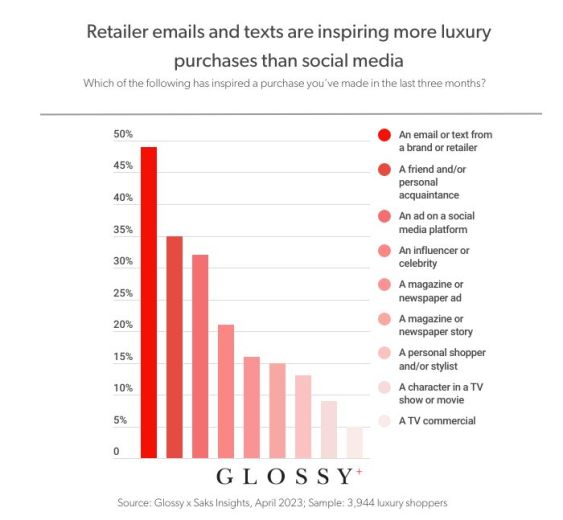 It's worth noting that around 10% of respondents said none of the above, writing in other sources of inspiration, such as, "My own sense of style."
The respondents' answers slightly differed by age group. For example, 18% of the youngest age group of 21-30 said they were inspired by an influencer or celebrity. The older the respondent, that number decreased, with only 2% of respondents over age 70 stating that they were inspired by influencers.
Instead, older consumers tend to be more receptive to traditional marketing like emails from a retailer. Thirty-one percent of respondents over 70 said that an email or text had inspired them, while only 14% of those ages 21-30 answered the same.
Respondents who identified as women were slightly more receptive to influencers or celebrity inspiration than men or non-binary respondents, but only by a few percentage points. Meanwhile, traditional marketing, like emails from retailers, saw nearly equal representation from all gender groups in the survey.
The state of digital collectibles
While categories like watches have had an upward trajectory and sneakers have experienced a stabilization, digital collectibles have had a far more tumultuous time in the luxury collectibles market.
After the initial explosion of interest and speculation in 2021, the last year saw the desire for NFTs and other digital goods spike downward and upward considerably. NFT sales plunged throughout 2022, with a 60% drop from the second to the third quarters of the year. But at the beginning of 2023, interest revived somewhat, with sales hitting a seven-month high in February before leveling back out again. The fluctuation could be attributed to a number of factors, not the least of which was the highly publicized collapse of several major crypto exchanges, including FTX and Binance.
Josh Pullan, head of the global luxury division at Sotheby's, said that Sotheby's is still bullish on NFTs, even if there has been a correction in the market. An NFT just this week sold for $2.5 million at Sotheby's.
"We're still big believers in the web3 space," Pullan said. "We're bringing a lot of new things into the market. There has certainly been a rationalization in the space, but that's a healthy thing for any market to go through: Explosive growth first, and then broader adoption and maturation and evolution."
But some luxury designers steered clear of NFTs before the market began to fluctuate and have no interest in going into it any further.
"We never ventured into the NFT field," said Brandon Blackwood, designer at his eponymous handbag brand. "We never did anything with the metaverse or anything like that. We're very authentic. What we have is what we're selling."
While the NFT as a valuable visual asset may be dying down, there could still be a lot of value to luxury brands in its more practical uses. Companies like Nike and Rebecca Minkoff are already using NFTs for processes like authenticating physical products and event ticketing.
"The hype for NFTs just for the sake of an NFT is probably on its way down," said Sarah Willersdorf, head of luxury at Boston Consulting Group. "But non-fungible tokens and what they could be used for are just in their infancy. It's better used to build loyalty, to track products, to enhance consumer engagement. If you think about rental and other things, that's enabled because of mechanisms like NFTs."