'A circular solution': Pangaia's new collection was dyed using textile waste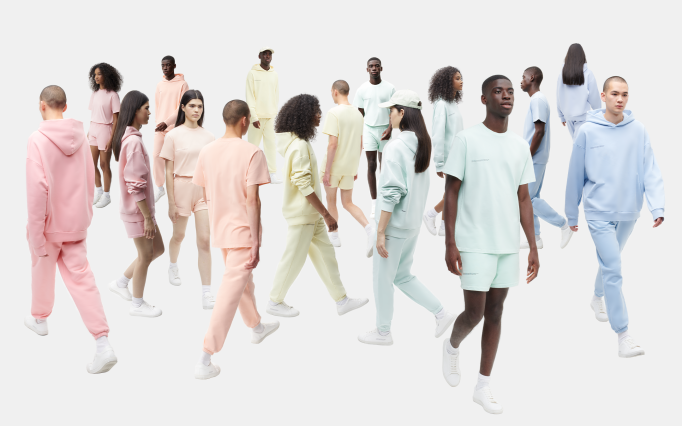 On Thursday, Pangaia debuted its Re-color capsule line, a collection that uses dyes from textile waste offcuts. The brand worked with Italian dye company Officina+39 to use its Recycrom technology for the collection. Dyeing clothes is one of the most harmful and carbon-intensive processes in fashion, so the use of textile waste in products could slow the addition of new chemical dyes in waterways.
Since 2019, Pangaia has been working on solutions to address sustainable production problems in fashion. Its innovation platform for ready-to-scale technologies, Pangaia Lab, launched in September 2021. Since then, it has focused on addressing issues in fashion production by launching capsule collections to prove to fellow brands and consumers that it's possible to produce fashion in different ways. The launch of the Re-color capsule builds on Pangaia research by creating dyes that are less water-intensive and require no harmful chemicals. It addresses two issues that the industry is grappling with: what to do with textile waste and how to create dyes that are carbon neutral or carbon positive, and water safe. Globally, an estimated 102 million tons of textile waste is created each year. Twenty-five percent of industrial water pollution comes from textile dyeing and treatment, according to consulting agency McKinsey. 
You have read the maximum number of free articles.
Glossy
+

Membership

Subscribe now for access to unlimited Glossy content, premium research reports, exclusive newsletters, invitations to member-only events and more.

SUBSCRIBE

Already a member?

Already a member?

Login

Logout
This content is available exclusively to Glossy+ members.
Glossy
+

Membership

Subscribe now for access to unlimited Glossy content, premium research reports, exclusive newsletters, invitations to member-only events and more.
The Re-color Capsule features four classic Pangaia styles colored with dyes created with Pangaia excess materials. Each products was created in five colorways and will be available exclusively on pangaia.com. The brand worked with dye company Recycrom to transform its material leftovers into new shades. "What is unique about it is that brands can actually use their own waste, so it's not random colors that are sourced from collected items. We're creating a circular solution," said Pangaia chief innovation officer Dr. Amanda Parkes. 
With companies already taking back usable products for recycling, the Re-color capsule collection shows that they could also take back clothing waste to create dyes for new collections. "The challenge now is to let brands know [about] and acquire the technology, as well as make them understand the differences, advantages and limitations of this dye-stuff compared to conventional dyes," said a spokesperson for Officina+39.
Advertisement
For Pangaia, fabric dyeing and finishing results in a large carbon footprint for the brand, according to its 2021 Impact Report that came out last week. The report highlights its the dyeing and finishing stage is 64% more carbon-intensive than its second-highest impact category: yarn production. The brand's goal is to reduce emissions related to dyeing and finishing by 10% in 2022. Pangaia is hopeful that it can achieve a 75% reduction by 2025 and a 100% reduction by 2040. 
"The fiber [offcut waste] is actually ground down into a particulate, which is not harmful and can be easily separated from liquid. It doesn't extend the life of a pollutant," said Parkes. Typical dyes cannot be separated from water, making their extraction before reaching waterways difficult.
For a lot of brands in conversation with Pangaia's B2B arm, the speed at which the brand can implement new technologies in capsule collections is still surprising. The typical timeframe for Pangaia's innovations, from concept to launch, can be from a couple of months to a year, depending on the complexity of the technology. "There is always some initial disbelief that we actually released all the things. We're getting a lot of questions now. It's progress, but it is still slow," said Parkes. "Big brands, especially, can take a long time to change and adapt. But we're trying to be a model to prove that we can get this stuff done."
Get news and analysis about fashion, beauty and culture delivered to your inbox every morning.