It's difficult to name a beauty sale that drives more excitement than Sephora's hotly anticipated Savings Event. The biannual sale offers shoppers up to 20% off brands and products that rarely go on sale, like Dyson, Rare Beauty and Drunk Elephant, plus 30% off Sephora's in-house line.
It's the kind of sale where shoppers meticulously plan their carts for weeks in advance. But on Friday, when millions of top-tier loyalty shoppers were supposed to get early access, many were met with what they assumed was a crashed website. "Please be patient while we update our site," it read, followed by a 1-800 number to call to complete one's purchase over the phone.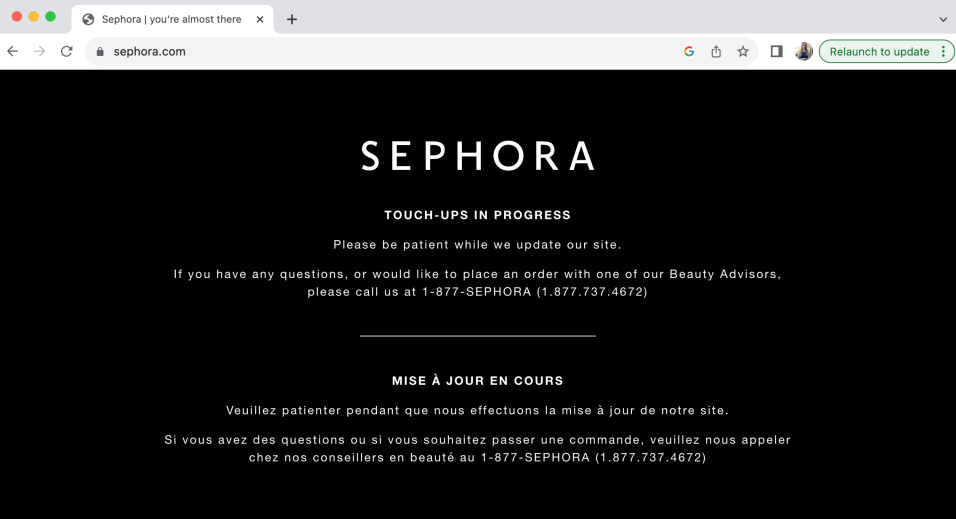 For many shoppers, the app was also unavailable, although it had a more detailed message: "Sephora is experiencing a high volume of traffic. Your status will be checked every 60 seconds. You will automatically be let into our site when traffic subsides," followed by the same 1-800 number.
But neither message did much to quell frustrated customers, many of whom took to Sephora's Instagram comments section instead.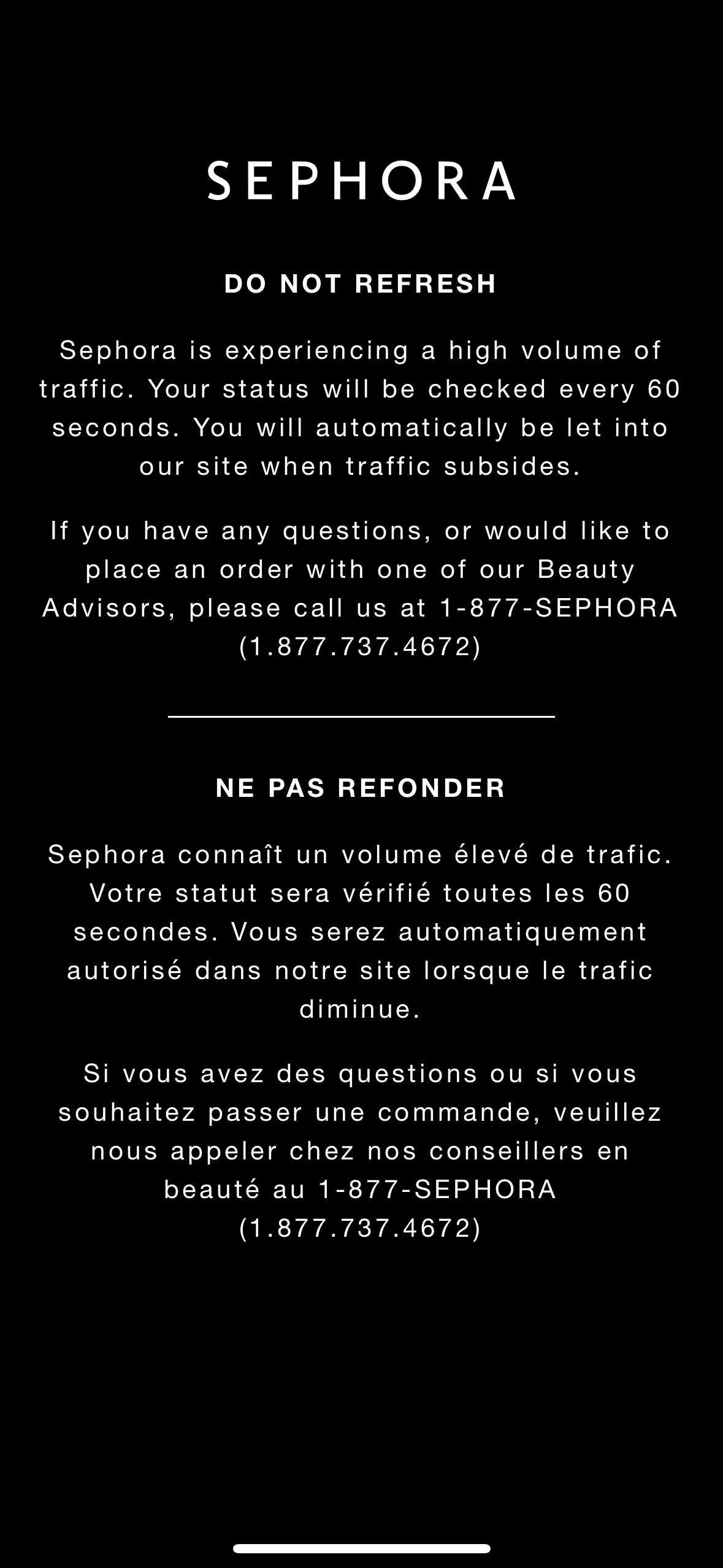 "How are you guys unprepared for the traffic on the app and website for over 12 hours? This is pointless," read one comment from Instagram user @brookebent. Said @callmekeels, "Ummm…how are we supposed to shop online when the website and app arent working??" Meanwhile, @isabellasistine commented, "…Going to start shopping at Ulta at this point, since they actually have a website to shop on."
Some shoppers came to the comments section looking for answers. "Me looking at the comments to see if the app is down or just mine," said @jamienicole_93. While @_marissa_77 said, "Are u going to address any updates on your site being down or keep ignoring our reaching out?"
It doesn't appear that Sephora replied to the comments above or publicly addressed the issue over the weekend. Frustrated comments were still being posted on Sephora's Instagram on Monday.
Sephora did not reply to Glossy for comment.
So what happened? And what could Sephora have done differently? "It's very, very expensive to ramp up your servers to handle more traffic," said Adam Ayers, outsourced chief technology officer at Number 5, which provides tech help to celebrity, lifestyle and e-commerce brands. "So the goal is always to level out that traffic, not have it all come in at once." 
In part, Sephora's sale is already structured to have traffic come in waves: Only top-spending Rogue loyalty program members, or those spending a minimum of $1,000 annually, got early access on Friday. But even with members in the VIB and Insider tiers delayed until the sale officially starts on October 31, the site couldn't handle the demand. According to Glossy reporting from last month, Sephora's Beauty Insider program has 34 million members, which is up 30% from 25 million in 2020.
"Imagine if you have 100 people, or 1,000 or 10,000 people all doing something at the same time. You could have millions of requests per second, so there are really two options," Ayers said. "One is a really simple and cheap solution, and it's called a queue."
This, Ayers said, is what Sephora implemented to manage the traffic. "It's a virtual waiting room that requires no resources, no tactical team and no engineering team, and it just puts people into a waiting list," he said. "So when you go onto the site, you get a token. When it's your turn, they let you into the site. What they're doing is measuring the amount of requests happening, and once those requests dip, they let more people in."
This queue, it turns out, is likely what kept Sephora's site and app from crashing. "It's done at a CDN [content delivery network] level, and a lot of websites are [implementing it by] using Cloudflare, which is a super scrappy startup that has really become the de facto CDN," Ayers said. "The downside is it's not a good user experience."
Shoppers thinking the site may be broken is one of the major problems, he said. Because of it, he's seen e-commerce sites lose 90% or more of potential buyers.
"The other solution is very risky and very resource intensive, and takes a certain talent and people working on it," Ayers said. He noted that he implemented several experimental strategies when he built and ran Kanye West's now-defunct ecomm site, Yeezy.com. It had to handle a million users and hundreds of purchases per second during the star's many Adidas shoe drops.
"We needed to sell $110 million worth of shoes, that's 550,000 pairs, in less than an hour, and that's pretty much impossible," he said. "So instead of fully checking you out, we gave you a confirmation of the purchase before we ran the payment, then we'd run the payment, get a confirmation and send the email confirmation before sending the order to the warehouse. This can get really messy, but it's a much better user experience because you're not sitting in a queue not knowing what's going on."
Outsiders may assume that big companies have tech teams standing by for these sort of issues, but Ayers said that's not common. "It's not profitable, it's not scalable, and it's not something that most companies have," so tech leaders must be creative.
Other options, he said, include providing access codes for a designated early shopping time or expanding servers and databases, which often cuts too far into profits to make sense.
"The easiest solution would be for Sephora to make a better landing page that explains what's going on," Ayers said. He noted that Sephora's site is custom, and he estimated that it's cost the company between $20 million and $30 million since its creation.
As for brands worried about this issue, Ayers said he's run site indexes on custom sites, as well as Shopify Plus and Magento, and there is a clear industry leader. "Shopify is the most reliable at scale, in my experience, so I try to use it when possible. But if it can't handle certain things I want to do, I have to supplement it with my own custom technology, which is what we were doing at Yeezy."
As for customers, many are waiting to see how Sephora will handle the blip. "In the 6-7 years I've been rouge this is the first time ever in life I've seen the app act like this." said @shadesoftori. "Are you going to extend the sale due to the app not working?!" said @poetrybyfarah.
This is a developing story and Glossy will update it as more information is available.
Additional reporting by Sara Spruch-Feiner.