All products featured on Glossy Pop are independently selected by our editorial team. However, when you buy something through our retail links, we may earn an affiliate commission.
Since its 2013 Kickstarter and 2014 launch, Commodity, the indie perfume brand, known for its super minimal packaging and names — Book, Wool, Paper — has been a favorite of those in-the-know about perfume. By 2015, it was sold at Sephora. So in 2019, when the brand announced it was closing down, as a result of financial troubles, shoppers cared.
Fans turned out to be in luck when Vicken Arslanian, founder and president of distribution company Europerfumes, acquired the defunct company the same year. Arslanian labeled himself the brand's "re-founder." Just a few months later, the brand re-opened e-commerce site, quickly selling through the remaining available stock before officially re-launching in 2021. And now, the brand is re-entering Sephora. Sephora also recently launched the indie perfume brand Dedcool, suggesting that the beauty retailer has an increased focus on perfume, particularly from smaller, but social-savvy brands.
"I always kind of looked at Commodity, and being in the industry, I was very curious about it. I appreciated it because it was different, a breath of fresh air, and it had a different viewpoint from artisanal fragrances [which are Europerfume's focus]. That made it a little bit more accessible," said Arslanian.
"I didn't even know it was shut down. I got a call in the summer of 2019, saying Commodity is up for sale. I had never considered buying a brand; we were purely distributors. But, just like that … I said yes. The next thing I knew, I owned this brand," he said. In spite of shuttering, Arslanian said he inherited the brand "frozen in time," but still on an "upward trajectory." One of its hallmarks, even before the pandemic and the rise of TikTok, was its obsessive community. The brand has over 54,000 followers on Instagram, who actively engage with the brand in comments, often inquiring about its return to Sephora.
Since its relaunch, Commodity has become a darling of #PerfumeTok. A number of fragrance influencers, ranging from micro to macro, have done brand reviews and videos in which they rank the 18 scents in Commodity's $42 Exploration Kit. The influencers have included Emelia O'Toole, aka @professorperfume, and Julia Dowling, aka @juliadowlingg.
For the second iteration of the brand, Arslanian and his team introduced a new concept called Scent Space. It focused on five of the brand's classic scents — Book, Gold, Moss, Velvet and Paper — plus a new one, Milk. Each of these six fragrances now comes in three variations — personal, expressive and bold — refering to the projection of the scent and its strength. This system "caters to the uniqueness of each person," said Inbal Shaked, Commodity's vp of marketing, adding, "Maybe [one person] likes a fragrance that fills the room and everyone knows they're wearing that fragrance. But when [another person] walks into a room, maybe they don't want everyone to smell them."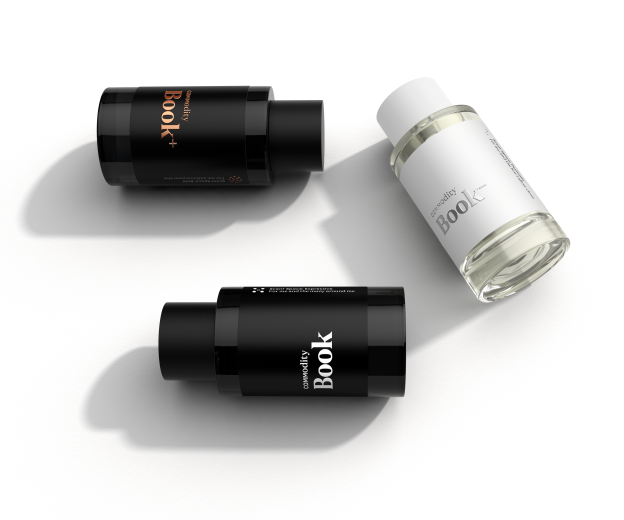 For Sephora, Commodity created an exclusive Discovery Set ($26), allowing customers to experience the six key scents in a variety of scent strengths. The brand plans to gift this set extensively to its influencer fans.
"As you can imagine, #PerfumeTok will be critical for this launch. We have many partners that have become popular on #PerfumeTok that have been longtime Commodity fans, from even before the brand closed down and then re-opened," said Elaina White, affiliate marketing manager at Europerfumes. The company also gifted the set to the Sephora Squad, Sephora's internal roster of influencers. "We plan on investing in influencers this year more than ever, as we know how valuable they can be. That's especially because our Scent Space concept requires some education," White said.
Fragrance has, traditionally, been hard to sell online as it is subjective, and most people want to smell it before they buy. "With its [simple] scent names, Commodity has already decreased some of those barriers to selling and understanding fragrances, which is nice," said Shaked, noting, "That's kind of the MO of Commodity — to make things easier, intuitive and modern."
"Our main strategy for the Sephora launch, from an influencer perspective, is getting Commodity in as many hands as possible. We know the power of a creator genuinely loving a product, and we are confident that many creators will love Commodity and organically talk about our launch at Sephora because they are genuinely excited," White said. "It's no secret that today's customer is consuming a lot of content on social media. The classic sponsored posts that we've been seeing for years aren't resonating like they used to. Consumers want to see genuine reviews and content."
Visit the Pop Shop to browse all products featured in Glossy Pop.