All products featured on Glossy Pop are independently selected by our editorial team. However, when you buy something through our retail links, we may earn an affiliate commission.
Chanel No. 5, YSL Black Opium and Viktor & Rolf Flowerbomb have a new shelf mate at Sephora. Dedcool, the Gen-Z and millennial fragrance brand, launched on Sephora.com on August 2. It will land in 210 Sephora stores on August 12.
In addition to the brand's six top-selling perfumes, like 01 Taunt ($90) and Milk,($90), the latter of which the brand calls a layering fragrance, Sephora is also selling its $12 Taunt-scented air fresheners and its $35 Taunt "dedtergent," marking the product categories' debut entries into Sephora channels.
The beauty retailer has spent the past few months stretching its definition of beauty well beyond makeup, skin care, hair care and perfume. In January, it entered the sexual wellness category with vibrators from Maude and Dame, and in February, Canopy became its first humidifier. Sephora also carries Dedcool's Taunt Massage Candle ($55), best classified as a sexual wellness-fragrance crossover product.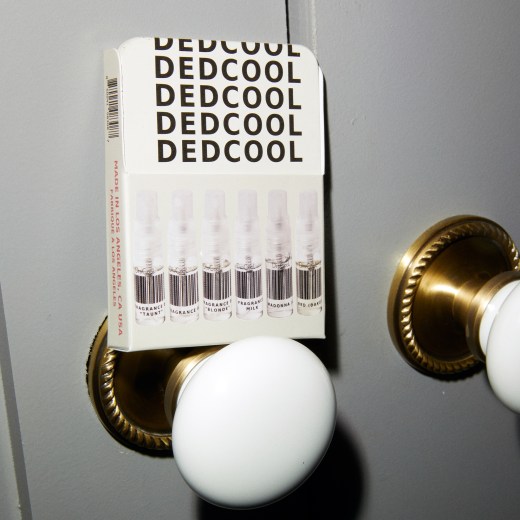 Dedcool launched in 2016 and entered retail, including Barneys, in 2018. The brand had interesting positioning at Barneys, sitting next to the world's top luxury fragrances while being sold at a much lower price point. After Barneys closed and the pandemic began, Dedcool's 28-year-old founder, Carina Chazanas, who goes by Carina Chaz, decided to reevaluate the product lineup.
"We needed to merge into more essential products. We wanted to break the barriers of luxury and beauty. We were still at the same price point we're at now, which is obviously a lot more accessible than your traditional fragrance," Chaz said, noting that her age and Dedcool's messaging further differentiated the brand from traditional luxury lines. "I wanted to speak to the values that were important to me: accessibility and celebrating individuality," she said.
In early conversations with Sephora, Chaz said it was clear that the retailer wanted to invest in fragrance brands that would reach a younger, Gen Z demographic, as well as brands with strong communities. Dedcool, for its part, has nearly 40,000 followers on Instagram. On TikTok, the hashtag #dedcool has over 4 million views, and the brand's account has 4,300 followers. The brand is already sold at Credo Beauty and Revolve, and on its own site.
The new guard of fragrance is growing quickly, so it makes sense that Sephora is expanding its selection. Another recent (re-launched) entry was Phlur by Chriselle Lim, which entered Sephora in March. Sephora was unable to comment in time for the publication of this article.
"They're investing in brands like Dedcool because not only are we offering a quality, clean product, but we are also offering more of a self-expressive way to experience fragrance. We have more functional day-to-day items. You don't necessarily need to devote your day to a scent, but you can use your air freshener that is $12 and you can use the laundry detergent to really scent your life and create this idea of drenching yourself in a signature scent," Chaz said. She noted that the detergent category remains "virtually untouched" by other fragrance brands. Le Labo sells detergent via its collaboration with The Laundress.
On that note, the brand has a number of playful new launches, including "Poop Drops," though these will not, at least, yet, be launching at Sephora. "I think pooping is cool and everyone should talk about it. We want to make it fun," Chaz said. Other upcoming launches include pet shampoos and sprays, as well as a foray into hair care, which has become increasingly intertwined with fragrance.
When it comes to introducing these new categories to Sephora, Chaz feels there is a huge opportunity. "[These products] will shift the way people talk about fragrance. We want to be the first. As we expand our offerings, we focus on innovation. … Everything has a greater purpose; we're not just going to launch products because we think it's fun or cool. We really want to have a greater message and story behind it," she said.