To receive the Glossy Pop newsletter in your inbox every Friday, click here.
All products featured on Glossy Pop are independently selected by our editorial team. However, when you buy something through our retail links, we may earn an affiliate commission.
It feels like almost every day beauty brands accuse one another of copying, whether it's a font, a color scheme, a logo, an ingredient list or a product name. Estée Laundry, the self-described beauty collective with 199,000 followers on Instagram, will often ask its followers their opinions on copycats in polls.
Last week, I received an email from Araceli Beauty, a makeup line founded in 2018, accusing Treslúce, Becky G's brand made by Ipsy, of copying many elements. Among them: the inclusion of agave as a key ingredient, its overarching brand story and the fact that it, too, includes three sets of false lashes in its eye collections. This week, the apparel brand, Rhode, filed a lawsuit against Hailey Bieber and her just-launched skin-care brand, also named Rhode. Another skin-care brand, Rhodes Skincare, claimed Bieber's brand had caused its customers to mistakenly purchase from the new site.
The veracity of such claims are, to a certain extent, subjective and, most of the time, left to a court of public opinion. Without being in the rooms where brands are created, it's hard, if not impossible, for the general public to discern when a line has been crossed. And to further complicate matters, even if one has been, it's not guaranteed that customers are engaged enough with discourse to care or let such it impact what they buy.
I spoke to Araceli Ledesma, the founder and CEO of Araceli Beauty, to understand why she felt a line was crossed. "It's a lot more egregious because it's the same story, saying how she started in [Jalisco], the agave, the exact same lineup of the launch and it's the eyeliners that [use] the exact same packaging, the exact same colors down to the names. … Ours is Noche, theirs is La Noche, and it's known to the public that our liquid eyeliner is our best-seller. Now, they're [also] producing in Mexico. … I understand that it could be a lot of grey area, but it's not just one thing, it's nonstop similarities."
Treslúce and BFA (Ipsy and Madeby Collective's parent company) declined to comment for this story.
Perhaps most notably, Araceli Beauty said it has had a contract in place with Ipsy since 2018, which is still active.
Leilah Mundt, founder of the L.A.-based branding, sales and content agency Créme Collective, which counts Goop, Dibs and Snif as clients, also sees this as more than an oversight of similar packaging. "Retailers are notorious for knocking off best-sellers from other brands. It's a low-risk way to launch products with a much better margin than a keystone 50%, which is standard for wholesale partnerships. Ipsy is a retailer of sorts and likely have their eye on this smaller brand's performance," Mundt said.
"My biggest red flag is that [Ledesma] was doing business with Ipsy, who understood how her particular product addressed an underserved demographic. They probably saw some success and proceeded to knock it off, but in a way that only a $1 billion company can, with plenty of resources. This actually is really unfortunate. As a retailer, you can gain so much insight into consumer behavior, demographics and white space," Mundt said.
On Wednesday, Araceli Beauty posted about the matter to its Instagram account, which has 113,000 followers. The post has nearly 24,000 likes and nearly 1,600 comments.
"I won a Treslúce giveaway and when I received it I was looking at all of the makeup and the names and the story on the packaging automatically reminded me of your brand," one commenter wrote. "Then a few days later you posted about someone copying you and it clicked right away. Of course I just assumed because of the names and story. This is sad. All your hard work. Its not fair. It's not nice to copy someone and take all the credit. I'm sorry this is happening to you. It's sad that it's another well known fellow Latina who supposedly supported your dream then goes back and copy."
Commenters have also flooded Treslúce Beauty's Instagram with comments tagging Araceli Beauty and sticking up for the smaller brand.
On June 4, Estée Laundry posted a collage of two brands with similar green packaging: Ho Karan, a French brand that uses CBD, and Ulé Beauty, a new, Shiseido-owned brand also using CBD. The commenters echoed both my own sentiments and those of the experts I spoke to. "I think the industry is so saturated that all brands and products are starting to look the same. It's very difficult to be original," one wrote, "Yeah but putting CBD in green bottles is not the most original idea. Look at men's grooming lines. All are in black bottles. Not copying, it's just what works…," said another.
Mundt and Erin Kleinberg, co-founder of the Toronto-based branding agency Métier Creative — which has worked with the likes of Chanel, Oribe and Saie Beauty — have helped countless brands define their brand identities. They typcially design the logos, color schemes and packaging that define a brand's look and feel. "When we get a brief, if something looks too much like something else or a storyline is too much like somebody else's, we change it," Mundt said. Still, there are a finite number of colors and, ultimately, only so many ways to reasonably package a moisturizer or an eyeliner. When I showed Mundt the Ho Karan & Ulé Beauty screenshot above, she noted that both reminded her of long-established brands like Origins and Ole Henriksen.
Ultimately, Kleinberg said, brands are faced with a catch-22 when it comes to the question of originality. "Even if someone thinks they might have this original idea, they probably saw it somewhere else," she said. "We're consuming so much, and our brains aren't set up for the TikTok and Instagrams of the world. … It's really challenging to even set apart an original idea from something that has already existed." Secondly, she added, while people may sometimes think "they want different," they "also want the same."
"They want what their friends have, and they want what other brands have," she said. "They like things that they can understand."
Followers of the industry will remember that after Glossier launched in 2014, an endless stream of brands were accused of copying elements of the brand, from the millennial pink to the bubble wrap pouches to the stickers provided with every order. But Kleinberg noted that some of Glossier's original design came from "[artist] Barbara Kruger, parts of it came from K-Beauty — everything is taken from other places."
All this is to say that there are no clear-cut answers. Mundt said that, while she always roots for authenticity, the most authentic brand idea is not always the one that is viable as a business or from a founder who has the means to create a brand. And, even when a brand calls out another brand on social media for copying, though it might make a splash, it's hard to say if it will have a lasting impact or "make a difference." In lawsuits, often the brand with more money to spend on lawyers gets the last word.
"I don't know how much of any of it matters for the bottom line. … People should not knock off other people's brands. If you don't have something original, do something else — there's so much excess. … But then, you think of art: Is there a limit to the amount of art people should create? Beauty is also art, and sometimes, it's somebody's expression," Mundt said.
"I would love to speak up, especially for those that don't speak up, because this happens a lot to people. Sometimes people feel powerless and, legally, maybe there isn't a lot we can do. So my only recourse is to talk about it. It does make me uncomfortable. I do not want to be in this situation, but I also don't want the parallels to continue," Ledesma said.
She continued, "I love seeing Latina-owned beauty brands. I DMed Becky G when I got the PR box when the brand first launched, but my problem is: You have the finances and you have the recourse yourself to be original, to do your research. She talks about how she did so much research to make sure she was authentic and original, and how she's never seen this done before. So when you're publicly saying you've never seen it done before and and I'm somebody that you followed [on Instagram] since day one, it's a little bit of a slap in the face. She could have said, 'You know what? I've seen this done before, but I'm going to do it differently.' It just hurts. It hurts."
Pinterest boards come to life on TikTok
Increasingly, TikTok and Pinterest are becoming interconnected. A search for the hashtag #pinterest on TikTok proves the platform's popularity among the TikTok community, showing 11.6 billion views. Videos with this hashtag include outfit recreations, where the user recreates outfits seen on Pinterest with their existing wardrobe, and inspirational mood boards with collages of Pinterest pictures grouped by theme. Think: "summer in Italy" and "model off-duty fashion."
Pinterest imagery appearing on TikTok was popularized this spring, and since, a flurry of TikTok accounts have sprung up that essentially post videos of Pinterest mood boards.
Accounts like @neppobaby (12,000 followers), @summerwineandoldmoney (21,000) and @jacquemiss (23,000) post TikToks featuring themed mood boards like 'princeton' (500,000 views), 'favourite it boy' (452,000) and 'items I can't stop thinking about' (14,000). These mood-board accounts all take screenshots directly from Pinterest. And the names of the accounts often indicate what they are about, be it luxurious lifestyles, glamour or manifestation.
One video from @yveshautemess (7,000 followers) was particularly well-received, garnering nearly 215,000 likes, 300 comments and 5,700 favorites. Captioned, "POV: U got accepted into a private rich girl's instagram," it showcases a collage of Pinterest images depicting a luxurious lifestyle — pics of diamond jewelry, private jet flights and designer handbags are included. These types of videos commonly feature hashtags including #moodboard, #birkinmom and #itgirl, which helps attract users who will connect with the content. The target audience of these mood-board TikToks is predominantly young women who use the boards as a source of manifestation and inspiration for their future life.
Creators are even strategizing to boost their followings on both platforms by directing one social follower base to the other, and vice versa. Tyler Layton of @malibubrunette (6,000 TikTok followers) provides a direct link to her Pinterest account in her TikTok bio. Similarly, on Pinterest, many creators repost their TikTok videos, which links Pinterest users back to their TikTok account. -Rebecca Russo
Collab of the week
Carrière Frères x the National Museum of Natural History in Paris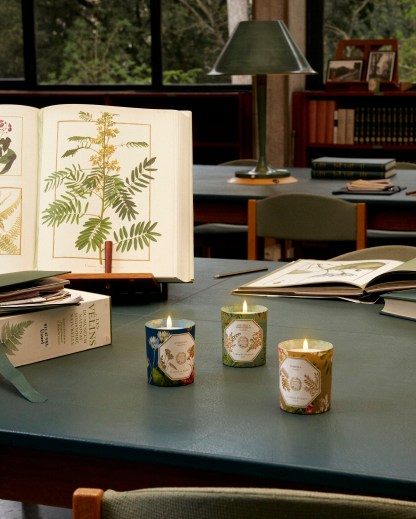 Chic French candlemaker Carrière Frères has partnered with the National Museum of Natural History in Paris on a collection of three candles inspired by the scents of exotic, historic plants. The three candles are $85 each and are housed in specially designed vessels. Absinthe is a woody, green scent, while Waterlily is fruity and succulent.
Inside our coverage
Exclusive: Troye Sivan joins YSL Beauty as an ambassador
'Yes, gay, queen, slay, rainbow!': 'Hacks' breakout star Megan Stalter talks Pride, perfume and rainbow washing
How hair-care brand Dae achieved a 45% repeat customer rate for its latest launch
Reading List
TikTok star Jasmine Chiswell designed a ColourPop collection with her old hollywood vibe