A brand's community has never been more important. The community — encompassing customers, followers, and others who engage with its content and messaging — has become the lifeblood of a brand. What's more, engaged customers are likely to attract more customers. In an August survey of its 74,000 Instagram followers, brand-discovery platform Thingtesting showed that "close friends and family" are the most powerful influences on the purchases they make. Influencers came in fourth place.
Though influencers aren't going anywhere, there is a rising fatigue with their excess of unboxings, lavish press trips and exaggerated claims. See: Tarte's Dubai trip at the start of the year and Mikayla Nogueira's recent "mascara gate" scandal. Who consumers now trust are friends, family and enthusiastic customers who aren't influencers by occupation.
As such, savvy brands are increasingly working overtime to capture the attention and loyalty of everyday customers, including by offering them a sense of community in increasingly creative ways.
This week, Tarte founder Maureen Kelly breaks down how the brand prioritizes community while extensively working with influencers.
At Tarte's headquarters in NYC's Midtown, someone — most often, an employee — is always in the makeup chair having their face painted by an in-house artist. And there's always a photoshoot going on. The 24-year-old brand has always used its employees and their children and friends as its models.
But on August 30, the people in the makeup chairs were exclusively teachers, a subset of Tarte's community that Tarte founder Maureen Kelly is particularly keen on giving back to — Kelly's mother and sister were teachers. "It makes me happy giving back to teachers and lifting them up. They're just good people. … Everyone has a teacher that's made an impact in their lives," Kelly said.
For its holiday campaign, however, it tapped teachers to model. The imagery is now displayed front and center on the brand's homepage, along with the Kelly-composed line, "Holiday '23 ft. the original influencers — teachers!"
"I've had goosebumps the entire day," said Vaishalie Shah, a Brooklyn-based, public school teacher mid-makeup application on the day of the shoot. "I was scrolling through TikTok late at night, and I saw Maureen Kelly's video where [she said they were] looking for teachers for a shoot. I was like, 'Maureen, you're making my day right now,' and I applied. I never thought in 1,000 years [I would be chosen]." Kelly has over 210,000 followers on TikTok and over 15,000 on Instagram.
In addition to the dozens of other reasons that community-focused initiatives are picking up steam, it's hard to ignore the gratitude and excitement of people — paying customers — when they are included by, and feel seen by, their favorite brands.
"As a woman of color, a child of immigrants, … a lot of times society can make you feel not pretty or not worth it. … The fact that we're able to be celebrated and feel beautiful … is beyond my wildest dreams. If I could have told my younger self that I'd be here when I'm 28, … I wouldn't have believed myself," Shah said.
The photoshoot was not the first time Tarte has invited its community into its HQ. Throughout the summer, it held "Teacher Tuesdays," where teachers were invited to pick up school supplies, provided for free by the brand. The events, advertised on Kelly's social media, often racked up crowds of over 300 guests. Eight teachers, selected from raffles done on these Tuesdays, won makeovers for the break rooms at their schools.
Despite a prioritization of community, Tarte has become known for its extensive work with influencers, particularly its #TrippinWithTarte influencer trips. It has hosted these trips since 2015. In January, this practice reached a boiling point when the brand's trip to Dubai became fodder for TikTok analysis, with countless users creating content speculating about details of the trip, like what it cost the brand and whether creators were paid to attend. They were not. Nine months later, the hashtag #tartedubai has over 58 million views. In May, the brand's influencer activations stirred up controversy again when influencer Bria Jones, a Black influencer, accused the brand of providing subpar accommodations compared with other influencers the brand invited to attend F1. Later, she said there had been a "miscommunication." After the incident, Kelly stated that the brand would review its creator program to make sure it was "inclusive and equitable."
Tarte's community (10 million followers on Instagram and 1.1 million on TikTok) regularly leaves comments on its #TrippinWithTarte posts asking to attend the influencer trips. So, in July, it replicated the #TrippinWithTarte experience for 13 community members and their plus-ones. Each filled out a form linked on Kelly's social platforms to enter to win, and applicants were asked to share "one small thing you do to lift others up." The winners were chosen by Tarte employees, who focused on selecting a range of winners from different backgrounds. They were flown to New York City, where they stayed at the Plaza Hotel for two nights, and attended Beyoncé's Renaissance tour, where they had box seats. Winners were also treated to dinner, a bus tour around the city and glam for the concert. And they were given the choice between a massage, a helicopter ride or tickets to a Broadway show.
Though the ROI on a trip for community members does not compare to having Alix Earle post to her 3 million followers, Kelly called the New York City trip "one of the most rewarding experiences" she's had. The contest-winners were "so happy, so excited, so genuine," she said. After all, unlike influencers, going on such a trip is not a common experience for them. When the guests saw their rooms at the Plaza, which had been fitted with "room drops," the industry term for gifting placed in an influencer's room before they arrive, "They all screamed," Kelly said.
"[Community is] the most important. They're who buys our products, they're who I create my products for," Kelly said.
It should also be noted that the brand took 22 influencers to the concert, as well, though they had their own box.
Tarte has always done extensive community initiatives, according to Kelly. Donna Kirkland, the brand's executive director of global marketing, echoed the sentiment: "Community has always been part of our DNA and the way that we think of influence," she said. "It's not necessarily just about the influencer, but it's about what people do and how they influence, in general." Teachers, in addition to healthcare workers, first responders and members of the military receive a 40% discount at Tarte, in perpetuity.
Kelly said to expect more Trippin' With Tarte community trips.
Spate Trend Watch: Pre-washing your hair is in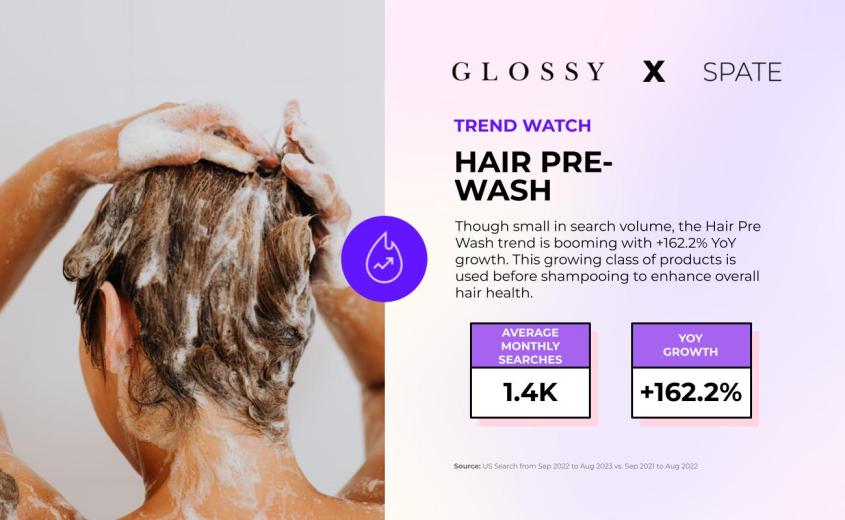 The growing trend of hair pre-washes reveals how hair care is getting ever closer to mimicking skin-care routines.
Those on the hunt for a pre-shampoo elixir primarily search for oils, according to Spate. The top-searched brand is JVN, for its JVN Hair Complete Pre-Wash Scalp Oil. Fable & Mane and Just For Me also appear in searches, though Just For Me's option — the Hair Milk Pre Wash Softening Detangler Treatment — has more of a cream texture.
"Searches for double-cleansing systems in skin care are up 43.5% year-over-year. Clearly, beauty lovers are not concerned with adding additional steps to their routines if they offer a clear-cut benefit. As double-cleanse systems see 12,300 average monthly searches, anyone trying to make pre-washes happen in the hair space can look to the skin-care category as an example of success and leverage the skin-care playbook," said Yarden Horwitz, Spate co-founder.
Inside our coverage
Guide Beauty, with Chief Creative Officer Selma Blair, makes its QVC debut
Julie wants to destigmatize emergency contraceptive with new college campaign
Hotel Lobby Candle first hotel collaboration is selling in minibars
Reading list
We've lost an icon of the size inclusivity movement
Jared Leto pulls plug on lifestyle brand Twentynine Palms, alleges breach of contract and mismanagement
Why Paloma Elsesser felt a responsibility to return to fashion week