To receive the Glossy Pop newsletter in your inbox every Friday, click here.
A brand's community has never been more important. The community — encompassing customers, followers, and others who engage with its content and messaging — has become the lifeblood of a brand. What's more, engaged customers are likely to attract more customers. In an August survey of its 74,000 Instagram followers, brand-discovery platform Thingtesting showed that "close friends and family" are the most powerful influences on the purchases they make. Influencers came in fourth place.
Though influencers aren't going anywhere, there is a rising fatigue with their excess of unboxings, lavish press trips and exaggerated claims. See: Tarte's Dubai trip at the start of the year and Mikayla Nogueira's recent "mascara gate" scandal. Who consumers now trust are friends, family and enthusiastic customers who aren't influencers by occupation.
As such, savvy brands are increasingly working overtime to capture the attention and loyalty of everyday customers, including by offering them a sense of community in increasingly creative ways.
In the final installment of this series, we look at an emerging strategy brands are leveraging to make customers feel like influencers: including them in PR mailers.
For Lindsey Carter, founder of activewear brand Set Active, paying attention to the comments on social media is part of the job. And something she began to notice a couple of years ago was people "ripping apart brands for sending PR packages to bloggers who get 50 [of them] a day," she said.
"They were like, 'I don't get it,'" she said.
While influencers do create content for a job and members of the media often test and write about the products they receive, Carter said she empathized with the commenters and used their feedback to change her brand's strategy. Today, Set Active sends PR packages — the same ones it sends to influencers — to its most engaged customers. For all brands, "PR boxes" are filled with their new launches and, often, accompanying gifts.
"The more you engage with Set and our content, the more recognizable your Instagram handle becomes to me," Carter said. Sometimes, the brand also chooses mailer recipients at random, DM'ing followers of Set Active, which has 445,000 Instagram followers, or Carter herself (36,000 Instagram followers). Doing so has benefits, Carter said. "The [customer] feels included, too. They feel on an equal playing field with an influencer. And [often] they're the ones who are spending thousands of dollars on my product." In a recent Instagram Live, Carter selected five viewers at random to gift.
The strategy is becoming more widespread. Earlier this week, Ulta Beauty prompted its 7.1 million Instagram followers to follow its own account as well as that of Kourtney Kardashian's supplement brand, Lemme (427,000 followers), and tag a friend, for the chance to win a "PR box" including three of the brand's products.
Gifting to customers and community members, like hosting walks or sending out lab samples, is a way to make "regular people" feel like VIPs. And for brands that want to strengthen and emphasize community, that's now necessary. To put it simply, "TikTok really changed the game," said Dianna Cohen, founder and CEO of hair-care brand Crown Affair. The app has allowed "all of these people who weren't a part of the [traditional beauty] ecosystem, to have a voice and get creative and feel connected — and it didn't have to be in a traditional, 'Instagram way,'" she said.
When Crown Affair launched its hair clips in July 2022, it took a two-pronged approach to seeding the product. "We obviously seeded to influencers and girls who make really beautiful aesthetic content," Cohen said. "But I also wanted to send the clips to the people who were excited to have the opportunity to get them. Some opted to make content, while some just gave us one-on-one [feedback]."
To choose the recipients of the launch package, Crown Affair shared a Google Form application with its Instagram followers (71,000) and TikTok followers (7,800), and posted it on its LinkedIn page. Through each channel, the brand received hundreds of responses, Cohen said. The form asked questions about each applicant's hair and hair-care routine, like, "How do you feel about your hair?" and "What do you do to air dry?" Forty recipients were selected to receive the clips, which come in a set of two and sell for $54. The brand made sure to select "winners" who were geographically diverse. It also considered their responses, their age, and their history with the brand in making its decisions.
Urban Decay, meanwhile, began to open up its PR list to the public via its TikTok account (335,000 followers) toward the end of 2022. According to Arnaud Kerviche, the brand's vp of marketing. it was partly in response to a conversation occurring on the platform about a lack of racial diversity in who was receiving beauty brands' PR mailers. In an October 2022 video, TikTok creator @alluringskull (2.4 million followers), who lists their name as "Jory" and does not share their last name, posted a video stating that racial disparities in PR send-outs negatively impact their ability to create content, despite their large following and engaged audience.
Urban Decay stitched the video and sent Jory a PR package. The brand repeated the process, stitching other creators' videos as more BIPOC creators spoke up about the differing treatment they'd faced in comparison with their white peers. Commenters stated different iterations of "Me next!" and thanked the brand for prioritizing being inclusive with its mailers. "It was about listening to what the consumers wanted and being very close to the consumers," Kerviche said.
In November 2022, Urban Decay's social team decided it wanted to take things a step further and posted a TikTok announcing that it was "opening up its PR list". The brand asked its followers to tag creators whose content they enjoyed, though many simply nominated themselves. Ultimately, it sent PR packages to both creators who don't normally receive its PR packages and TikTok users who were aspiring beauty creators. Kerviche said that the brand does not focus on follower counts and understands that anyone can be an influencer, in keeping with its belief that makeup is for everyone. It has since made specific requests for people of Latinx heritage and members of the trans community to apply to its PR list. Since it started this initiative, more than 2,000 community members from TikTok have been added to its PR list to receive products regularly.
For its part, wellness brand Arrae gifts its community members via an ambassador program, which launched in October 2020. Any customer can apply, but Siffat Haider, co-founder of Arrae, said she's looking for true loyalists to be a part of the program. "The customers need to have purchased from us a couple of times or have mentioned us on social," she said. So far, the program has a couple hundred ambassadors. When Arrae launched its Heartburn supplement in February, it sent its PR box for the launch to 25 of the ambassadors, who were chosen at random. The gift was a pasta-making kit, which included pasta, sauce, olive oil, a special sweatshirt created for the launch, stickers and, of course, the product itself.
The meaning of "influencer" is changing — and brands are recognizing that influence can come from all places. A large following does not necessarily convert to the most sales. Though it may be harder to trace and slower to build, nothing beats word of mouth when it comes to sales, according to Cohen. And making a customer feel like a VIP will naturally entice them to want to talk to their friends and family about the brand or its products. As Cohen said, "The smart brands are going to start figuring out strategies that let them engage with the customer in ways that feel more grassroots and word of mouth, whatever that might be."
Merit grows its ongoing NYFW partnership with Proenza Schouler
Minimalist makeup brand Merit Beauty has been Proenza Schouler's makeup partner for its past three fashion shows. For the latest, on September 9, the brands upped the ante on their collaboration by co-creating a makeup set featuring the products used to get the look. It's made up of a reversible vegan leather makeup bag that's chic enough to carry as a clutch, as well as five Merit products: a blush, a serum, a lip oil, a mascara and a brush. It's available for pre-order on Moda Operandi and priced at $125. Below, a chat with Aila Morin, Merit's svp of brand, growth and innovation, on why the ongoing partnership makes sense for Merit and why NYFW is a worthwhile investment.
How did Merit first start working with Proenza Schouler?
"We first collaborated for their spring 2022 show and immediately felt a kinship with their team and vision. One of the core insights that led to the founding of Merit was the chasm between what people, especially those in the fashion industry, actually wear day in and day out, and the overwrought routines and products that the cosmetics industry was marketing to us. Proenza has a similar focus on ease and wearability, both in terms of the pieces they design and the beauty they feature on the runway."
Why expand the partnership?
"Both teams saw how clear the alignment between Merit and Proenza was from our first time working together, so it only seemed natural to evolve our relationship into something tangible, like a product, that both of our communities could access. Reimagining our Signature Bag felt like the perfect opportunity to unite our brand identities and communicate the interplay between fashion and beauty, which is foundational for us at Merit."
Why does involvement in NYFW make sense for Merit?
"We love supporting independent designers, and always intended for Merit to have a presence in the fashion space. [Unlike] many beauty brands [today], we're not founded by a makeup artist or a celebrity, and our products are designed to be wearable for every day. So we get so much out of working with experts like [makeup artist] Diane Kendal, who are key in showing the versatility of Merit. We're capable of being a go-to for everything from a quick touchup in the back of a cab to a highly produced runway show."
How do you measure the success of your NYFW partnerships?
"Each show provides something different. At fashion week, we've launched new products on the runway, solidified international expansion, established local relationships and introduced larger brand collaborations. We go into each opportunity with goals in mind and are very clear-minded about our expectations. But, like everything in marketing, it's a mix of art and science."
How did you and Proenza Schouler work together to bring the collaboration to life?
"We've been working on this collaboration for over a year. We began featuring the products in Proenza's lookbook shoots and runway shows throughout 2023. We also ensured that the campaign creative represented shared aesthetics – we used a team that had experience working with both brands and shot the bag as an accessory in a fashion context. We also brought aboard Moda Operandi as an additional partner so that the collaborative bag and set could live alongside Moda's digital Proenza Trunk Show, which is one of the first avenues consumers have for purchasing what they see on the runway."
Spate Trend Watch: Everyone wants 'Red Wine Girl' makeup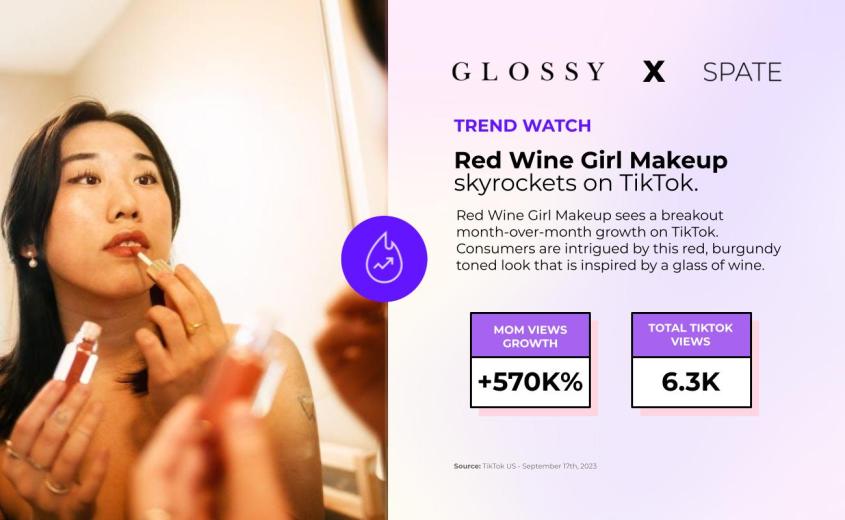 Another week, another food-and-beverage-related makeup trend. This week, according to Spate, it's the "Red Wine Girl" makeup look, which has seen 570,000% month-over-month growth in TikTok views. The fall-friendly look combines natural skin, a striking bold lip and some glowy, bronze definition. The true stars of the look are the lip liner and the burgundy shades, which some creators are achieving by mixing various products.
"In the top TikTok videos [around this trend], we've observed a significant preference for using stick and liquid [product] formats to achieve the glowy look. This trend not only allows brands to innovate with different formats, but it also underscores the importance of staying attuned to social media trends to effectively align with consumer preferences," said Yarden Horwitz, co-founder of Spate.
Inside our coverage
Glossier hits the road for its first college campus tour
Pavise goes provocative with a digital campaign likening sunscreen to condoms
Essence Makeup leans into long-form TikTok content with its 'Effortful Makeup Awards'
Reading list
Makeup artists are still failing dark skin models
Where have all the plus-size bodies gone?