School is back in session — and for brands, going on tour and visiting campuses is catching on.
The latest to hit the road is Glossier, with its You Look Good tour. On Saturday, the brand pulled up in the Franklinton Arts District, the Columbus, Ohio neighborhood adjacent to Ohio State University, in time for a big football game against Western Kentucky University. The silver 18-wheeler will also make stops in Nashville and Austin, both timed to local football games. These games draw large groups of people within the brand's target audience, said Chenaya Devine Milbourne, Glossier's vp of marketing.
The locations of the bus's stops are in close proximity to large campuses, but not on them. "Our community is all ages," Devine Milbourne said. "So we wanted to place ourselves strategically, where you can come if you're a college student — but also, everyone else is invited, too."
The tour was spurred by Glossier's desire to reach its hyper-engaged customer base beyond the coasts, where most of its 11 retail stores are located.
"So much of the beauty of Glossier is the one-on-one connection with each other, as well as with the brand," said Devine Milbourne. "This tour is our way to expand that in cities where we have a large opportunity [because] we have a high following on social. We wanted to give the [broader] community an opportunity to engage with Glossier in an exciting new way."
"This year, we've been focused on bringing more Glossier to more people," said Kyle Leahy, Glossier's CEO. She said the tour offers Glossier fan-favorite products, limited-edition tour merch, and plenty of surprise and delight.
The bus itself is like a "carnival on a truck," Devine Milbourne said, explaining that guests are able to spin a "wheel of fortune" for the chance to win free products, a discount or a piece of the exclusive merch collection. Glossier fans love Glossier merch, she noted. For every T-shirt sold, Glossier will give $5 to Ignite, a nonprofit that empowers young women to become the next generation of political leaders. In each city, college students working on behalf of Ignite will be on-site registering guests to vote.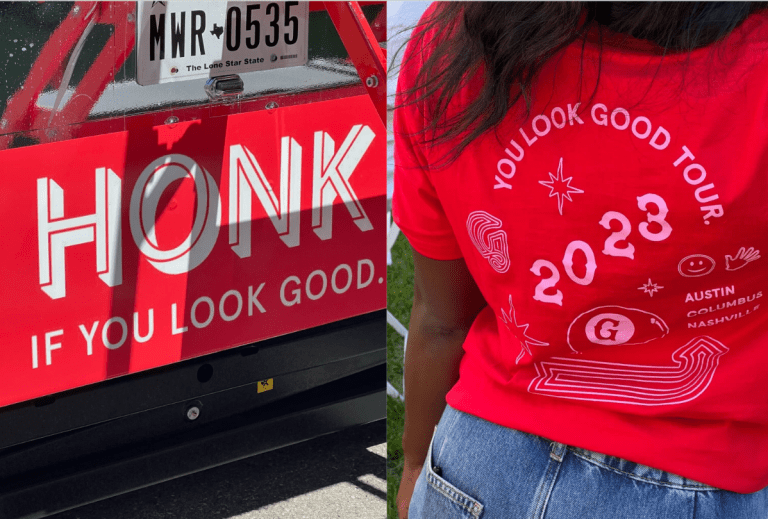 Inside the bus, guests are able to experience and shop Glossier products IRL. The bus is not tied to a particular launch. Devine Milbourne said the goal is to communicate the brand's mission of "'you look good,' wherever you are in your beauty journey, and to allow people to engage with [the brand] in a way that works for them."
"We have furniture outside the truck, plus treats and drinks. So, it's kind of like a backyard party, all centered around a gorgeous truck that you can interact with," she said. In each city of the tour, the brand has partnered with local vendors to provide food. In Columbus, Jeni's Ice Cream was on-site. In Nashville, it will partner with The Sundae Club, and in Austin, with Amy's Ice Creams. The brand has a history of partnering with local vendors. For example, its Los Angeles store offers its own outpost of Los Angeles-based Alfred coffee.
And, of course, there are also "many, many selfie moments" within the truck itself and outside of the truck, she said.
To promote the stops, Glossier is working with local influencers, as well as student publications. It also teased the tour on its Instagram, where it has 2.8 million followers. The announcement was met with pleas to make stops in additional cities.
According to Devine Milbourne, 9-year-old Glossier "set the stage" for the strong focus on community currently being widely embraced by brands. She added that the tour helps Glossier to answer the young consumer demand for brands that "share their values, speak to them and engage with them."