To receive the Glossy Pop newsletter in your inbox every Friday, click here.
All products featured on Glossy Pop are independently selected by our editorial team. However, when you buy something through our retail links, we may earn an affiliate commission.
Ostensibly, TikTok's "that girl" has a roster of experts and services she relies on. She can dole out recommendations for her facialist, pilates-inspired workout of choice, meditation guru and vegan restaurants, and she also probably has a lymphatic expert she swears by. Lymphatic drainage — lymphatic drainage massage, facials and other variations of the service — is the self-care service of the moment.
These services are not new — after all, the lymphatic system is part of our body's immune system. According to the Cleveland Clinic, its functions include "protecting your body from illness-causing invaders, maintaining body fluid levels, absorbing digestive tract fats and removing cellular waste. Blockages, diseases or infections can affect your lymphatic system's function."
Lymphatic drainage refers to the practice of manipulating the body manually to help lymph move. Proponents believe this helps detoxify the body, which fans also say serves to de-bloat and make you look "thinner" even if only temporarily. It has become a popular pre-event treatment, but fans swear by it for after flights too, and for generally maintaining one's wellness and that girl-ness.
On TikTok, the hashtag lymphatic drainage has 290 million views — and there are innumerable other variations (#lymphaticdrainagemassage, #brazilianlymphaticdrainage, #manuallymphaticdrainage, to name just a few). The data and the numbers align. "There's strong growth in interest for lymphatic drainage, with +45.2% growth in searches since last year, averaging out to 234.5K average monthly searches," said Yarden Horwitz, co-founder of Spate, a data analysis firm. "Consumers are searching for how to drain lymph nodes in face, neck, under arms, legs, groin, under jaw and more." This week, Gwyneth Paltrow posted to her Instagram stories about leggings with "lymphatic massage tabs built-in." Whether or not you even knew you had a lymphatic system, it's everywhere.
There are different methods and different places to go so much so that I'd argue that influencers and celebs can match their lymphatic drainage specialist/spa of choice to their vibe, but one quickly gaining traction across the country is The Tox. It already has plenty of celebrity fans and countless influencers. Paris Hilton and Lily Collins are frequent visitors. Courtney Yeager, a serial entrepreneur who previously founded a fitness socks company, launched the studio in 2019. It now has eight locations across New York, California and Texas.
After becoming a new mom and going through a period of not looking after her own health at all, Yeager was inspired to "curate a technique that could give you both the full body detox, with the aesthetic result and long-lasting health benefits." The resulting method, she explained, combines "lymphatic drainage with digestive massage and body sculpting." Yeager herself has 113,000 followers on Instagram and The Tox has nearly 29,000. On TikTok, the studio has nearly 44,000. You'll also find videos, like influencer @heybriajones's (423,000 followers) with the caption, "Let's get that 'celebrity' treatment" and features a visit to The Tox's Dallas location. It is one of many videos documenting the experience of going to The Tox. With photo-ready neon lights that say things like, "On a self-love binge," The Tox is, as the TikTok "girlies" might say, a vibe. The signature treatment, the Master Tox, is $199 for one hour and $299 for 90 minutes.
But it's not the only place an urban wellness aficionado can go for lymphatic drainage. At Higher Dose, for example, which has a location at the 11 Howard hotel in Soho and another in Williamsburg, a lymphatic drainage massage is preceded by a session in the infrared saunas the brand is known for.
Over in Los Angeles — West Hollywood, specifically — one woman reigns supreme when it comes to lymphatic drainage: Flavia Lanini. Lanini is from Brazil, a country both famous for its lymphatic drainage technique and its use after its equally popular plastic surgery procedures. Lanini did not start her career doing lymphatic drainage for its aesthetic benefits. In fact, she is adamant that it is for health. "It makes your blood circulation better, it makes your lymphatic system clean and it improves the immune system," she said. Still, she often works alongside trainers for a kind of bespoke, A-lister boot camp getting stars ready for big on-camera moments. Her celebrity clientele is too long (and top-secret) to list, but she names Kris Jenner and Shay Mitchell as having helped her get her business off the ground and can be seen with stars like Dua Lipa on her Instagram.
Stan Kapica, president of Skin Science Solutions, which distributes a lymphatic drainage device, the Icoone, as well as other beauty and spa devices, has seen the gradual rise of the popularity of lymphatic drainage. "The Europeans have a much more evolved, and advanced knowledge of the lymphatic system than we have here in the United States," he said, noting that Covid increased "awareness about maintaining optimal wellness" and also drove people to pursue "proactive wellness" and essentially, take matters into their own hands. The Icoone can be used on the face and body and has 11 different settings. "What happens," Kapica explained, "is it does something called lipolysis where it squeezes the fat out of the fat cell. So you're doing silhouette remodeling completely non-invasively, you're not altering the biological composition of your body at all." It is important to note that the fat cells can "reinflate," but also that the Icoone is safe for usage up to twice a day. "If somebody's going on vacation or somebody's gonna get married and they want to look good fast, this is what they can do," Kapica said. It is painless, and proponents find it relaxing, too.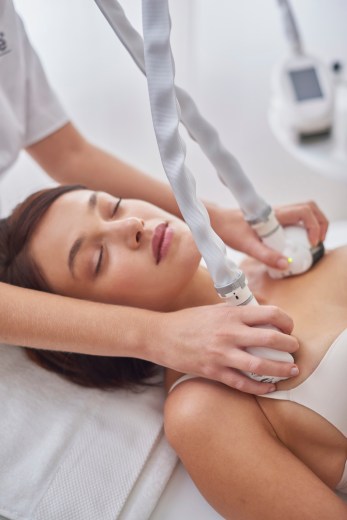 In New York, Ricari Studios currently operates out of a room in the Mercer Hotel. It is bi-coastal though and has another location in Beverly Hills. Treatments, by appointment only, range from $325 to $495. In April, the luxury beauty brand Costa Brazil had a residency there where the lymphatic treatments integrated the brand's oils and its massage tool. Ricari also utilizes the Icoone. Erin Starkweather, head of brand marketing at Saie Beauty, has become a devotee since she moved to LA in July 2020. Though she intended her first session at Ricari to be a treat-yourself moment, she now goes monthly. "My mind was kind of blown at the difference it made after just one session. [It's a] feeling within your body but also you look very good after you get it done. If you're puffy, it really helps with that. I do feel like it makes such a difference in my wellness routine. [It keeps] me healthy, feeling good and motivated to work out. I have a lot more energy," she said.
Launches to know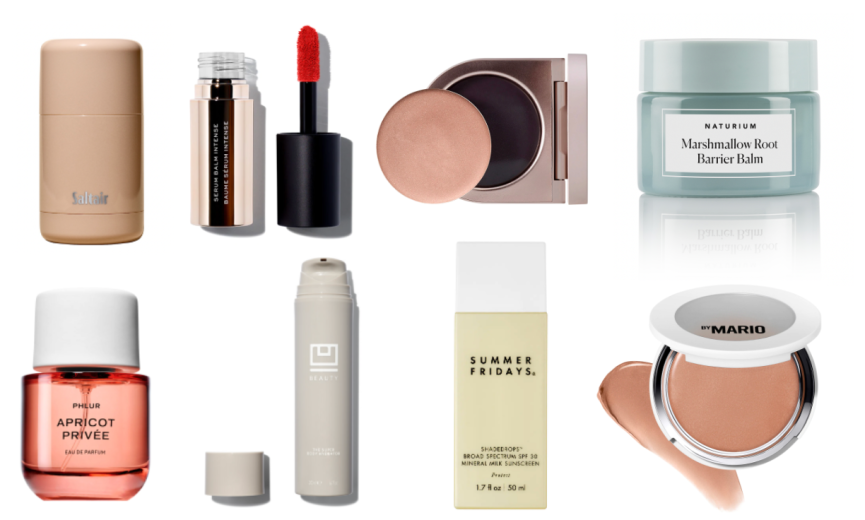 Saltair Santal Bloom Skincare Deodorant, $10
This new deodorant from model & influencer Iskra Lawrence's brand continues to prove that armpits continue to be a burgeoning skin-care focus. This one, with its elevated scent, uses ingredients like salicylic acid and zinc ricinoleate to keep things fresh.
Phlur Apricot Privée, $96
This new-for-summer scent was created by perfumer Jerome Epinette, who is behind classics like Byredo Gypsy Water. The latest addition to the newly Chriselle Lim-helmed brand is a sexy one and features notes of apricot, plump, cardamom and sandalwood.
Make Beauty Serum Balm Intense, $26
If you're looking for a product that combines seriously saturated color with actually hydrating ingredients, like sodium hyaluronate and avocado oil, this new lip color (available in 13 shades) will be a new must-have.
UBeauty The Super Body Hydrator, $128
Taking care of your body as well as you take care of your face is here to stay. One way to do it is with Tina Chen Craig's high-end take on a body cream, which is enriched with peptides, niacinamide, antioxidants and other top-tier ingredients previously reserved for the skin above the neck.
Rose Inc Solar Radiance Hydrating Cream Highlighter, $30
Rosie Huntington Whiteley's Amyris-owned Rose Inc. is expanding its makeup offerings with this cream highlighter, available in five glowy, summer-soiree ready shades.
Summer Fridays ShadeDrops Broad Spectrum SPF 30 Mineral Milk Sunscreen, $36
Sunscreens are notoriously hard to formulate, and beauty enthusiasts are always eager to see launches in the category. This is the case for Summer Fridays debut into the category: a serum-esque mineral liquid, which hydrates with squalane in addition to protecting skin with SPF 30.
Naturium Marshmallow Root Barrier Balm, $25
Naturium (launched by influencer Susan Yara) is one of the best bets on the market for one's wallet and complexion. It also churns out launches that speak to the skin care zeitgeist as the skin barrier conversation is still a big one. This $25 "balm" feels like a much pricier thick moisturizer, or sleeping mask, and uses arnica, colloidal oatmeal and marshmallow root to soothe sensitive skin.
Makeup by Mario Softsculpt Transforming Skin Enhancer, $30
Everyone wants the Mario Dedivanovic glow, best and most loyally modeled by Kim Kardashian. This product is meant to mimic it. Somewhere between a skin tint, a bronzer and a primer, in that it can be used under foundation, the enhancer's MO is to "warm" the skin. Dedivanovic used it on Kardashian for her recent Sports Illustrated cover.
Inside our coverage
Reading List
Kim Kardashian is relaunching her beauty empire
Nicole Kidman loves this hair-thickening serum so much, she joined the company