To receive the Glossy Pop newsletter in your inbox every Friday, click here.
All products featured on Glossy Pop are independently selected by our editorial team. However, when you buy something through our retail links, we may earn an affiliate commission.
It started in May, when TikTok user "Steph" (@thestephseries; 600,000 followers) posted a video showing her hair falling out in real-time while she cried. Hair-care brand K18 and hair extensions company Bellami both saw her video and sent it to one of their mutual professional partners, Alfredo Lewis. Lewis had also seen the post and communicated that he wanted to personally help by teaming with Philip Wolff, another K18 partner. Lewis is a colorist, while Wolff cuts and styles. Bellami flew Steph to Los Angeles, where Lewis then worked his magic to restore her hair using product from both brands.
Since then, the 3-year-old hair-care brand, which is estimating over $100 million in revenue for 2023, has received pleas, via TikTok comments, from other individuals struggling with hair emergencies. Another example: On August 13, a bride-to-be, Catherine Batista, posted a "Hair Horror Story," in which she shares that her hair had fallen out as the result of a straightening treatment gone wrong. K18's team saw Batista's post going viral and, on August 29, they sent Lewis to rehab Batista's hair, in time for her September 1 wedding.
Rescuing people's hair in this way is not a huge investment for the brand, which already has relationships with a robust roster of hair professionals across the country. But it can make a big impact, when it comes to brand reputation and recognition. Since then, the brand has executed two more hair "rescue missions."
"I have always been drawn to color corrections and clients that are in need of serious help, from either at-home color mishaps or unfortunate salon visits," Lewis said. "TikTok and these videos have shown me that people, both stylists and clients, identify with these stories. That's [probably because] we've all had things like this happen in our lives and didn't know where to turn."
K18 boasts "it" girl Sofia Richie as an ambassador, but with its new campaign, dubbed "Real People. Real Results," it is recognizing the importance of communicating the efficacy of its products on customers who aren't also socialites. At the end of the day, "we're not a celebrity brand," said Michelle Miller, K18's svp of global marketing. The campaign features eight K18 employees, with a focus on their hair journeys, the kind of damage their hair has faced and how they treat it with K18 products. K18 aims to show that its products help restore damage of any kind.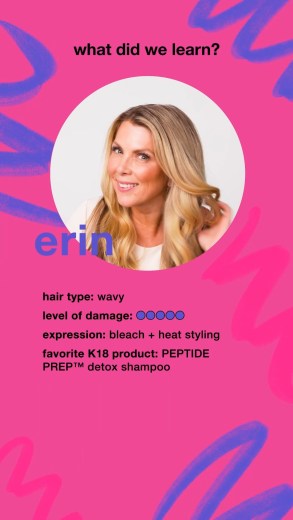 The brand also aims to focus more on daily hair health, despite the fact that the campaign was partly inspired by the dramatic transformations demonstrated on TikTok.
On Tuesday, the campaign launched with a sizzle reel that was posted on social channels and digital billboards that debuted in NYC's Times Square. K18 will also feature ads on connected TV and will run earned and owned social posts. The brand contracted 30 influencers and 20 stylists to further amplify the campaign on TikTok. They include Tay Lautner (@mrstaylautner, 1.2 million followers), Jesse Lesniowski (@saltinashaker, 2.3 million followers) and Kaitlynn Beeler (@kaittnnicolee, 1.6 million followers). Their posts will roll out until the campaign wraps on December 1.
Miller said the budget for this campaign was similar to the brand's others: in the high six figures. "[We] saved a lot on the creative execution, given we used co-workers as models and edited and produced the content in-house," she said. "We were able to use that extra budget to maximize the campaign on TV, out-of-home and paid social media, and by partnering with other relevant voices in our community."
"People are sick of seeing influencer trips, brand trips and [other] things that are giving back to people who aren't necessarily the people paying for the product," Miller said. This campaign, meanwhile, offered "a way to be more real." In addition, highlighting K18's team members meant the brand could feature "real people" who could also tell the brand's story, Miller noted.
K18 has always received an "outpouring" of reviews via DMs and comments on social media, with customers wanting to share the transformative impact of the brand's products — particularly its debut and hero product, the Leave-In Molecular Repair Hair Mask, Miller said. According to a study the brand recently commissioned by Boston Consulting Group, K18 hair care is ranked No. 1 in stylist and consumer loyalty, plus it has top net promoter score and is No. 1 in perceived effectiveness. It also has the most online creator and influencer buzz in hair care. According to Tribe Dynamics, only 1% of its content is sponsored. But, having launched in 2019, it's still working to increase its overall brand awareness.
"We know we work, and if we can get in front of people, they're gonna choose K18," Miller said. "The Boston Consulting Group study illuminated that K18 dominates the prestige hair-care category in loyalty, NPS and effectiveness. But [for awareness], we ranked 9th with stylists and 16th with consumers. So our focus [is now] telling different K18 stories with creative campaigns and influencer marketing that drive rapid brand awareness."
Lauryn Bosstick on her new body care essential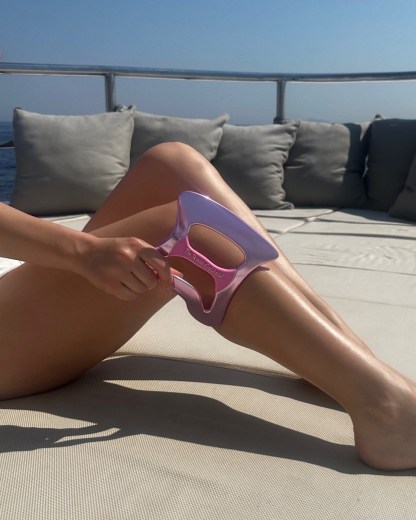 We've already talked to Lauryn Bosstick about her wellness rituals and body care — but now, the influencer, podcast host and entrepreneur has added a body tool to the lineup of her own brand, The Skinny Confidential. It's a sculpting tool, dubbed Le Spoon ($89). Below, a chat with Bosstick about the new addition.
Why did you want to launch Le Spoon?
"After jaw surgery and having [my children, Zaza Townes], things were just puffier, everywhere. I found that I was retaining fluids more than ever, with some extra cellulite sprinkled in, and I needed something I could take on the go to get in sculpting and contouring every single day.
There are tons of body tools on the market, but I couldn't find any with the details I wanted. Most were 2D and wood, and I wanted something 3D to grip my curves and a material that was easier to glide with.
Ultimately, the Le Spoon body sculptor is continuing the [brand's] theme of tools to sculpt while innovating and disrupting the market. Think of it as a counterpart to the ice roller and the facial massager, but for the whole body. It's thick and sturdy, and [like] a piece of art. We worked with a structural designer to create something beautiful and effective.
After using Le Spoon for the last year, I've noticed less cellulite, and I've noticed such a difference in how I look and feel after sculpting my body post-shower. And there are a lot of pluses with body sculpting — it's known to increase circulation, pump your lymphatic system and reduce fluid retention."
Why did you want to expand into body care?
"Entering into the body space was the next natural move for the product line. We've been saying for years, "Take it to your tits," when it comes to skin care. So many people neglect the neck, décolletage, boobs, arms, hands and other parts of the body. Last year, we launched driving gloves to remind people to protect the arms. And now Le Spoon can help people take care of their entire body."
What are your favorite tips and tricks for using a body tool?
"I use this after the shower. So, I'll shower, apply a body oil and then use Le Spoon. I go up the legs, down the torso, up the arms and down the neck. You can also open the lymphatic passages before you do that to make the fluid really move — the process is so invigorating. Also, after weightlifting, the tool works well to get rid of knots and ease muscle soreness."
Spate Trend Watch: Red highlights are on fire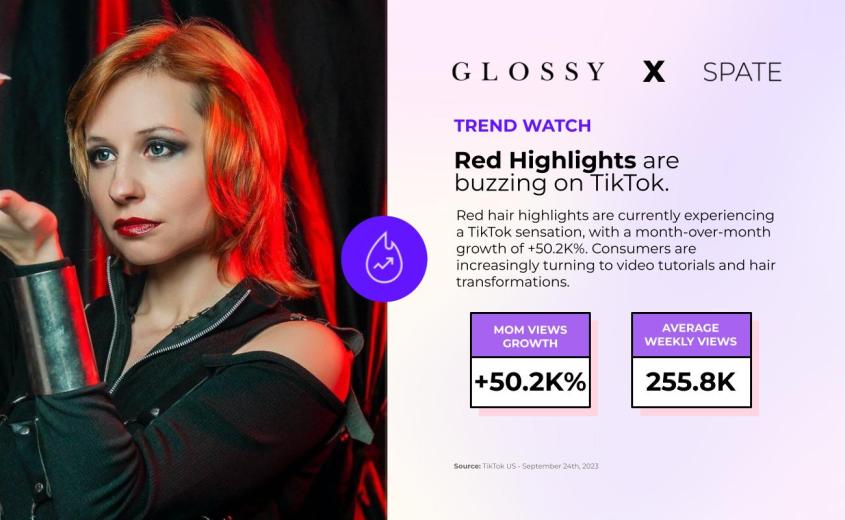 Red highlights are having a moment on TikTok, with a 50,204% month-over-month increase in views of the trend.
From vibrant and bold crimson shades to more subtle, nuanced hues of red, TikTokers are showcasing a diverse range of red looks. And the look is proving to be quite versatile, seen on people with black, blonde, curly and straight hair.
"In this digital age of beauty exploration, TikTok has become the go-to platform for those seeking hair transformation inspiration, and red hair highlights have emerged as a captivating trend in the spotlight," said Spate Co-Founder Yarden Horwitz.
Inside our coverage
Dr. Shereene Idriss on building a community and rarely accepting brand partnerships

Dove's latest self-esteem campaign encourages women to 'Free The Pits'
Phoebe Philo's rabid fanbase kept the hype alive during 2 years of anticipation
Reading list
Lauren Perez unveils argan oil-based Anablue hair care brand
Inside Selena Gomez's beauty juggernaut: The Rare Beauty founder on makeup, Gen Z and navigating social media