In the past few years, the beauty industry has tried to normalize, and even embrace, the imperfections that come with simply having a body. We now embellish our zits with colorful patches. And brands like Topicals encourage customers to celebrate the process of treating ingrown hairs and eczema. Armpits have already gotten the skin-care treatment, but Dove wants to take things a step further, by giving women permission to bring this sense of liberation to another body part, by encouraging them to "free the pits."
"[This is a] movement that is aimed at encouraging women to challenge societal beauty standards, such as those that say that women's armpits should be smooth and hairless," said Pranav Chandon, U.S. head of deodorants at Dove. "We would like for them to feel confident about their pits, no matter what they look like."
The campaign started with a study conducted in the U.S., the U.K. and Brazil, which are Dove's three largest markets for deodorant sales, Chandon said. They're also "markets that can be quite reflective of other markets in the world," he said. Dove gathered responses from 5,500 women and girls of varying ages, ethnicities and socioeconomic backgrounds. That number included 4,000 women ages 18-64 and 1,500 girls ages 13-17. The survey was conducted online. The results found that eight in 10 women believe that their armpits don't look, feel or sweat like the ideal armpit. "This does impact them in their day-to-day lives because, when these women are feeling bad about their underarms, almost 75% are less likely to go on a date or even go to a job interview," Chandon said, citing study results.
#FreeThePits is a part of the Dove Self Esteem Project, which will celebrate its 20th anniversary next year. The project conducts research and provides educational resources to young women and girls around the world.
On September 7, timed to New York Fashion Week, the brand held an NYC pop-up at Chelsea Plaza, for which it tapped influencer Remi Bader to host and chat with attendees. Bader has previously partnered with the brand, on another deodorant campaign. At the pop-up, the brand handed out 1,000 "Pit Kits" that included two-way Metro cards and Dove deodorant samples.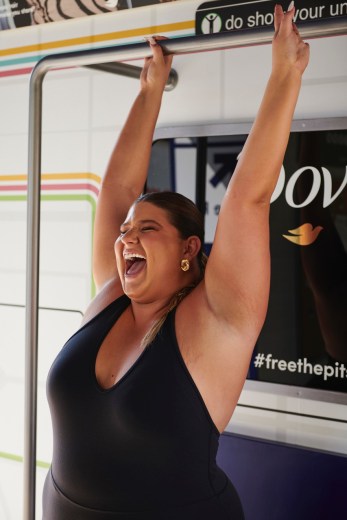 "I've always resonated with Dove's 'real beauty' ethos, and I'm a fan of their deodorant already, so it felt like a natural fit. I also love the confidence message behind the #FreeThePits campaign and [the way] it challenges beauty standards," Bader said.
Bader said that she, too, has dealt with armpit insecurity. "I am always worrying about sweat stains on big red carpets and sweating, in general. But the more we talk about it, the more that normalizes it. Recently, I've been wearing brighter and lighter clothing colors, which I wouldn't have done in the past. I've [become] less ashamed about sweating, and I hope more people start to feel that way, too."
Of the event, Bader said, "I spoke to so many different women about their armpit insecurities, and it was inspiring to see them leave feeling empowered to embrace their underarms as they are. So many women feel the need to cover up or let insecurities get in the way of everyday activities."
In addition to Bader, Dove tapped other influencers to post about the campaign, while the brand has continued to promote it on TikTok and Instagram. The brand said digital assets will run for another month or so, and as such, it is too soon to report on engagement. The campaign had a significant OOH component, which included ad takeovers in eight subway stations including Times Square, Herald Square and 14th Street. Its physical presence was consolidated to August 21-September 24. The focus on the subway was inspired by the fact that being on the subway may be a time that women realize "their anxiety of just raising their arm to hold the bar," Chandon said. Finally, the campaign also included billboards in Times Square, West Village, Bryant Park, SoHo and the Upper East Side.
According to Unilever's first half of 2023 earnings posted on July 23, its personal care category's sales grew by 10.8% year-over-year. Unilever does not break out individual brand sales. The brand declined to comment on the investment in the campaign.