To receive the Glossy Pop newsletter in your inbox every Friday, click here.
All products featured on Glossy Pop are independently selected by our editorial team. However, when you buy something through our retail links, we may earn an affiliate commission.
For as much ink is spilled about the power of the influencer, it is equally important nowadays that a brand build a loyal community. Glow Recipe, the 9-year-old skin-care company, which started as a Korean skin care retailer, has spent 2023 investing in both.
In February, Glow Recipe hosted its first influencer trip to Jackson Hole, Wyoming. Now, for its biggest-ever brand campaign, it cast 10 members of its own community via a contest — and picked the winners without ever seeing their names or faces.
The brand has 1.2 million followers on Instagram, which is where, at the end of April, it announced its "Dew You Anonymous Open Casting." It received over 2,500 applicants, which, co-founder Sarah Lee said was particularly impressive given the detailed nature of the application. "We asked quite a lot of in-depth questions about each individual's beauty journey, their self-love and self-confidence, and what they've discovered about themselves," she said. Specific questions included, "Is there anything you wish you could change about how society views beauty?" and "What's your experience walking through the world?"
Stevie Chong, the brand's senior PR director, attributes the strength of the brand's community, in part, to the way the brand connects with its followers. "[We're] not speaking at them, but speaking with them," he said. As a result, he wasn't entirely surprised at the enthusiastic response to the call for applications. "It wasn't this glitzy model search or, like, an 'America's Next Top Model' barrier," but, rather, it was welcoming, he said.
Out of the 2,500 questionnaires, Lee and her co-founder, Christine Chang, selected 40 finalists based on the written applications, looking for answers representing an "inner glow." They divvied up the finalists, conducting Zoom conversations with each. Before narrowing down the 40 to the 10 winners, the brand's diversity advisory board, six non-employees, were allowed input to ensure the finalists were truly diverse. These advisory board members — which include a dermatologist, and a mix of content creators and beauty editors — were the only people given access to the applicants' information. That included their names, email addresses and pictures. Ultimately, the founders also decided to outsource to further commit to the anonymity of the process, hiring a third-party consulting agency that assigned each applicant a serial number. "When you get these types of applications, you realize there are so many things that can affect unconscious bias, whether it's the last name, a location, an email address or an occupation," Chang said.
For Glow Recipe, Chang said, the new campaign is a continuation of ideals it has long held. "We've not retouched our model imagery for many, many years," she said. And, some years ago, we committed to not use language that we feel doesn't uphold real skin acceptance — all in the name of trying to prioritize inclusivity." Some of the banned words include "flawless," "poreless," "perfection," "anti-aging" and "ageless." Anonymous casting is the "next evolution" of the brand's commitment to inclusivity, she said.
"We pride ourselves on casting diverse models to ensure all of the community members see themselves in our brand. But we wanted to take this one step further and show that [our community members] could be the ones to star in a campaign," Lee said.
The winners, who can be seen here, include Sophia, a 22-year-old Special Olympics athlete who has Down syndrome; Kristen, a 52-year-old registered nurse; and 29-year-old Justin, a transgender, nonbinary, disabled education researcher.
Once the winners were chosen, the brand flew them to New York City for the shoot. Each was put up in a hotel for two nights and attended a welcome dinner at Pera in Soho. "It was just a beautiful melding of different backgrounds and personalities," Chang said, adding that, "Everyone had such great conversation, the restaurant basically had to kick us out at the end." Much like an influencer trip, their hotel bathrooms were, of course, stocked with Glow Recipe products.
The new campaign is for an older product: the brand's Watermelon Glow Niacinamide Dew Drops, a $35 makeup-skin care hybrid that customers use as a serum, a primer and a makeup-mixing medium to add glow. It first launched in 2020. Now, one bottle is sold every 17 seconds globally, Lee said. Sales of Dew Drops have experienced 223% growth since 2021, according to the brand. Many of the participants chosen were already a fan of the hero product.
On set, the brand continued its effort to create a welcoming environment where its content winners-slash-models could thrive. "The team went to great lengths to make sure they were having conversations [with each participant, with questions like], 'What hairstyle are you comfortable with?' 'What makes you feel [like you're] glowing from the inside out?' 'Do you have preferences on apparel?' Our stylist and our team worked together to pull different looks for people that would just set them up for the most glowy, beautiful, confident shoot," Chang said, "You can really see that spirit in the photos. Everyone is beaming, because throughout the process, they just really enjoyed it."
With the shoot finished, the brand launched its first-ever global campaign on August 1, with out-of-home assets going live throughout the month. The founders declined to comment on the budget for the campaign. Assets will live across the United States, as well as in the U.K. and Canada. The brand is available at Sephora in all three countries where its out-of-home ads will be run, plus it's sold at Sephora in the Middle East, Singapore, Malaysia and Hong Kong.
In New York City, there will be wild postings in 25 neighborhoods including Murray Hill, Midtown West, Union Square, West Village, Gramercy Park, Midtown East, Downtown and Brooklyn. Subway ads — of 1,000 placements total — will run on most major lines. Plus, platform posters — totaling 520 placements — have been confirmed in neighborhoods including Flatiron, Midtown East, Times Square, FiDi, Midtown West, Chelsea, Soho, Union Square, the Upper East Side and the Upper West Side, with more to come. The campaign also includes the brand's first-ever Times Square billboard.
In keeping with the ethos of the campaign and the process of the product's creation, the copy reads: "Dew You: Celebrate your most confident, glowing self."
"It was important to us for this campaign to be an out-of-home campaign. This is the biggest scale [campaign] we've ever done. To show that we believe in this campaign and we believe in the models, whoever they were going to be, it was important for us to share the spirit behind the campaign as widely as possible," Chang said.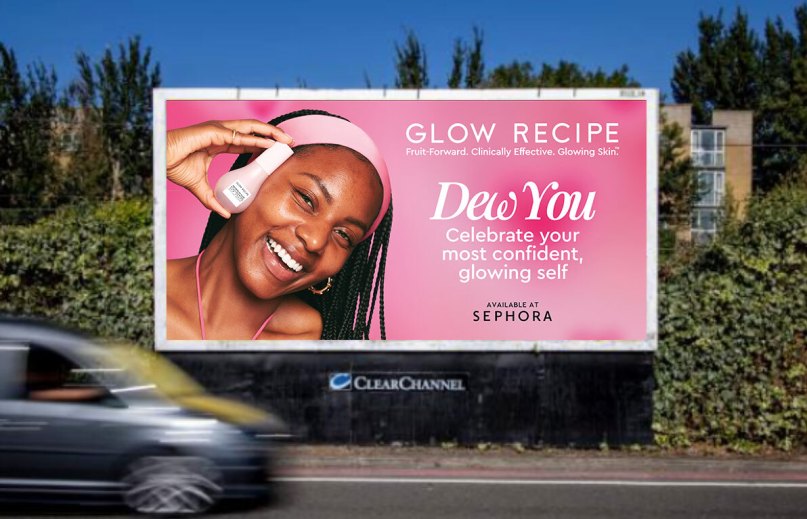 Spate trend watch: Lips need SPF, too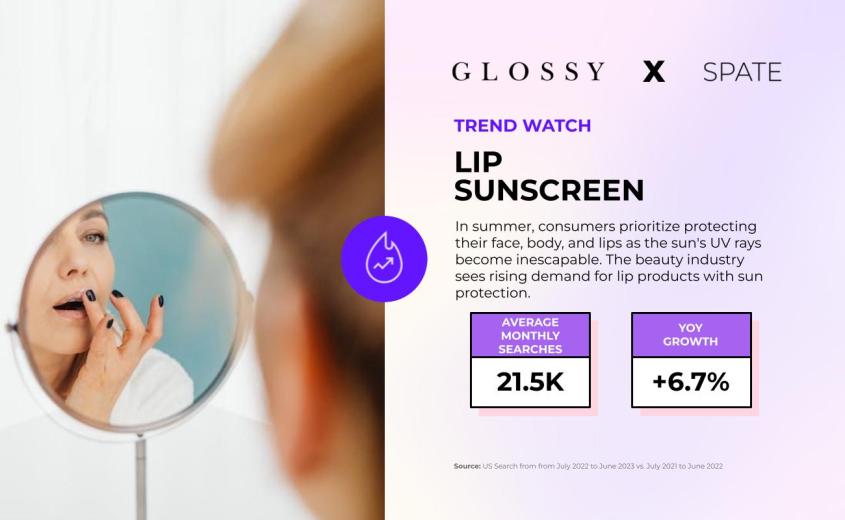 During the scorching summer months, it's important for consumers to remember to safeguard not only their face and body, but also smaller areas — like the lips — against blazing UV rays. This seasonal concern has led to a surge in demand for lip products with added SPF benefits. Google searches for "lip sunscreen" are averaging over 21,000 a month, representing a growth of 6.7% year-over-year, according to trend forecasting agency Spate.
While SPF lip balms have gained popularity, sun protection isn't the only skin perk customers want from their lip care products. More brands are acknowledging the need for multifunctional lip products, combining sun protection with moisturization and other advantageous features.
Among the plethora of brands in the market, Neutrogena and Kiehl's have emerged as standouts, attracting consumers through their dedication to catering to these comprehensive lip care needs. They're the top brands by average monthly search volume alongside lip sunscreen.
"As we witness the growing concern for sun protection, it becomes evident that consumers seek more than just SPF alone. They desire holistic lip care solutions, incorporating sun protection along with other beneficial features. Understanding these evolving preferences is important for brands to effectively meet consumers' diverse needs," said Yarden Horwitz, co-founder of Spate.
Inside our coverage
Glossy Beauty Pop: 10 learnings about the power of the influencer from the inaugural event
Sarah Jessica Parker on her beauty philosophy and approach to social media
'Emily in Paris' star Ashley Park on her brand partnerships and beauty prep for acting roles
Reading list
Why are Arabian perfumes so special? Here are the reasons TikTok users love these fragrances
The Dewy Dudes share their men's skincare starter pack