All products featured on Glossy Pop are independently selected by our editorial team. However, when you buy something through our retail links, we may earn an affiliate commission.
In 2022, Glow Recipe ranked No. 1 among skin-care brands in earned media value, according to Tribe Dynamics rankings, with over $82 million accrued from January 2022 to December 2022. Meanwhile, Tatcha ranked 5th, Drunk Elephant 6th, Cerave 7th and Summer Fridays 9th. Now, the brand is keen to maintain its status in 2023. Media impact value, or MIV, is a measurement that allows brands to correlate a monetary value to posts that mention them, thereby helping them to understand the noise they make across platforms in a given time period.
In an effort to hold the top spot, as stated by Glow Recipe execs, the brand kicked off the year with its first-ever brand trip. From February 2-5, it flew six mega-creators and their plus-ones to luxury resort Amangani in Jackson Hole, Wyoming. The guest list included Mikayla Nogeuira (14.5 million TikTok followers), freshly back on social media on the heels of #mascaragate; Stephanie Valentine, better known as @Glamzilla (1.7 million TikTok followers); "it" girl of the moment Alix Earle (4.5 million TikTok followers); Monet McMichael (2.9 million TikTok followers); up-and-comer Clarke Peoples (@claaaarke on TikTok; 482,000 followers); and Xandra Pohl (681,000 TikTok followers). The brand declined to share the investment in the trip but said the cost was about double what it has spent on influencer launch events for new products in the past.
According to Stevie Chong, Glow Recipe's senior director of PR and influencer strategy, Glow Recipe did not pay anyone to attend. In fact, the influencers enthusiastically RSVP'ed yes almost immediately, he said.
"Mikayla was a definite yes, like the same day. Cody, [Mikayla's] fiancé, is from Wyoming, so it was a special trip for them, too," said Chong. There was no contract for the guests, Chong said, noting that everyone agreed on "organic support" and that the brand "just wanted to see what content would come from [the trip]."
Though Glow Recipe has a new product launching in late March, the trip was dedicated to promoting one of its hero SKUs, the Plum Plump Hyaluronic Moisturizer. At the welcome dinner, each guest was gifted a bedazzled, refillable container of the moisturizer.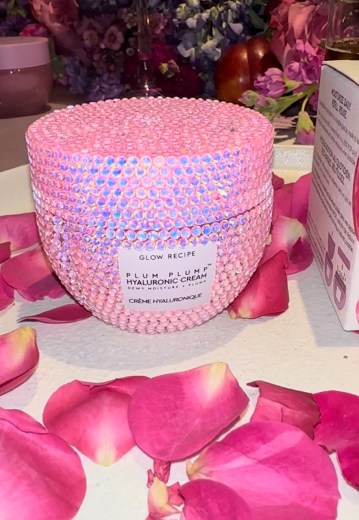 "We thought, 'How amazing would it be if we showcased [this product] and put it to the test?'" said Glow Recipe co-founder Sarah Lee. "Everyone who came to the event tried the cream [for] three nights and four days in the driest, harshest, windiest weather possible. And then they got to see if their skin still felt plump and hydrated. The weather was the reason we chose [to host this] in Jackson Hole at this time of year."
Based on a prior clinical study of 30 participants, the brand can claim that 100% had a "significant increase in moisture immediately and up to 72 hours after use."
To "torture test" the SKU, the brand took its 12 guests on a two-hour-long snow-mobile excursion, co-founder Christine Chang said. The Plum Plump cream doesn't feel like a traditional winter moisturizer — it's not particularly rich or thick. Its efficacy, Chang said, can be attributed to the formula's combined ingredients. That includes the "multi-molecular weight hyaluronic acid and the polyglutamic acid, which create a moisture seal over the skin and give long lasting results," she said.
On a number of levels, the strategy worked. "During the snowmobiling trip, they were saying their skin still felt soft and hydrated — even after being beaten with cold mountain air for two hours, going up this mountain at high speeds," Chang said.
Perhaps more notably, the activation also worked to influence the followers of the influencers on the trip. On its own site, the brand saw the Plum Plump cream go from a No. 5 ranking in its portfolio, in terms of top-selling products, to the No. 1 SKU throughout the week following the trip. The product's daily sales increased 80% over daily year-to-date average sales. The Plum Plump Power Duo, a recently launched kit that pairs the Plum Cream with a Plum Plump Hyaluronic Serum, made up 10% of total e-commerce sales, outranking Glow Recipe's Fruit Babies kit, which had been the No. 1 e-commerce SKU since the beginning of the year. On Sephora, in the week following the trip, full-size Plum Plump Hyaluronic Cream sales increased 30%, compared to the week prior. Meanwhile sales of the refill grew by 20%, and sales of the product's the travel size grew 20%.
Glow Recipe also saw halo effects across its other hero SKUs, including the Watermelon Glow Niacinamide Dew Drops, which saw 30% week-over-week sales growth. Finally, on Amazon, the brand saw a 185% increase in sales of its travel-size Plum Plum Hyaluronic Cream, owed to new users looking to test the formula as a trial. Amazon saw a 45% increase in sales of the refill pods and a 20% increase for the full size. All Plum SKUs and variations during the trip weekend outperformed sales on the peak holiday shopping weekend of December 17-19. And brand reps said Glow Recipe saw a 25% increase in traffic for the week on its Amazon storefront.
The trip was also successful in giving the brand a kickstart on its EMV goals for 2023. Tribe Dynamics told Glossy that "the brand had a surge in EMV, to $3 million, compared to the prior two weeks."
Every guest on the trip posted multiple TikToks, Instagrams and Instagram Stories. Several made vlogs sharing their day one, from the moment they left their home to the first time they saw their room, which was decked out with Ugg snow boots, customized flannel shirts with their name embroidered on them and other goodies. In one TikTok, Peoples called the trip the best vacation she'd ever been on. And Earle posted one of her signature "Get Ready With Me" videos. In one video that has over 400,000 likes, Earle tells the story of a drunken night out where she split her pants open. In one of Nogueira's "GRWM" videos, she shows herself using a number of Glow Recipe products to prepare her skin for makeup. She then says she felt sad to go home, as everyone on the trip was like a family.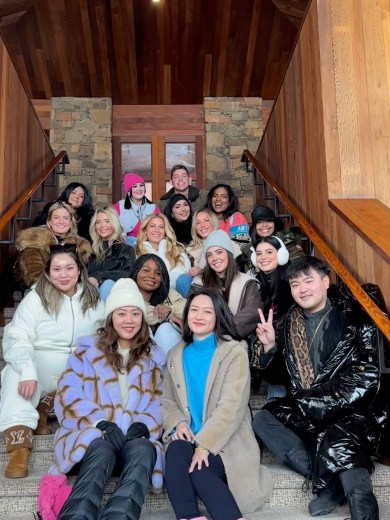 Chang and Lee called influencer trips an extreme form of relationship building, noting that relationship building and nurturing are things the brand focuses on year-round. In 2022, mailers were a big contributor to the brand's EMV, driving around $8 million of the total, according to Chong. He noted that the brand had significantly upped its investment in mailers last year. "A lot of our influencers and creators are across the country," he said. "We want to give them a touch point with a brand, where it feels like you're at an event, with [just] an unboxing." When Glow Recipe relaunched its first-ever product, the Watermelon Glow AHA Night Treatment, in August 2022, mailer recipients received a literal storybook, in which the final page contained the product.
Staying true to its belief in investing in relationships, when Nogueira posted that she'd accidentally left her Dyson Airwrap in her Jackson Hole hotel room, days later, a package arrived from Chang and Lee, replacing it and thanking Nogueira for joining them on her all-expenses-paid trip.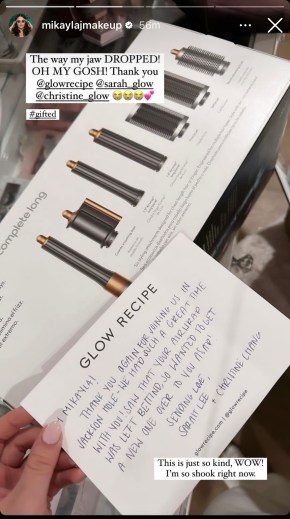 Speaking of Alix Earle…

The mega-influencer teamed up with ThredUp to curate a shoppable collection of some of her favorite spring break styles. "We're partnering with TikTok's favorite 'it' girl to launch The Spring Break Shop," said Brittany Reano, ThredUp's senior manager of growth marketing. "The Shop leverages our What They Thrifted tool, which surfaces hundreds of items from ThredUp's inventory that closely match what Alix has thrifted. … Alix is aspirational but relatable, which is the perfect mix for ThredUp. She was able to find some incredible gems on ThredUp, such as her Dior saddle bag, and some great deals from brands like Levi's and Reformation."
Spate Trend Watch: Brown mascara is having a moment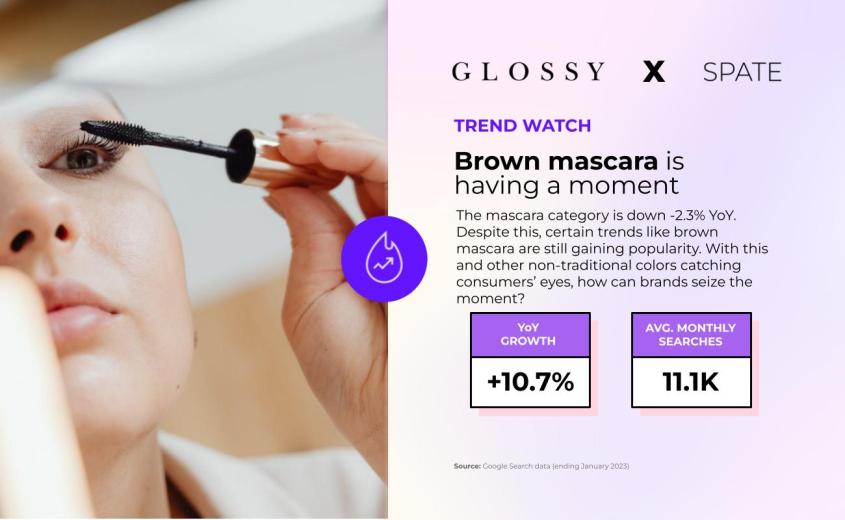 There's something about the start of the year that re-popularizes brown mascara. This year, despite declining interest in mascara overall — searches are down 2.3% year-over-year — consumers are showing increased interest in brown mascara: Searches are up 10.7% year-over-year.
"Brown mascara has captured our attention, as it has peaked in search every January for the last three years," said Spate co-founder Yarden Horwitz, who noted that the searches are not related to a single product or brand. "This reveals that makeup wearers are seeking out a softer lash look for the cooler months," she said.
According to average monthly search volume, top brands searched alongside the trend are Lancôme, Maybelline and L'Oréal Paris, all classics in the mascara space. Recently, TooFaced launched its hero Better Than Sex mascara in brown. Likewise, YSL Beauty just introduced its Lash Clash mascara in brown.
Inside our coverage
Solawave is expanding to Ulta and opening a West Hollywood content house
NYFW Briefing: What's in it for skin-care brands sponsoring runway shows?
Reading list
'Birthday makeup' is sparking a battle of the sexes on TikTok
Those $350 big red boots that are all over TikTok and Twitter have already sold out
TikTokers are filling these $6 pump jars from Amazon with their fave face moisturizer for a Drunk Elephant 'dupe'