It's not just the Pentagon that's obsessed with UFOs and aliens these days.
With the U.S. military shooting down UFOs and the Pentagon teaming up with a Harvard expert to publicly state that an alien mothership could be out there watching us, aliens have been a big part of the zeitgeist this year. At the upcoming Revolve Festival during Coachella's first weekend, for example, influencers will have the chance to pose with "a fifteen-foot sunken UFO," according to the event's press release. As alien fascination sees a resurgence in pop culture, it's also invaded the beauty world through literal motifs and alien-like makeup aesthetics, as well as general space references.
Like smiley faces and butterflies, kitschy green cartoon aliens are the latest Y2K-era symbol to make their way to a range of beauty products from nail decals to face masks.
"The little aliens on our nails look very similar to the ones my friends and I had on our binders and T-shirts in the early 2000s," said Anne Moyer, the retail account director from PaintLab, which released a set of green alien and UFO cartoon press-on nails in January. She added that "with the Y2K references, there is a degree of nostalgia at play."
The green alien nostalgia factor is especially prominent in beauty products like Orly's Y2K era-inspired Lisa Frank collection that launched in 2020. The collection's nail wraps featuring the Lisa Frank alien characters "Zoomer" and "Zorbit" have been best-sellers. They "were a surprise hit," said Tal Pink, vp of business development at Orly, and "were the first to sell out on our website." She noted that "there's enduring '90s nostalgia, and the '90s were all about aliens, conspiracies and 'The X-Files.'"
Aliens have also made their way into the skin-care world. K-beauty brand The Crème Shop's green alien collection includes a comical alien sheet mask, acne patches in alien-face and UFO designs, a compact mirror, and a sleep mask that it has stocked since 2018. The sleep mask is a "best-seller" online, said Rachaelle Villa, The Crème Shop's digital marketing manager.
Imaginative portrayals of aliens in beauty extend beyond the classic green Y2K face. Just as sci-fi movies throughout the decades have represented portrayals of aliens in many different formats, there are also other interpretations in beauty. Urban Decay, for example, launched a Naked palette collab in November 2022 featuring the artwork of pop artist Robin Eisenberg. Her work portrays aliens as stylish humanoid women with purple skin doing mundane human activities like listening to music on their headphones.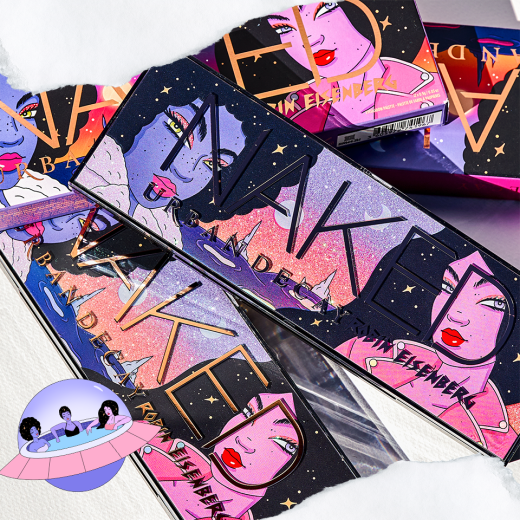 "It's an infinite universe. There's definitely something out there, I want to believe. It could be that aliens are on such a level that humanity's senses wouldn't even be able to perceive them," said Eisenberg, at a space-themed pop-up celebrating the Urban Decay collab launch at ComplexCon in November. "There are so many possibilities, but it would be very fun if there are aliens that are hanging out and chilling in their escape pods."
Skims, meanwhile, combined campy Y2K with creepy sci-fi in a campaign shot by filmmaker Harmony Korine featuring Kim Kardashian. The campaign went viral thanks to its launch timing, which coincided with the news of the U.S. military's February announcement that it had shot down multiple UFOs. In the campaign, Kardashian posed with Y2K-style blow-up plastic aliens juxtaposed with models in alien masks of the sci-fi movie variety.
The popularity of alien motifs in both beauty and fashion is part of a broader resurgence in fascination with outer space in culture, say brand representatives. This month, Orly also released a NASA-themed collection of glittery nail polishes and planetary nail wraps, which are seeing strong sales online and at Ulta Beauty, said Pink.
"As we came out of the pandemic bubble, the general zeitgeist has been very interested in the strange unknowns, including aliens," said Pink.
In addition to literal alien motifs, the beauty world has embraced a broader "aliencore" aesthetic evoking a combination of Y2K-era futuristic sci-fi looks, shiny colors and avant-garde designs.
Mugler's cult early-aughts Alien fragrance, for example, is seeing a resurgence thanks to both PerfumeTok and its campaign featuring Willow Smith as an "alien goddess" in a shiny fashion and beauty look.
"Y2K nostalgia drives interest in 'futuristic' beauty and fashion. While trends from the early aughts always circle back, the futuristic space-age aesthetic has been growing in popularity among our Gen-Z-to-millennial demographic," said Villa.
"The Y2K era is heavily influenced by the fascination of all things futuristic, which often includes space and extraterrestrial themes. So the aesthetic of Y2K nostalgia often features metallic materials, neon colors, body glitter and other elements that are associated with a sci-fi or futuristic vibe," said Moyer.
"Euphoria" makeup artist Donni Davy's Half Magic brand has leaned into this aesthetic with, for example, shiny and colorful eye paint shades that are part of a "Flying Saucer Set." An included chartreuse shade is called "We are Aliens."
The avant-garde aliencore looks have been popular across a range of beauty categories, including makeup, nails and even skin care via branding promising "baby alien skin." "Alien makeup," for example, has 78.1 million views on TikTok. "Aliencore" has 3.9 million. The "alien nails" trend has been driven by celebrity nail artists, such as Tom Bachik, who coined the term when describing the futuristic nail look he did on Anne Hathaway in March. When it comes to nails, Pink said "chrome nails, otherworldy textures and holographic finishes" are all part of the general aesthetic.
Beauty marketers cited pop stars Ariana Grande and Doja Cat as major forces driving the aesthetic, as both have heavily leaned into this look with alien and outer space themes in their music videos. This has also carried into their own beauty lines, including Grande's space-themed REM Beauty and Doja Cat's alien-inspired BH Cosmetics collection. Beyoncé has also leaned into the "alien" term for a song title, 2022's "Alien Superstar." And Julia Fox has predicted "alien vibes" to be a top trend of 2023.
While "alien" is becoming used more frequently to define an aesthetic, experts are trying to pinpoint exactly what that means.
"This trend has been on the rise since 2021 as beauty creators have been more experimental with their looks. It's characterized by fluid and unconventional beauty techniques that use unusual colors, textures and shapes to create avant-garde looks," said Moyer.
As for the psychological and cultural causes of the alien resurgence, marketers see the alien obsession as more than a random trend.
According to Villa, the interest in aliens and Y2K nostalgia in both culture and aesthetics is likely tied to the upheavals of the past few years. She noted, "We see renewed interest in alien motifs when things in our present world feel uncertain. We tend to want to think about other worlds, be more experimental with our beauty and fashion, and lean into color and playful looks during difficult or uncertain times."