To receive the Glossy Pop newsletter in your inbox every Friday, click here.
All products featured on Glossy Pop are independently selected by our editorial team. However, when you buy something through our retail links, we may earn an affiliate commission.
Five years ago, when Lindsey Carter founded Set Active — the athleisure brand with influencer and celebrity fans — she had never owned or operated a brand before. As such, she didn't know much about running a Black Friday sale. To ensure her fledgling brand could stand out amid the sea of deals, she decided to start Set Active's sale before other brands, giving customers an extra three days to shop.
"I remember sitting at Thanksgiving dinner and [thinking], 'Oh my God, our Shopify numbers are wild. This is crazy," Carter said.
Each year since its inception, Set Active has extended Black Friday. Its sale now runs throughout the month of November. Of course, Black Friday sales across the retail landscape have been growing longer, at the same time. But it's the way Set markets its sale, by creating a universe of storytelling around it, that makes it different, Carter said. And that's given it a somewhat cult-like following.
The sale has become so robust and complex over the last few years that the brand has made a habit of issuing a themed guidebook for its customers. This year, that comes in the form of a 14-page PDF designed to look like a TV Guide — it's available on its website. This month alone, the brand will launch 250 new SKUs.
After that first year, Carter wanted to go bigger and decided to use Black Friday to launch products in new colors and styles. This year, the brand took that a step further and introduced a whole new category — sweaters and knitwear, which went on sale on Tuesday.
The Black Friday pre-sale began on November 1, with the brand's entire site on sale at 20% off. On Tuesday, November 14, the brand's first "drop" of the season was released — it was named "On Holiday," a riff on the movie, "The Holiday." The included cozy sweaters and knit pants were in keeping with its theme. By that point, the sale had notched up to 30% off sitewide.
"Dropping [new products] while they're on sale gives our consumers, especially our super loyal, returning customers, an opportunity to buy from a new category and test it to make sure that they love it before investing in it [at full price]," Carter said. "They always love it. And then, when it drops [and it's] not on sale — in another colorway or another style —they'll know what the fabric is, and they'll be familiar with it." Essentially, she said, the strategy allows the brand to educate and create a focus group for every new category.
In addition to new categories, the brand has found ways to reward its community around its Black Friday sale, especially given that some return to shop multiple drops throughout the month. For example, this year, customers placing orders between November 14-27 will receive "Setflix Membership Cards," inspired by Blockbuster membership cards. Of those, 2,000 customers will receive a $50 credit, while five will receive a $500 credit. "The strategy [is that], the more you order, the more you might get a chance at winning one of those golden tickets," Carter said.
Right before every drop, the brand has gone live on Instagram and invited viewers — it has 443,000 followers on Instagram — to join for a virtual game of "Spin The Wheel." The wheel, depending on where it lands, can reward the participating customer with a free sports bra-leggings set, a $20 credit, a $50 credit or 500 Set Rewards points, among other prizes. This also allows the brand to answer questions about that drop right before it becomes available to purchase.
It's worth noting that the brand also sunsets certain items and collections vis-à-vis its Black Friday sale, which it communicates with its community via the guidebook in a section titled "The Series Finale Of…." This year, for example, it is discontinuing Luxform, one of the main fabrics it uses for its leggings and sports bras. "We know, this is major news. But transparently, as much as we love this fabric, we've had a lot of issues with it behind the scenes," the brand tells its customers in the guide.
The biggest challenge the brand has faced during its sales month is how to communicate everything it's doing to its community, said Leslie Dwight, Set Active's brand director. The guidebook has proven a good solve, with past themes inspired by high school yearbooks and road trips.
"We were like, 'OK, are people going to download this PDF? Is it going to be valuable to them?'" Dwight said, "And it became our customers' Black Friday Bible — we could not have even imagined how well received it was going to be."
In working on this story, I've been following along with not only Set Active's Instagram account, but also Carter's, as the brand's most loyal fans do. She has nearly 38,000 followers. Also known for adding customers to the PR list at random, Carter has recently been sharing fans' BFCM Shopping Lists, which they've mapped out by the date of each Set Active drop and posted, while tagging Carter. In one day, I counted three of these. While three is not a large number, when it comes to someone posting a shopping list to their public Instagram story and tagging the brand and founder, it's notable. The captions included, "Is @setactive BFCM your superbowl? or just me…" And, "no guys if you know me, you know I'm obsessed with @setactive and their BFCM is always inSANE! here's what's on my list (minus the sweaters I already bought on Tuesday)."
There's a theory that there are "only so many Instagram posts you should be posting in a day before you're gonna get drop off in engagement," said Dwight. "But if you need to create more real estate, or another avenue for your customer to receive information, where there's a will, there's a way." She noted that some brands think Instagram Lives are outdated, but for Set, it provides another channel to reach customers — and "people tune into them and ask questions and they're engaged."
The month is just over the halfway mark, and the brand's strategy is proving effective. Set Active has gained three times the number of new customers this month, compared to an average month. And its orders have been 25% larger, on average.
Spate Trend Watch: Cloud skin is in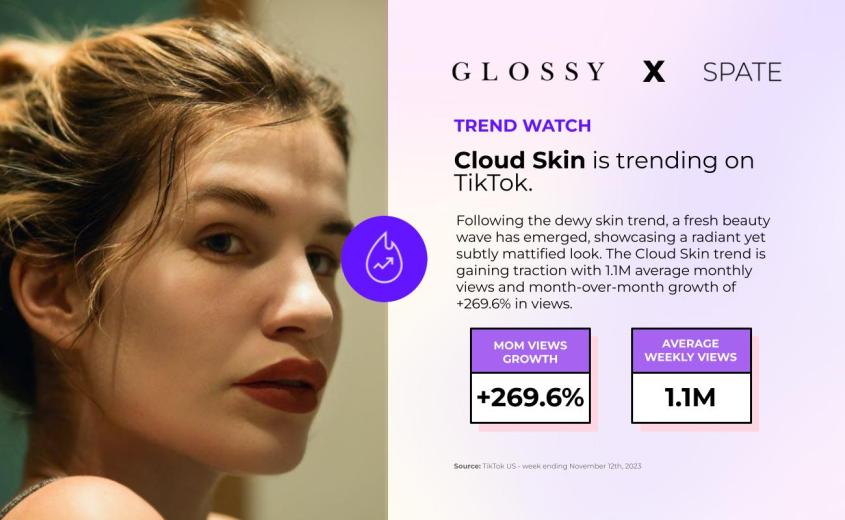 Riding the wave of the dewy skin trend, another new aesthetic has emerged on social media: cloud skin. This new makeup look has captured 1.1 million average weekly views on TikTok, with month-over-month growth of 269.6%. Brands leading this trend include Kosas, Makeup by Mario and Armani.
Notably, some of the inspiration for the look comes from K-pop idols, who perfectly embody the cloud skin aesthetic.
Achieving this look requires a flawless base, so foundational complexion products like concealer and foundation are key. Beyond makeup, the importance of prepping the skin with skin care is underscored. Skin-care brand Glow Recipe is leaning in here, using the hashtag #cloudskin and highlighting that it offers products that can be integrated into makeup routines. (See: the $32 Strawberry BHA Pore-Smooth Blur Drops, a primer.) The cloud skin trend also ties to the continued synergy between makeup and skin care.
"With this trend, where skin texture is the focus, the connection between makeup and skin care becomes crucial. Brands now have the opportunity to get creative with hybrid products. It's not just about meeting what people want, but it's also about creating a beauty routine that feels special. … Today's consumers are looking for a perfect blend of skin care and makeup that feels transformative," said Yarden Horwitz, co-founder of Spate.
Inside our coverage
Pritika Swarup on using her Prakti beauty brand to mainstream Ayurveda
Beauty & Wellness Briefing: How dupe culture impacts beauty brands
How London's designers are leveraging luxury members clubs for customer acquisition
Reading list
The $75 Taylor Swift koi fish pullover has people losing their minds
Can Dove boost representation in the gaming world?