To receive the Glossy Pop newsletter in your inbox every Friday, click here.
All products featured on Glossy Pop are independently selected by our editorial team. However, when you buy something through our retail links, we may earn an affiliate commission.
In 2018, The Metropolitan Museum of Art, one of New York City's most treasured institutions, collaborated with artisanal chocolate brand Mast Brothers chocolate. The museum had already begun to gain a reputation for impressive collabs in the fashion space around its annual Costume Institute exhibitions.
In recent years, beauty collaborations have proliferated. Other examples have included makeup collections with Pat McGrath and Estée Lauder, for Costume Institute exhibitions. Neither is still available. In addition, on several occasions, the museum has collaborated with the brand J.Hannah on collections of nail polish pegged to various exhibitions.
Most recently, however, fragrance has been the name of the game when it comes to The Met's collabs. "The world of fragrance and beauty is about creativity and self-expression. So it feels like a natural extension to The Met's mission to inspire people, to bring art and beauty into their everyday lives," said Morgan Pearce, The Met's general manager of marketing, brand partnerships and licensing.
In October 2022, The Met and Le Labo collaborated on a special edition of Le Labo's Laurier 62 candle — an existing scent. It featured an unfinished nature drawing by the Neo-Impressionist artist Henri-Edmond Cross on its label.
In 2021, The Met created two custom candles with female-founded NYC brand Harlem Candle Company. One, the Seneca candle, was created in tandem with the opening of the exhibition "Before Yesterday We Could Fly: An Afrofuturist Period Room" Another was inspired by The Cloisters gardens. Both remain available on The Met's website.
Just a few days ago, the museum launched a fairly extensive collaboration with Pura, the "smart home fragrance device." Pura launched in 2018 but picked up in popularity during the pandemic, when everyone was focused on making their homes feel as good as possible. The brand has become known for its partnerships, including with fragrance brands Nest and Ellis Brooklyn, influencer-founded hair-care brand Dae, fashion retailer Anthropologie, Disney, and interior design influencer Becki Owens.
At the end of March, Pura collaborated with The Met on six scents ($22 each) inspired by some of the most iconic spaces in the museum, like the Temple of Dendur. The products are available at The Met and on its online store, as well as through Pura's site.
"We work with a licensing agency called Beanstalk, which helps us envision great collaborations and helps us to seek out innovative partners who are at the forefront of their categories of business," said Pearce. "We felt strongly about doing a fragrance collaboration because it is a part of having a 360-degree experience." She noted that fragrance has "strong ties to memory."
Through its collaborations, The Met is looking for ways to allow guests to "time travel," according to Pearce.
"An essential part of visiting The Met is getting to see historical objects and understand what life was like at different times and imagine yourself being there, traveling the globe as you walk through the galleries. Scent is a perfect way to complement and communicate that experience in a way that hasn't been done before," Pearce said.
"When we got introduced, both Pura and Givaudan [the fragrance house] who helped us develop the scents, were enthused by the challenge of trying to figure out how to communicate 5,000 years of our 2 million objects and 17 curatorial departments, through scent," Pearce said.
As for Pura, "We love partnering with brands you may not expect and showing how fragrance can complete its story," said Gabby Wahlin, the brand's PR & brand manager. For The Met collaboration, Pura brought the Temple of Dendur to life through a Blue Water Lotus scent. It blends blue water lily, blooming jasmine, frankincense and myrrh, and was inspired by lotus flowers carved into the Temple of Dendur. The Bamboo Forest scent, which features bamboo, orchid, Chinese Eucalyptus and sandalwood, was inspired by The Met's Astor Court.
To promote the collaboration, Pura seeded the product to various influencers. The Met has also done several paid partnerships, tapping creators like Anna Page (@annawpage; 278,000 followers) to promote the collection. It's also hosted a corresponding giveaway, where one person can win gift cards for airfare, a hotel stay, tickets to the Met and the entire Pura x The Met collection.
Every partnership The Met does has to "have a reason for being that can make for an intriguing story for the customer," Pearce said. "It must also provide value to both The Met and to the partner brand."
Featured
Visit the Pop Shop to browse all products featured in Glossy Pop.
Anine Bing on her second fragrance, Rose Wood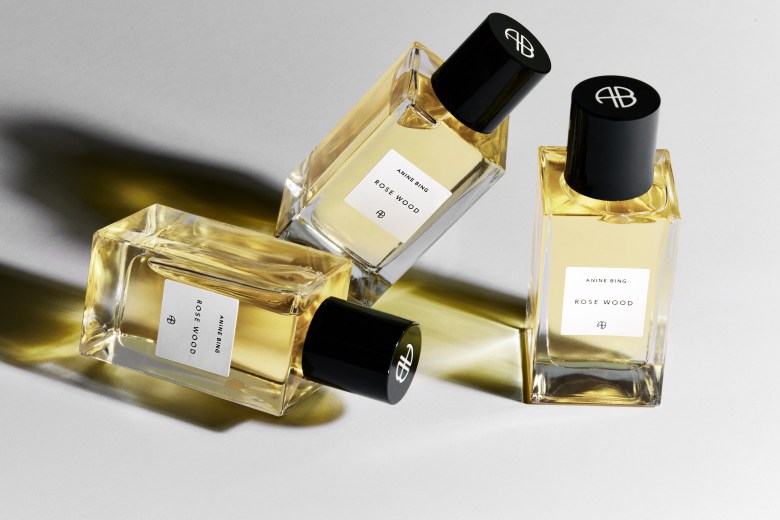 Anine Bing, the brand, is on fire. The brand opened its 20th store in March and is rapidly growing its presence in new categories. It launched its second fragrance, Rose Wood, in late March. Fragrance has been a lifelong passion for Anine Bing (the person), an influencer-turned-fashion exec. To mark the occasion, I spoke to Bing about further expanding the category within her brand.
You launched your first fragrance, Pure Noir, in 2020 — why did you originally want fragrance to be a part of the brand?
"I'm obsessed with perfumes. Ever since I was a little girl. I've been mixing different scents, I've always been playing around with scents. I couldn't afford to buy perfume, but I went into all the department stores and asked for those samples from all of the luxury brands and then I mixed them myself. I also played around with my Grandmother's perfumes. I never had [just one] scent. I always wanted to combine a men's perfume with a women's perfume. It's something that I love, and everything I love I want to add into the brand. People were always asking, 'You smell so good. what is that?' And it was just my own little creations. So it was a natural next step.
Tell us about the new scent, Rose Wood.
"Growing up in Denmark, in the summertime, my grandmother had roses in her garden, and I just love roses. The first perfume actually also had roses. This is much stronger, like pure roses, with a little bit of amber and wood. [Rose is] an empowering female scent, but then I added the wood in there to make it a little more masculine and a little more interesting. It's a beautiful scent that you can wear from day to night. The first perfume was a little stronger — very empowering and sexy. This one is still empowering, but in a little bit of a softer way I would say."
When do you wear each scent in your life now that you have two? What's the Anine Bing outfit for each scent?
"If I have an important business meeting and want to feel empowered, I do Pure Noir. It's one of our power suits — a blazer, something super empowering. It could also be a sexy date night scent, with a dress. For my everyday life, I'll do Rose Wood because it's a little softer, but still super special. Rose Wood, maybe that's the Rosie knit, one of the blouses, skinny jeans.
Do you have any tips for successfully mixing fragrances?
"I love mixing something feminine with something more masculine. So back in the day, I used to mix Chanel ÉGOÏSTE [for men] and then I had a beautiful vanilla perfume — it just created a really interesting mix. It's about you know, the balance of the feminine and masculine that I personally like, and that's what I have done also in my scents, "Rose" "Wood," you know, it has that more masculine with the feminine so I think that's that's fun when you mix because, it's really important to have the balance when when mixing"
Featured
Visit the Pop Shop to browse all products featured in Glossy Pop.
Spate trend watch: #Lashbath(s) are trending on TikTok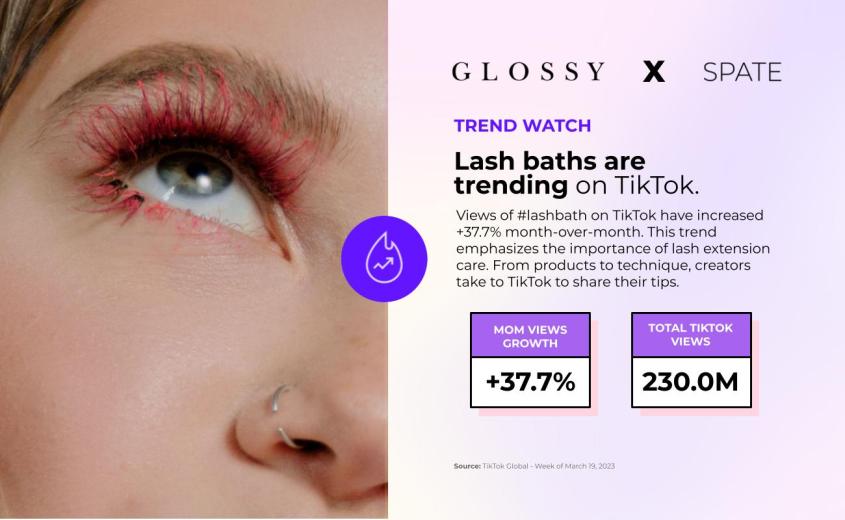 Eyelash extension loyalists are singing the praises of a lash-care must: the #lashbath.
According to top TikTok videos, here's what's required: a gentle foaming cleanser, small makeup brush, water squirt bottle and a spoolie. The cleanser is applied with the brush, taking care to address the base of the lashes. Next, the cleanser is rinsed with the squirt bottle, and as a final step, lashes are combed through with the spoolie. The technique is meant to replace cleansing techniques involving wipes or oils that tug or degrade adhesive and shorten the lifespan of the falsies.
"Lash extensions are massive on TikTok with 14.7B total views across hashtags associated with the topic. As viewers look for ways to extend the life of their application, they're taking to TikTok to learn proper care. To lash service providers out there: take time to share your favorite #lashbath pointers on the app to increase visibility," said Spate co-founder Yarden Horwitz.
Even beyond lash extensions, there's a significant opportunity for creators on TikTok to share their favorite tips to increase engagement. Brands, Spate noted, also might find opportunity in extension-friendly care lines to help streamline consumers' routines.
Inside our coverage
Supermodel Shanina Shaik has big plans in beauty
De-influencing and humor: How Cuyana drove engagement with an April Fool's campaign
Ipsy's new celeb-curated Icon Box kicks off with Anastasia Beverly Hills founder
Reading List
Turning sexual wellness into a contact sport
3 Black beauty founders discuss "selling out"—and what's missing from that conversation