Hanky Panky's Brenda Berger on refreshing the brand: 'We want women to feel supported'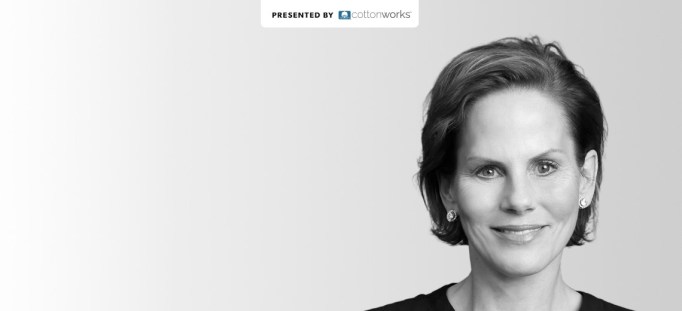 Subscribe: Apple Podcasts | Stitcher | Google Play | Spotify
Although "The World's Most Comfortable Thong" may seem like an oxymoron, intimates and sleepwear brand Hanky Panky continues to hold the title unironically 35 years after the release of its cult-favorite 4811 thong.
While the brand celebrates its heritage with the anniversary of the iconic one-size-fits-all thong, which makes up over 60% of Hanky Panky's sales, it's simultaneously going through a brand refresh, said Brenda Berger, co-CEO of Hanky Panky, on this week's Glossy Podcast. Berger, who served as the head of sales and marketing from 2004 to 2013, rejoined Hanky Panky as co-CEO in 2019 when the "rebrand conversation" started, she said. 
After 44 years in business, Berger and the Hanky Panky team are focused on refreshing the brand while maintaining its sense of heritage, she said. Berger has overseen the launch of Hanky Panky's new website, logo and digital marketing strategies, as well as its new influencer partnerships and TikTok and Instagram strategies.
Advertisement
"[These tactics] better tell the stories of our core products," said Berger. "What was happening prior was word of mouth … [We shifted our] marketing content to storytelling, and we're now taking more ownership of it and placing it on our platforms."
Below are additional highlights from the conversation, which are lightly edited for clarity.
On the importance of word of mouth
"One of the reasons why I came back is that there is a great feeling every time you meet someone and say, 'I work at Hanky Panky.' They get excited and have to pull down their pants to show you that they're wearing it. Or when they don't know [the brand,] there's the excitement of getting to say, 'I am confident that we have a panty that is going to make you feel great, and it's going to last a long time, and you're going to want to wear it.' What's working and how we found these women were all word of mouth. A friend of a friend of a mother's sister — there was an endless supply of women of all ages, all sizes, willing to talk [about it, and] willing to share their obsession and why they love the brand."
Authentic storytelling
"[The Cult of Comfort platform] is still in development, but it is on the website. And it's about using real women wearing our product — fans of the product. And [there's] diversity across size, age, all sorts of options there. We want the customer to share her stories. We're starting to tell ours on the website under the Cult of Comfort. That term came out of interviewing many women as we started rebranding and working with our agency. What they kept hearing was, 'I love this product. It's comfortable, beautiful. I feel feminine, and I keep buying it.' And then the conversation turned to how women collect it. And then they'd show us their underwear drawer, and it was filled with colors and prints and fabrications. We want women to feel supported, and we want them to feel great on their journey throughout the day."
Advertisement
With a new era comes a new lace
"We have a couple of exciting things for 2022 … First and foremost, we are launching a new lace, which we have not done in over 35 years. This, for us, was another part of the rebrand. And the lace program is called Daily Lace, and it's about having a choice of what you wear daily. There's some interesting marketing that I'm excited [for] that will go behind it when it launches in February of 2022. And then, taking that further, we are launching bras in the fall of 2022. If I had to [answer], 'What does everyone always [ask]?' It's: 'When are you going to have bras?' We [already] have soft bralettes, which is not a new [concept], but they have grown exponentially for us during the pandemic. But, there's still that desire to have something more structured and more supportive."
You have read the maximum number of free articles.
Glossy
+

Membership

Subscribe now for access to unlimited Glossy content, premium research reports, exclusive newsletters, invitations to member-only events and more.
This content is available exclusively to Glossy+ members.
Glossy
+

Membership

Subscribe now for access to unlimited Glossy content, premium research reports, exclusive newsletters, invitations to member-only events and more.
Get news and analysis about fashion, beauty and culture delivered to your inbox every morning.