Younger shoppers are propping up the resale market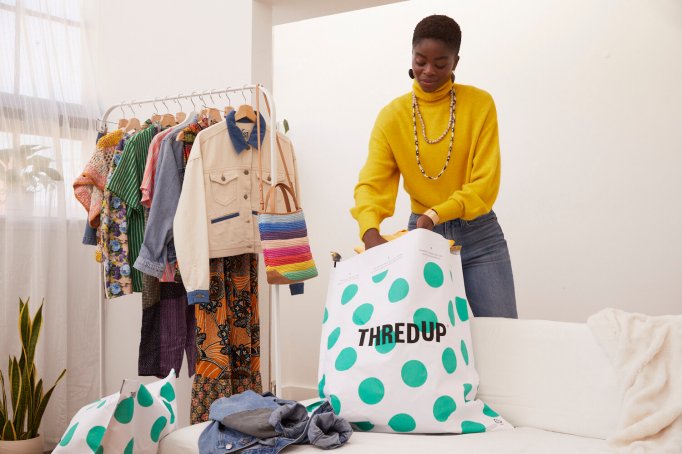 Though price hikes and inflation are signs that a possible recession is looming, resale is among the fashion categories posting growth — and it has younger shoppers to thank.
According to ThredUp's 2022 Resale Report, part of the resale tech company's annual look into consumer behavior and retailer sentiment with analytics firm GlobalData, 65% of Gen Zers and millennials that bought their first thrifted item say they want to quit buying fast fashion.
You have read the maximum number of free articles.
Glossy
+

Membership

Subscribe now for access to unlimited Glossy content, premium research reports, exclusive newsletters, invitations to member-only events and more.

SUBSCRIBE

Already a member?

Already a member?

Login

Logout
This content is available exclusively to Glossy+ members.
Glossy
+

Membership

Subscribe now for access to unlimited Glossy content, premium research reports, exclusive newsletters, invitations to member-only events and more.
"After doing this for 10 years and being here when this wasn't the case, it's a significant change to see 41% of consumers say that when they shop for apparel, secondhand is the first place they look," said Anthony Marino, president of ThredUp. 
Not only does resale have better associations among consumers, but it is also seen as more critical than augmented reality investments among retailers. ThredUp posted its first-quarter earnings last week, which showed total revenue of $72.7 million and 31% year-over-year growth. The company also reported it had 1.7 million active buyers on the site and 1.6 million orders during Q1, growing 33% and 45%, respectively, over the comparable quarter last year.
Advertisement
Gen-Z shoppers are particularly stuck at a crossroads between buying secondhand and buying fast fashion. Over 70% of Gen Zers say fast fashion is good value for their money, but almost the same number (74%) know that their individual consumption has a significant impact on the planet. 
"There is a dissonance in the minds of the younger shopper. Some of them love the cheapness and the convenience of fast fashion, but yet they know it's an addiction that isn't healthy for them or the planet," said Marino. Shein, the biggest ultra-fast fashion brand, recently saw sales slow to 60% after getting a $100 billion IPO valuation. 
Now that fashion consumers are actively looking for used items, brand stakeholders are more willing to buy-in. ThredUp expects at least 40 brands will join its resale-as-a-service (RaaS) offering that has seen more competition from companies like Trove and Archive since January. "[We're seeing] growth at 275% year-over-year in the number of brands and retailers setting up their own resale shops. That's a big change," said Marino. The report also notes that nearly 80% of retail executives are saying their customers are already participating in resale, up 16 points from 2020.
Marino added, "What the brands can do now is curate this retail brand experience that fits their strategy, fits their customer and fits their pricing, in order to help them acquire more customers and retain the ones they have."
Advertisement
Gen-Z-focused features are also being added to resale and rental apps like U.K.-based rental app By Rotation. With social media being a mainstay in the lives of teens and young adults, founder Eshita Kabra-Davies hopes that the numbers By Rotation provides will help young shoppers make better buying decisions. "Just like with Instagram, you can monitor how many views your listing has, how many likes it gets, how many saves, how many times you've rented out an item and how many times you've worn it," she said. "It's a great way to get average consumers to be much more conscious of their fashion choices and become much more strategic the next time they do actually go shopping."
Get news and analysis about fashion, beauty and culture delivered to your inbox every morning.