Suitsupply bets on New York's retail recovery with expansion of SoHo store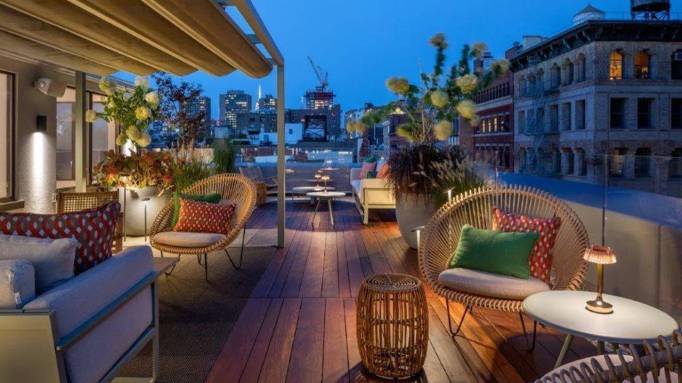 Suitsupply CEO Fokke de Jong said his company is consciously going against the common wisdom and expanding its retail presence in the U.S.
On Thursday, the brand opened two new additional floors and the rooftop of its NYC store in SoHo, which was previously only two floors. The added floors will mainly be used for one-on-one shopping appointments and private events. De Jong said his hope is that the pent-up desire for shopping and a return to normalcy will bring people back over the next few months, just as it has for Suitsupply customers in China, South Korea and many parts of Europe where it has stores. Rather than wait and see, he wants his company to be proactive and prepare for what he sees as an eventuality.
De Jong said the idea is that customers will book an appointment ahead of time online, come in alone or with a small group (like a wedding party) to get fitted, have a drink at the in-store bar and then hang out on the rooftop while they wait the 30 minutes for their suit to be altered. While many retailers are trying to lure people back into stores by making the shopping process as quick and painless as possible, De Jong said his philosophy is to bring people back in by offering a luxurious, non-rushed experience. If they're going to come out of the house to shop, it should be worth it.
There's some reason to believe that New York retail is on its way back up. September data from Safegraph, a company that analyzes and compiles geodata, found that after dropping by more than 80% in June, foot traffic to apparel retail stores in New York City slowly worked its way back up, but its still around 40% less than what it was in pre-pandemic March. Major retailers like JCPenney and Kate Spade have closed their Manhattan stores and more than 2,800 smaller retailers have shuttered in Manhattan since Mar. 1. 
Advertisement
As a consequence, the cost of doing business in SoHo has gone down. According to the CBRE Group, in early September, retail rents in SoHo fell by close to 38% since the pandemic began, plunging below $500 per square foot for the first time in six years. De Jong declined to give any details on how much Suitsupply is paying for the additional floors.
De Jong said New York is traditionally the company's biggest market, followed by Shanghai and London, though its seen a bigger sales drop than those cities this year. The U.S. makes up more than half of Suitsupply's total sales.
"NYC is really missing the tourists," he said. "But our brand has never been very tourist-driven, so we've been lucky in that sense."
But the challenges facing brick-and-mortar are still very real. Even if it becomes safer to shop in-store, online shopping has become a consumer habit that will no doubt be hard to break.
Advertisement
Analysis firm TOP Data found in late August that 75% of U.S. consumers have begun primarily shopping online since the pandemic, and nearly 90% said they would continue shopping mostly online even when everything reopens. "That should be the biggest concern for brick-and-mortar brands. How do we get those people back?"
You have read the maximum number of free articles.
Glossy
+

Membership

Subscribe now for access to unlimited Glossy content, premium research reports, exclusive newsletters, invitations to member-only events and more.
This content is available exclusively to Glossy+ members.
Glossy
+

Membership

Subscribe now for access to unlimited Glossy content, premium research reports, exclusive newsletters, invitations to member-only events and more.
Suitsupply isn't opening any new stores or expanding other stores anytime soon, nor has the company permanently closed any of its more than 100 stores across 25 countries. After its stores temporarily closed down globally at the beginning of the pandemic, the company was kept afloat through a bank loan and an infusion of $11.6 million from NPM Capital in June.
Get news and analysis about fashion, beauty and culture delivered to your inbox every morning.