While Snapchat now has over 750 million monthly active users, its Snap Partner Summit held on Wednesday is highlighting how brands can use its technology off the mobile app, both online and in real life. 
Onstage at the summit, the company announced it's officially adding physical AR mirrors to its new AR Enterprise Services (ARES), or Snapchat tech that brands can pay to use outside of Snapchat itself. Snapchat previously provided in-store mirror technology for a Gen Z-centered Nike back-to-school store installation with immersive Snapchat lenses in 2022. Currently, the mirrors are in-store at Men's Wearhouse for a prom-focused campaign to attract young formal suit shoppers with in-store Snapchat mirrors. 
"We believe AR represents a profound technological shift that is going to impact businesses across nearly every major industry," said Carolina Arguelles, head of AR enterprise product strategy and product marketing at Snapchat. "One of the verticals we are most excited about is the application of AR for retail and e-commerce, and we've invested deeply over the last several years to improve the shopping experience."
Snapchat unveiled ARES, an AR-focused SaaS business unit, on March 23 this year. Sunglasses brand Goodr, Gen Z-oriented e-tailer Princess Polly and knitwear label Gobi Cashmere were among its first clients. Its launch of ARES included the introduction of its Shopping Suite, which allows participating brands to embed Snapchat 3D viewing, AR try-on and an online fit finder into their own apps or websites.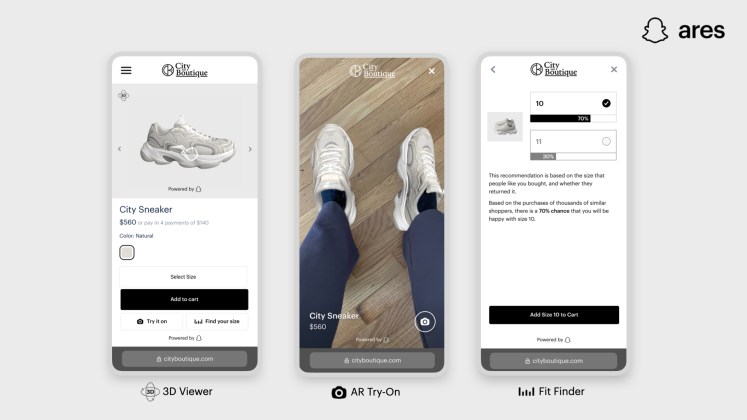 On its mobile and desktop site, Princess Polly currently offers Snapchat's Fit Finder AR tool to help shoppers determine the right size, as well as its AR virtual try-on feature allowing users to stand in front of the camera and have the clothes appear on them. According to Snapchat, 7.5 million customers used the tool, and the e-tailer saw 24% fewer returns among those that used it. Gobi Cashmere, which used the same feature, saw a fourfold increase in its conversion rate. The sunglasses AR try-on used by Goodr, meanwhile, led to a 67% increase in mobile conversion and a 59% increase in revenue per visitor. 
During Wednesday's event, the company also emphasized the continued use of its signature AR features on its app, stating that two out of every three Snapchat users engage with AR on the app on a daily basis. Brands that have launched AR Snapchat campaigns in the past have included Dior, Gucci, Fendi, Nike and Ray-Ban. Last week, American Eagle launched a Snapchat AR store for its new resale program. 
Influencers, who are in attendance at the Snap Partner Summit, were also a focus of the event as the company highlighted updates for its signature Stories feature and TikTok-style short video tool called Spotlight.
When it comes to Stories, Snapchat announced more initiatives to encourage influencer content as it competes with both Instagram and TikTok on this format. The company announced it is allowing more creators to offer ads in their Stories as part of the company's revenue share program. Snapchat has reported that in Q1 of 2023, viewership of Stories by creators in the revenue share program doubled year-over-year in the U.S. The company highlighted influencer Alyssa McKay as a success story, stating she received over 13 billion views on Snapchat.
Snapchat also revealed new criteria for joining the creator revenue program, which requires creators to have at least 50,000 followers, 25 million monthly views, 10 Stories a month and other unnamed criteria. The number of creators in the program is now in the "thousands," according to the company.
And as the U.S. considers a TikTok ban and speculation abounds about what app could take its place, Snapchat highlighted increased usage of Spotlight. As of Q1 2023, the short-video feature now has 350 million monthly average users, with a 170% year-over-year increase in time spent watching content.