Shein launches resale, some say it's greenwashing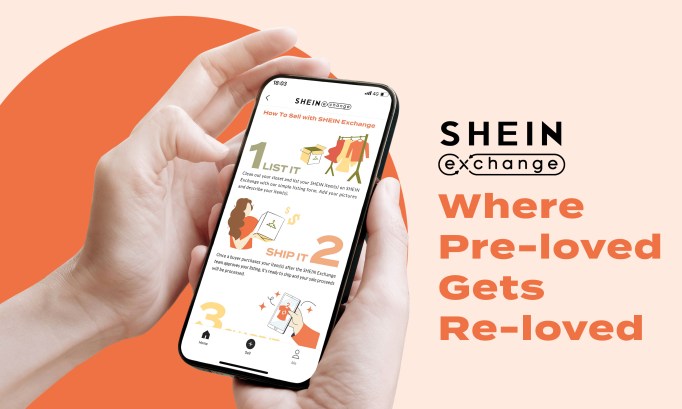 One day after a Shein exposé by U.K. news site iNews was shown on TV by U.K. broadcaster Channel 4, Shein announced it is launching resale. The documentary went into the labor conditions of Shein workers. Reportedly, many are paid $.03 (£.03) per garment, work up to 18 hours a day with no weekends and have just one day off per month. It also delved into deceptive features found on the company's e-commerce site and app, and other misleading marketing strategies. 
The ultra-fast fashion retailer's move follows in the footsteps of other fast fashion brands, including H&M the Boohoo Group and Primark which have entered the resale market. Shein is setting up peer-to-peer resale through its platform Shein Exchange in the U.S., with other markets to follow. According to ethical fashion site Good on You, the Boohoo Group, which owns a number of U.K.-based fast fashion brands including NastyGal, Warehouse and Debenhams will also be rolling out resale for all its brands, by 2023.
You have read the maximum number of free articles.
Glossy
+

Membership

Subscribe now for access to unlimited Glossy content, premium research reports, exclusive newsletters, invitations to member-only events and more.

SUBSCRIBE

Already a member?

Already a member?

Login

Logout
This content is available exclusively to Glossy+ members.
Glossy
+

Membership

Subscribe now for access to unlimited Glossy content, premium research reports, exclusive newsletters, invitations to member-only events and more.
"Given how consumers are flocking to third-party resale apps and platforms, it's unsurprising that fast fashion brands like Shein are seeking out a piece of the pie," said Sophie Benson, a sustainability expert and writer. "Outwardly, it seems like a positive move toward a more circular system, however without a significant reduction in production levels, the addition of resale means very little and will do nothing to plug the constant stream of waste and pollution caused by the constant churn of new products."
Pretty Little Thing, one of the Boohoo brands, was the fifth most-listed brand on resale platform Depop in 2021, behind Topshop in the top spot. Zara followed in third, Asos in fourth and Boohoo came in seventh. According to a survey from Shein, nearly half of customers have sold their Shein items on resale platforms and more than half have purchased a previously owned Shein item. Shein was not noted as a listed brand in the Depop survey for 2021; the average price of Shein items on the platform is $3-$5. 
Advertisement
While marketplaces and platforms like Depop and ThredUp reduce demand for new clothing, owned brand resale platforms typically do not decrease production from brands, especially those in fast fashion. 
In a press statement, Adam Whinston, global head of ESG at Shein said, "At Shein, we believe that it is our responsibility to build a future of fashion that is equitable for all, while also accelerating solutions to reduce textile waste. The goal of Shein Exchange is to make resale just as easy and convenient as buying something brand new, while also igniting a cultural movement of circularity within our own Shein community."
A Shein spokesperson said that Shein Exchange will be a great complement to the company's current platform by not requiring the production of new styles. The platform will also be used for market research, to inform new products based on real-time customer demand. Of course, the investment for setting up a customer-to-customer resale platform is smaller, compared to the investment required to restructure a fast fashion company to not rely on overproduction, cheap materials and labor. 
"It's doubtful how much value secondhand Shein clothes even hold," said Benson. "They're cheaper than most secondhand clothing and of such low quality that it's unlikely they'll survive multiple owners. The fact that Shein is using data from secondhand sales to inform what to reproduce shows a complete lack of willingness to slow production. It's just market research by another name." 
Samata Pattinson, CEO of sustainability organization Red Carpet Green Dress agreed. "What kind of resale market can exist with items that only last a few wears, on average?" she said. "I am fully cynical about this and see this as an attempt to use greenwashing language coupled with an opportunity to justify the creation of more, unnecessary products in the name of research. What would be revolutionary would be making a commitment to reduce production and daily drops, and investing in making better quality pieces while paying a fair, living wage."
Advertisement
Get news and analysis about fashion, beauty and culture delivered to your inbox every morning.