Welcome to the Glossy+ Research Briefing, your weekly curation of fashion and beauty research insights. Glossy+ members have full access to the research below.
In this edition, we share focal points from Glossy's recently released YouTube Influencer Index.
Interested in sharing your perspectives on the future of fashion, luxury and beauty?
Apply to join the Glossy research panel.
Influencers Anele, Lee and Welsh score highest for combined audience reach and brand prominence
In this first installment of Glossy's two-part Influencer Index series, we look at YouTube brand partnerships and the types of influencers that best fit various marketing objectives. Keep an eye out for the second installment about what brands should keep in mind when developing a YouTube partnership strategy.

Although fast-fashion brand Shein's recent attempt to rehab its image by inviting influencers to tour a factory in China missed the mark, many other companies are successfully pairing with influencers to promote their brands, according to Glossy+ Research's recently released YouTube Influencer Index.
Alexandra Anele (@AlexandraAnele on YouTube; 1.2 million subscribers), James Welsh (@JamesWelsh on YouTube; 1.5 million subscribers), Stephanie Ledda (@SMLx0 on YouTube; 1.1 million subscribers) and Ava Lee (@GlowWithAva on YouTube; 386,000 subscribers) are influencers who have large regular audiences and an established recipe for presenting sponsored content on their channels. That makes them the best partners for brands interested in experienced influencers who have a hand in content creation and a guarantee of getting raw views and engagement.
Key findings:
With high audience impact and brand prominence scores, the group has more experience working with brands and knows what type of sponsored content resonates with their audience. Anele, Lee and Welsh received the highest combined audience reach and brand prominence scores compared to all influencers included in the index. Ledda received a 7.1 score for brand prominence, among the highest in the group.

Forty percent of the videos posted by this influencer group fall into the tutorial or tips category, compared to all other influencers in this index who only posted these types of videos 24% of the time. Because this group's audience considers them trusted beauty experts and seeks out these in-depth product application tutorials and tips, these influencers can be a strong tool for brands to build familiarity and customer loyalty.

Forty-nine percent of luxury consumers said brand text or email inspired a purchase
In case you missed it, an email or a text from a brand or retailer is most likely to inspire luxury shoppers to make a purchase. That is according to an April 2023 Glossy and Saks survey of 3,944 luxury consumers on their current shopping habits. Forty-nine percent of consumers said such a message inspired a purchase. Below that, at 35% and 32% respectively, were recommendations from friends and ads on social media.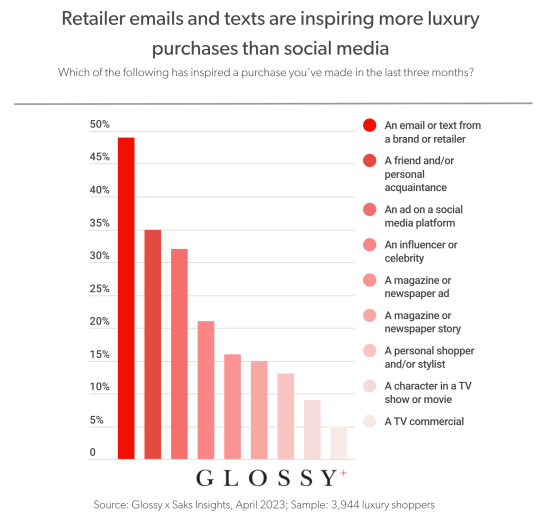 Key findings:
Older consumers tend to be more receptive to traditional marketing like emails from a retailer. Thirty-one percent of respondents over 70 said that an email or text had inspired them, while only 14% of those ages 21-30 answered the same.

Younger consumers are more likely to be inspired by an influencer or celebrity. Eighteen percent of the youngest age group of 21-30 said they were inspired by an influencer or celebrity, but only 2% of respondents over age 70 said they were.
See research from all Digiday Media Brands: