This week, a look at what Pharrell's history and first Louis Vuitton show say about the brand's new direction. Scroll down to use Glossy+ Comments, giving the Glossy+ community the opportunity to join discussions around industry topics.
So much for quiet luxury.
Louis Vuitton's spring 2024 menswear fashion show in Paris on Tuesday made a lot of noise, by design. Along with being globally live-streamed, the event hosted mega-celebrities, dropped music, doubled as a big-ticket concert and revealed all-new, modern takes on the leading, €20 billion luxury brand's traditional design codes. And that's not to mention that it introduced the new direction of the fashion house following the impactful era of Virgil Abloh, its 3-year men's artistic director widely credited with cementing streetwear within the luxury market. Serving as a coming-out party for Pharrell's Louis Vuitton, it was a rager — in terms of media impact, anyway.
The show's place and time also played into making it a moment, so to speak. Paris Men's Fashion Week has been the Super Bowl for men's fashion fans for the past several years. On this week's episode of Nordstrom's Nordy Pod podcast, Will Welch, global editorial director of GQ, said, "Paris Men's Fashion Week is the center of [GQ's] cultural universe. … It's where music, art, performance and sports all collide."
The components of the fashion show, though each at a higher level than most brands could pull off, were nothing new. However, Pharrell's moves leading up to the event and his history of going his own way signal that change is coming to Louis Vuitton and, considering the brand's influence, all of fashion. 
In late April, the brand had a significant, surprising presence at Pharrell's Virginia Beach-based Something in the Water music festival via a sandcastle-look sculpture mimicking stacked Louis Vuitton trucks and, notably, a collection of merch. "LV" was worked into a "Virginia is for Lovers" graphic that was stamped on T-shirts, hoodies and jackets reportedly selling for $860-$3,050.
Offering attendees and wannabe attendees exclusive souvenirs while they're wowed and in the moment is good business, particularly considering consumers' new prioritization of self-expression. And, considering the global reach of the Louis Vuitton show, it could be said that Pharrell's "Damouflage" designs are just that. Damouflage — Pharrell's term for his pixelated, camouflage-inspired take on Louis Vuitton's iconic Damier checkered print — now has cultural significance, having been worn, photographed, posted and reposted by the likes of Rihanna and Kim Kardashian. And it's a safe bet that, next season, it will be replaced by a new motif introduced in another fresh, mega-buzzy show format.
Aaron Levant, the founder and CEO of livestream video shopping platform NTWRK, said he expects that, as fashion shows increasingly take on lives of their own, Louis Vuitton and other big brands will begin offering their seasonal styles immediately following their debut, with the see-now, buy-now model. Levant co-launched ComplexCon with Pharrell, Takashi Murakami and Marc Ecko in 2016.
He noted that, "like at a music festival," Fear of God sold exclusive merch at its L.A. show in April. "You could walk out with a memento and a flex [showing] that you were part of that moment."
"You'll start to see more of that," he said. "And eventually, for massive fashion shows, you'll be able to simultaneously livestream it, watch it and buy from it, and wear the clothes the next day. … That's the ultimate [scenario] for consumers."
For brands, too.
In the worlds of marketing and fashion, "everyone's in a war for consumer attention," Levant said. And when a brand captures it, having the capability to take advantage of it by driving sales is when the stars align.
"All eyes were on the Louis Vuitton show," he said. "But the question is: How do you use those moments to convert people who are highly interested in what you're doing, rather than make them wait six months?"
Of course, with its deep pockets, Louis Vuitton has no shortage of big brand moments.
Levant predicted that, spurred by the success of Pharrell's first LV show, fashion shows industry-wide will get bigger, more conceptual and more experiential moving forward. What's more, Pharrell's unexpected appointment to his position, because it's already proving smart, will "open up the aperture" on the types of creative directors that major brands hire, he said.
The value of culturally immersed products isn't lost on Pharrell. In October 2022, he launched Joopiter, a digital-first auction house that was introduced with an auction of his own belongings. Among them were necklaces he sported throughout the mid-aughts and a "Women's Rights" jacket he wore to an awards show. That auction drove $5.25 million in sales.
In an in-depth story on Joopiter in February, Glossy proclaimed it "the brand of the future," owed to its innovative infrastructure — "free-as-can-be of traditional parameters," allowing for constant evolution — and its "collective" approach to operations. At the time, full-time employees were outweighed by rotating outside collaborators. Among them was Virgil Abloh-founded creative agency Alaska Alaska.
According to then-CEO Kellen Roland, the company also spurred a new phenomenon of extending the life of a cultural artifact: Drake wore his winnings from the auction in a music video, while Kid Cudi has made his Joopiter investment a wardrobe staple of his own. That could also be deemed nostalgia, which has been trending on a mass scale.
Outside of ultra-high-cost, one-of-a-kind products, Joopiter sells merch, allowing more people to join the community. And no item on the company's e-commerce site is positioned as more valuable than another.
It's also worth noting that Joopiter has two logos: a classic version and a modern version. It calls to mind Damier and Damouflage, which will no doubt appeal to different demos of Louis Vuitton shoppers.
Levant said, in looking at Louis Vuitton's new bags, there's something for everyone. Having worked with Pharrell, he recommended expecting the unexpected, including new levels of industry inclusivity.
"He's going to do a lot of unexpected stuff that will be totally different and [leave us] pleasantly surprised," he said. "He's an icon, and he's rising to his new challenge."
Inside Highsnobiety's take on Paris Fashion Week merch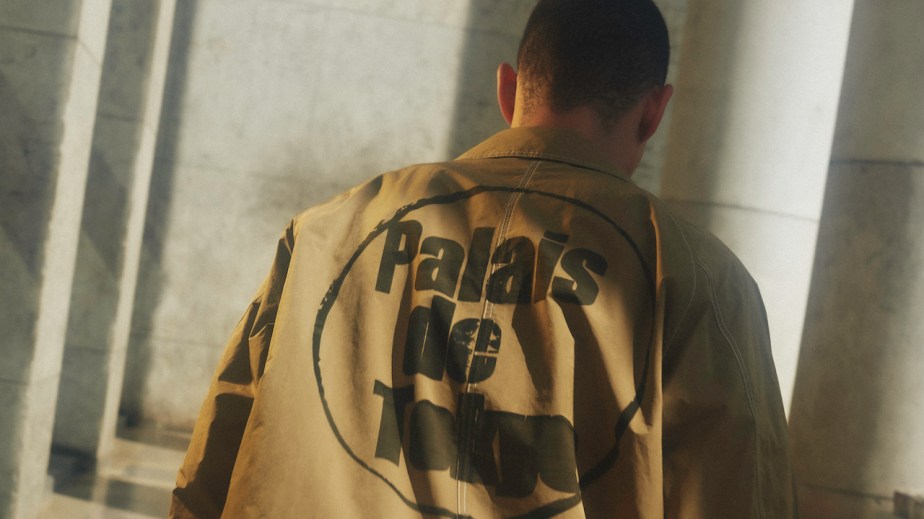 Also during Paris Fashion Week Men's, streetwear publication Highsnobiety launched "Not In Paris 5," its fifth multi-pronged activation around the event spanning content, programming and souvenir-style products. Willa Bennett, editor–in–chief of Highsnobiety, explained the merch strategy.
How does merch fit into luxury consumers' current priorities when shopping for fashion?
"Merch has always been important for people. [We've] created our take on merch for some of our favorite places in the world — most recently, Café de Flore, L'As du Falafel and Loulou at the Musée des Arts. It ultimately goes back to what we constantly think about: personal style, a way for someone to express themself by wearing their experiences — in this case, quite literally on their sleeve."
What's the value of fashion tied to a specific place and time, as you see it?
"The idea of the souvenir is not new. It's a way for us to bring an emotional, temporary experience with us into the future. The Not in Paris shop was a play on exactly this: How can we create our version of the souvenir shop, but offer our audience the most interesting possible version of these items while working with the best of the best in Parisian culture, from the iconic '50s comic Le Petit Nicolas to Jean Paul Gaultier to Diptyque?"
Want to discuss this with our editors and members? Join here, or log in here if you're already a member.