To receive the Glossy Pop newsletter in your inbox every Friday, click here.
All products featured on Glossy Pop are independently selected by our editorial team. However, when you buy something through our retail links, we may earn an affiliate commission.
Pickleball is America's fastest-growing sport, in case you haven't heard. According to March research from the Association of Pickleball Professionals, 19% of Americans 18 years old and older have played pickleball in the last 12 months, a 35% increase since August 2022. More than 70% of avid pickleball players are ages 18-44, and there's been a 32% growth in casual players who play at least once a year.
Fashion is, naturally, on-trend and having a love affair with pickleball. Moda Operandi has a "Pickleball Edit," which includes everything from $130 custom-branded paddles to $46 Supergoop SPF-infused face oil to a $57,000 watch. Norma Kamali sells a $145 pickleball dress. And just last week, fashion brand Staud launched a pickleball capsule collection, Staud Court, centered on sneakers created in collaboration with Keds. In addition, Dr. Scholl's has just introduced a sneaker specifically designed for pickleball, and activewear brands including Beyond Yoga, Splits59 and Vuori have all designed pieces for the sport.
Pickleball equipment company Tangerine launched back in February 2022, after founder Carly Llewellyn and her husband picked up the sport during Covid and realized the gap in the market for dedicated fashion-forward accessories. The brand has been tapped to collaborate with countless fashion brands including Beyond Yoga, for which it created branded totes when the brand launched its own pickleball apparel collection, dubbed the Country Club collection, in May. Meanwhile, Rothy's and Sam Edelman have worked with Tangerine to create custom paddles.
Of the sport's current ubiquity, Llewellyn said, "It's just so accessible; it's a very low barrier to entry to play. Tennis is really fun, but you really have to work on it and practice and take lessons. What makes pickleball so appealing is that anyone can pick up a paddle, pick up a ball and learn it. And you can play it anywhere."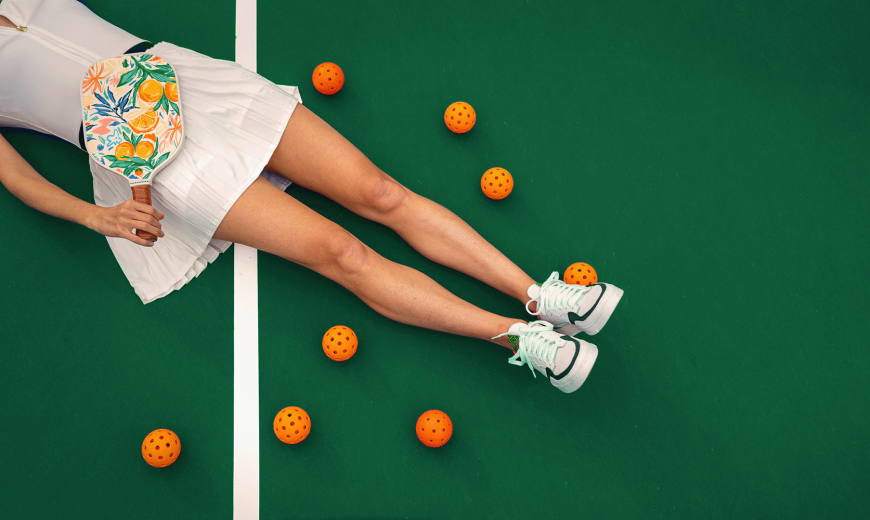 Dr. Scholl's launched its $70 Dink It Pickleball Sneaker last week. The brand drove buzz in advance of the launch by offering customers early access, and it's already seeing "great results on social media and email," according to Jen Wiley, its senior director of brand marketing. "There's a lot of excitement since this is peak pickleball season," she said. Within the month, the brand will host an event with a "premium resort" that is opening pickleball courts, at which influencers will be gifted the Dink It sneaker. The resort will also sell the Dr. Scholl's sneaker in its retail store. In addition, Dr. Scholl's will host a giveaway with a Pickleball brand on social media, but Wiley said it's too early to specify the resort and brand partners.
When Beyond Yoga launched its Country Club collection in May, pickleball was one of the activities it used to market the collection. Teaming with Olivia Culpo (5.3 million followers on Instagram), it hosted a Beyond Yoga Country Club event, for which influencers received a branded Tangerine pickleball tote as their invitation. The totes came with Beyond Yoga pickleball outfits inside. The brand tapped another popular pickleball accessory brand, Recess, to create branded paddles.
At the event, Beyond Yoga offered pickleball lessons from Matt Manasse, described as a "pickleball coach to the stars" in his Instagram bio and by Vanity Fair. A recent post shows Manasse with Emma Watson.
After the event, five pickleball totes were distributed to each of the brand's five retail stores and used as gifts with purchase for shoppers spending over $400. "There were so many people coming in and asking about the products from [the Country Club event]," said Ashley Hart, the brand's vp of marketing. The demand was so high, the brand is considering bringing the special edition item back, she said. On the brand's Instagram posts about the Country Club event are multiple comments from followers asking how they can purchase the bags.
The Country Club collection was a key moment for the brand, with the goal being to increase brand awareness. To further its reach, it partnered with partner retailer Revolve for the campaign. The retailer shared content and an exclusive interview with Culpo on its Instagram page, where it has 5.7 million followers.
For Splits59, the decision to create dedicated pickleball apparel was an organic one, which stemmed, in part, from a successful tennis apparel launch. "During Covid, tennis had a moment because it was a sport that could be played without being in somebody's face. In the summer of 2021, we launched a tiny tennis capsule, and it sold out almost immediately. We were like, 'Something's happening here,'" said Shannon Quarantino, the brand's vp of e-commerce. Soon, pickleball was everywhere, Quarantino said and she and her team decided to launch a pickleball collection inclusive of a skort, a tank top and a jacket, as well as branded paddles in collaboration with the brand Luxe Pickleball. The success of the collection led to the launch of a second pickleball collection. Due to its success, a pickleball dress is forthcoming.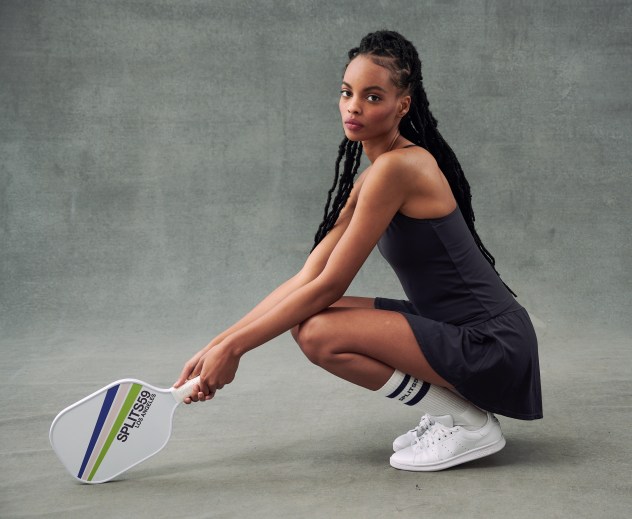 To promote the collection, rather than host a large event or invest in a costly photoshoot, Splits59 held a private event for Whitney Fransway (216,000 followers on Instagram), who was invited to host her friends, all of whom were outfitted in the brand. This strategy is often more effective than a photoshoot because of the amount of content generated, Quarantino said.
Afterward, Quarantino said the brand received inbound inquiries from influencers asking to be outfitted for their own adventures in pickleball. It seems the summer of pickleball is only just beginning.
Spate trend watch: Shampoo bars are catching on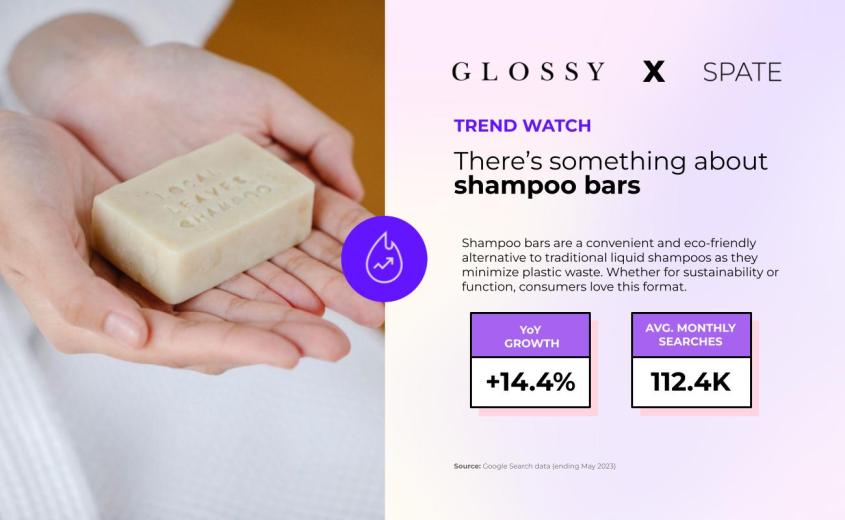 Google searches for shampoo bars have seen 14.4% year-over-year growth, with 112,000 monthly searches. The products offer unique benefits to consumers — namely, they're low-waste and easy to travel with, thanks to being liquid-free. The same goes for conditioner bars, which have seen search growth of 7.3% since last year.
Top search queries for shampoo bars include "shampoo and conditioner bars," "best shampoo bars," "shampoo bar recipes" and "rice shampoo bars."
Searches for "rice shampoo bars" indicate interest in shampoo bars that feature rice as a key ingredient. Rice contains amino acids that increase shine and support growth and overall hair health. Other popular ingredients across hair care include rosemary oil, with searches up 26% year-over-year, and caffeine, which has seen a 27.7 boost in year-over-year searches.
Brands driving interest across the trend include Kitsch and Viori. Kitsch's offering receives 1,500 average monthly searches, a 268.9% increase since last year. Viori's shampoo bar receives 5,400 searches on average each month, up 38.7% compared to 2022.
As consumers increasingly seek out shampoo and conditioner bars, there's opportunity for brands to increase their solid offerings.
Inside our coverage
TikTok beauty influencer Mikayla Nogueira: 'Don't strive to do this career'
Instagram drives 70% of revenue for Ring Concierge
Reading list
Shein flew influencers to China to help its image. A backlash ensued.
Get the Kardashian-fave 'Instafacial' at home with Dr. Diamond's new skincare