Subscribe: Apple Podcasts • Stitcher • Google Play • Spotify
If you are one of Mikayla Nogueira's 14.6 million TikTok followers, then you already know that one of the app's biggest beauty influencers is getting married this weekend. But what you may not know is that she custom-created the lipstick and liner for her big day, with E.l.f. Cosmetics. The lip kit resulting from the collaboration, which launched on Thursday, contains two products, both cheekily named in reference to Nogueira's famous Boston accent — the lipstick is called "Puckah Up," and the lip liner is dubbed "Til Death Do Us Paht." Nogueira had partnered with E.l.f. before, and, as she struggled to find a lipstick she deemed perfect for her wedding day, she decided to reach out to the brand and ask if they'd like to work on one collaboratively.
Nogueira has been creating content on the app since the early days of Covid. Before becoming a full-time creator, she worked at Ulta Beauty. She has done product collaborations with brands including the indie makeup brand Glamlite and skin-care brand Glow Recipe, and has partnered on sponsored posts for brands including Charlotte Tilbury, L'Oréal, Maybelline, Rael and RoC.
In an April 2022 Glossy story, we reported on Nogueira's ability to sell out a beauty product or catapult it into virality.
In late January, Nogueira was at the center of a TikTok controversy around a L'Oréal mascara ad she posted: She was accused of wearing false lashes in the "after" footage demonstrating the mascara's results. After taking a few days off, Nogueira's next video started with, "I'm sure we all know why we've all gathered here today. … It's the month of love, bitches." She never addressed the criticism further.
In the monthly Glossy Pop episode of the Glossy Beauty Podcast, Nogueira speaks to the harsh realities of being an influencer with nearly 15 million sets of eyes on her, the pros and cons of going viral (and that ubiquitous TikTok sound of her saying Kim Kardashian's name), and the creation of her wedding-day lipstick.
On asking E.L.F. to co-create her wedding day lipstick
"Anybody who knows me knows I'm obsessed with E.l.f. They were one of the first brands I could buy. Back in the day, [it was] only $1 per product. I don't know if anyone remembers this. They were really, really affordable. I remember, I got a gift card to go on the website. I was able to buy, like, everything on the website because it was a $50 gift card. So it's crazy that, today, I have a collaboration with E.l.f. What a dream. When I first got a manager two years ago, she said to me, 'If you could collab with any brand — and you can dream big, whoever you want — who would it be? And I said E.l.f. So this is just crazy to me that it's actually real. … I'm getting married on July 1. I have been really struggling over the year and a half that I've been engaged to find the perfect wedding lipstick for me. Because makeup is my life. Everything I am is makeup. So I wanted my lipstick to be so, so perfect. And for a little while, I just was not finding that. And then I thought to myself, 'What if I reached out to a brand and just shot my shot, because they have the literal ability to create a product from the ground up? What if I could just create the lipstick myself?' And so I thought back to that question my manager asked me two years ago, and I said, 'Can we ask E.l.f.? Let's just ask and see what they say.' We went to them and they were obsessed with the idea; they loved it. They were so happy to actually help me, and I spent the last year working with them directly to create the perfect lipstick."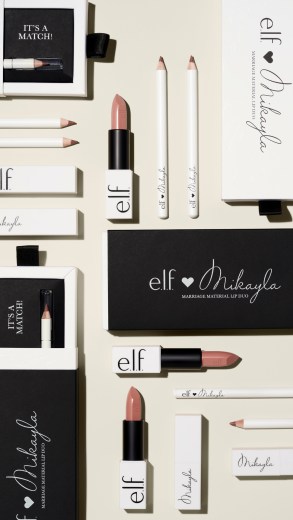 On the pitfalls of being an influencer
"Well, let me say this first: I absolutely adore this career. I love it so much. I wouldn't trade it for the world. I wouldn't take anything back. I've grown so much over this time. … I've had many jobs. And this has been one of the hardest jobs I've ever had. And I would genuinely say, potentially don't strive to do this career. Because, while I feel so blessed and so privileged and so grateful to be able to do this every day, there are things that I really miss about my offline life that I wish I had still — like privacy and a personal life and peace, in that sense and being able to go out in public and just grocery shop like everybody else. That is the one thing about this career that I wish was different, but it can't [be]. I mean, this career is a choice. I chose to lose my privacy; I chose to be in the spotlight; I chose to share things knowing that people could overanalyze or rip it apart. I made those choices. … I guess this is the double-edged sword of it. [Because] I'm extremely passionate about makeup and sharing that passion with the world. If you have some sort of passion that you believe you're meant to share with the world, do it. And do it with the intention to make change and to help people. Don't do it with the intention of money or fame, or anything like that. Because that is where it gets rocky."
On having an 'expiration date'
"This career, in a sense, has an expiration date. I have an expiration date. I don't know when that is, but it's there. I'm not going to be an influencer when I'm 50, you know? There's that lingering question that every influencer has living in their head of, 'What am I supposed to be doing next?' You can only make so many makeup reviews and tutorials. Sometimes I even repeat tutorials … because there's only so many. … I've done maybe four or five 'How to put eyelashes on.' There's that pressure of, like, 'What am I supposed to do now?' And I think it's different for everybody — the path that people choose to take. Some people will start a brand, and a lot of the lifestyle influencers will go into acting or they'll write a book, things like that. … I'm a very live-in-the-moment person. So my wedding is definitely [at the] top of the list [of what I'm focused on right now]. But once that's done and wedding planning is over, and I don't feel so overwhelmed from that, my goal is to get my esthetician license. Because one day, I would love to open a spa. I've always been into skin and prepping the skin and having these products that make your makeup look so beautiful. And also, … I just want to have more credibility as as a makeup artist and a content creator who talks about skin care and skin. I think it'll give me more education and knowledge, so that's kind of where I'm headed."