To receive the Glossy Pop newsletter in your inbox every Friday, click here.
"These are the things hot girls in New York are currently doing and nobody is telling you about," starts an April 23 TikTok post from Jade Beguelin, creator (67,000 TikTok followers) and founder of skin-care brand 4 am. After promising that her post is not sponsored, she goes on to say, "They are renting their clothes on this app called Pickle — both renting out their stuff and renting new stuff. … It's all the must-have trendy items and they do same-day delivery, so if you are in a crunch, this is insane." Among other things Beguelin mentions as current hot-girl favorites are dating app Raya and "aesthetic" dental studio Maison Be.
The brains behind the Pickle app are co-founders Julia O'Mara and Brian McMahon who met as co-workers at the investment management company Blackstone.
Pickle first launched in April 2021 as a shopping community app, of sorts, where users could crowdsource opinions on each other's purchases. "We're very data-driven people," O'Mara said of herself and McMahon. "We did a lot of analysis on how people were using the platform and what features were most popular. What we found was that, in the comments section, there were a lot of recommendations based on what people already owned in their closets. They'd say, 'This is my favorite dress.' 'This is my favorite brand.' 'This is exactly what I recommend, because I have it.'
So they decided to pivot. "We saw this big opportunity to break down that barrier and allow people to access closets in their community and build out a rental marketplace that would be an extension of your personal closet," O'Mara said. The result was the current version of the app, which she and McMahon call Pickle 2.0. It re-launched this time last year. The name nods to the fact that one might be "in a pickle" without the right outfit at the right time.
According to O'Mara, citing Pareto, people wear 20% of the items in their closets 80% of the time. "A lot of the pieces [people are listing on Pickle] are higher quality. They're the wedding guest dresses, occasion pieces — things that someone loves. They're not necessarily looking to get rid of them, but [they see] a good monetization opportunity," she said.
The company is in the process of fundraising and looking to raise $4 million, which it plans to invest in market expansion and its first full-time hires. To get off the ground, it spent around $130,000 on its initial build. To build inventory, it sought to build organic relationships with local NYC micro-influencers. "We had to ask [via DMs and emails] a lot of people to get on Pickle and upload their closets, because we couldn't invite people to rent unless there was supply," O'Mara said. In exchange, Pickle offered influencers a free photo shoot with a provided photographer. The influencers could use the photos for their own content and to showcase the clothes they were renting out on Pickle. Influencers including Madi Kahn (22,000 Instagram followers), Jessica Habich (13,000 Instagram followers), McKinna Faye (7,000 Instagram followers) and Megan Crean (22,000 Instagram followers) took part. "The influencer community is very tight-knit, so a lot of word of mouth started growing from there," Mara said.
In December 2022, O'Mara DMed Audrey Trullinger, an NYC-based fashion and lifestyle influencer (120,000 Instagram followers; 1.5 million on TikTok). Trullinger said, at the time, she was already familiar with Pickle thanks to following Kahnt. Many NYC influencers have since joined Pickle, including Lauren Wolfe (224,000 Instagram followers; 979,000 on TikTok) and Brigette Pheloung, aka @acquired.style (201,000 Instagram followers; 469,000 on TikTok).
O'Mara said, "Influencers' followers love their style, they love their clothes. So when they say 'Hey, by the way, if you want to rent my pieces and borrow them, instead of buying them at the full retail price,' their followers are so excited about that.'"
For influencers, whose livelihood is often based on going to events all dolled up, renting clothes can help take the stress off of constantly needing a new outfit. "Sometimes you just want to wear something once. [Pickle is great for that] because you don't have to purchase it. And it has multiple homes, so it's a great sustainable way to shop," Pheloung said. "I also rent a lot of pieces out — pieces that I have in my closet that I bought for a specific event."
For Trullinger, the app offers a way to downsize her closet. "It is so nice to not have a million different things," she said, pointing to her stuffed NYC closet. "A lot of the things I rent [out] are occasion wear — really nice $500 dresses that I wore once. And I'm like, 'Well, I'm not wearing it anytime soon. Why should it take up room in my closet?'"
She uses Pickle to rent clothes, too. On her birthday this year, the app saved the day when the initial dress she ordered to wear did not work out. She would up ordering a With Jean mesh dress.
As for Pheloung, she downloaded the app after hearing about it from Trullinger. Eventually, O'Mara connected with her and the two began to communicate via text. Though Pickle's business model relies on self-fulfillment, a few of its VIP members — about five people, based on their relationships with O'Mara and frequent travel schedules — receive a white glove service, in which O'Mara helps manage the comings and goings of their clothes.
"Offering that service has been very helpful for working with these girls who have incredibly dynamic schedules. They're not in the city all the time, and their items are super popular. They're not going to be able to keep up with the volume or the demand for their pieces, so we help them with that," O'Mara said. She added that these girls and their followings helped get Pickle off the ground.
As for paid marketing, the company is currently spending $500-$600 a week on TikTok ads. One of the ads highlights the app's use case for wedding season. It also runs "spark ads," which is a form of whitelisting influencer-created content. "Those get a lot of good, organic traction [and are] a way to work with a creator — someone who has a different TikTok account. They post a video and turn on an ad setting, and we pay for it behind the scenes to get it boosted," O'Mara said. Viewers are prompted to download the app at the end of the ad.
As the brand works to expand, one of its challenges lies in expanding its size offerings. 70% of the products currently available fall within an XS-M range and its most common size is a small. O'Mara said one of Pickle's top priorities is increasing size and style diversity and the brand is "working on partnering with creators and influencers specifically involved in the mid size and plus size fashion communities to encourage people of all sizes to upload and share their closets." It has even seen UGC around this very topic, showing there is interest.
The app is currently hyperlocal, and one of its key draws is that it can offer support in a last-minute fashion emergency. "People are shopping with that last-minute mentality of, 'I just got invited to a last-minute event.' Or, 'I procrastinated on choosing what outfit I was going to wear, but I can order it at 5:00 on Thursday night, get it by 6:00 and be ready to go to my dinner at 7:00,'" O'Mara said. Historically, 90% of orders have been made by New Yorkers. This happens via courier, which costs around $4-$8 for a one-way trip, depending on distance. Where a courier is not used, members are directly picking up styles from one another. For non-local orders, standard shipping is an option. Rentals themselves average $45-$50, though there are some items that rent for $15 and some for $250. Users keep 80% of the rental price, while Pickle takes 20%. Owners are responsible for cleaning their own items, which, O'Mara said "ensures items are cleaned exactly the way owners want them to be cleaned and prevents accidental damage from renters." Pickle recommends owners factor in cleaning costs when pricing their rentals.
As its social media presence via UGC has grown, the company — which has around 2,000 followers on both Instagram and TikTok — has seen increased sign-ups, as well as inbound inquiries from influencers and would-be customers in L.A. and Miami. The hashtag #ShopOnPickle has 765,000 TikTok views. Currently, Pickle looking to build customer bases in cities including Philadelphia and Boston because "they're pretty adjacent to us and have similar demographics" O'Mara said. She noted that the markets could be managed from New York City and that her team has existing relationships in both cities.
In an April 30 post, TikToker Madeline Stahl, aka @Madsmarcella (2,900 followers), posted about the app with the headline: "Broke NYC girls listen up: side gig that's not UGC lol." She pointed to Pickle as a simple way to make extra money. Her post also calls out that she's not using the app to rent luxury goods. "I have [rented out] so many basic going out tops. You don't think people want those things, but sometimes people just need a simple black top to wear out." She noted that she's made about $1,000 through the app.
A common refrain echoed on social is that everything on Pickle is cool — which is especially impressive, given that the app does not vet what is posted nor does it reject certain brands. What it does do is filter options through an algorithm, that "promotes certain items based on [users'] interactions," O'Mara said. That includes overall saves, shares and clicks. "That allows us to pump up all the items that are organically doing well on the platform." Right now, its most popular and in-demand brands include Rat & Boa, Revolve, Cult Gaia, Realisation Par, Reformation, Retrofete, Miaou, House of CB, Fanci Club, Danielle Guizio and Dana Foley.
Pickle suggests that users upload photos of themselves in the items and supplement those with photos from retail sites. Two photos are required and Pickle has found that most people use photos from their own Instagram accounts.
Its recent spike in organic content and general cool girl stamp of approval are serving the brand well, as shown by the app's growth in the past couple months. According to O'Mara and McMahon, Pickle has seen 70% average month-over-month revenue growth over the past five months. Plus, the number of products available to rent has doubled in the past 2 months, to over 20,000. Fifty-five percent of orders are for same-day or next-day delivery, and 75% of Pickle users were active in April. Pickle declined to disclose its total number of users but said that its user count doubled in the past month. Eight-five percent of its sign-ups come from organic word of mouth plus word of mouth amplified on social media. In the past two weeks, 50% of new users have been based outside of NYC.
"Our NYC users convert more, due to the fast and convenient option to rent from their neighbors," O'Mara said. "This is a huge reason why we're looking to dedicate funds and resources to expansion markets: so users in those cities can also rent locally with our integrated courier service."
Pickle is not the first peer-to-peer rental clothing company. Three-year-old By Rotation, a U.K.-based peer-to-peer rental app, is currently making a push in the U.S. market. Wardrobe and Tulerie have similar models.
Beguelin said O'Mara reached out after her TikTok post because it led to an uptick in app downloads — Beguelin's video has over 644,000 views and over 76,000 likes. "I actually recently canceled my Rent The Runway subscription because I felt like the selection wasn't my style and leaned a little older," Beguelin said. "Pickle has made me realize what good style other girls in the city have because it's all the dresses I've been dying to buy but haven't been able to justify. It almost feels like a community of stylish women, and everyone has been super friendly through the renting process."
Alo ventures into footwear with its first sneaker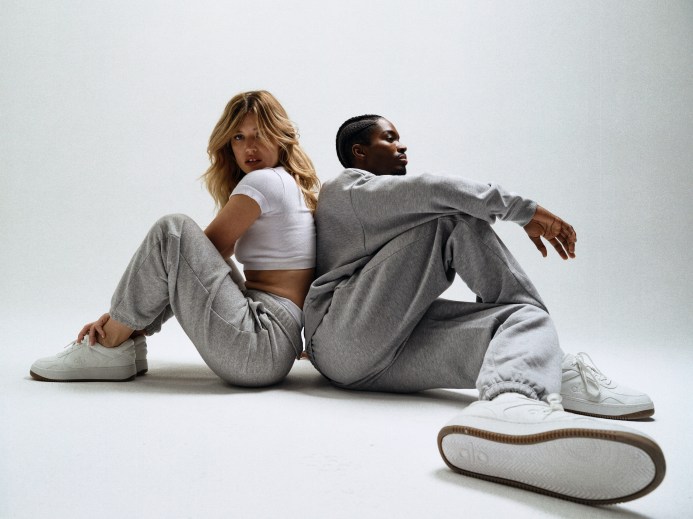 On Friday, Alo introduced its first shoe — a vegan leather sneaker dubbed the ALO X O1 CLASSIC, fronted by 'it' girl Georgia May Jagger and model Alton Mason.
"Focusing on freedom of movement and self-expression, this launch is about pushing boundaries. … The charisma behind Alton's moves is inspiring and the perfect direction to launch the first Alo yoga sneaker. Contrastingly, Georgia has a razor-sharp street style and exudes rock and roll energy; her look paired with Alton was the perfect synergy to create this iconic campaign." Summer Barry, vp of marketing for Alo Yoga, told Glossy.
The sneakers, which will hit Alo stores at the end of the month, retail for $185.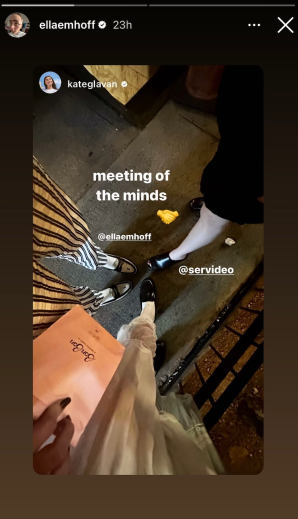 Creative director Olympia Gayot continues her cool streak with a new, covetable collab with indie magazine HommeGirls. The collection is comprised of striped shirts, sweatshirts and a baseball cap. In tandem, the brand seems to have sent a mailer to a smattering of cool girls including a monogrammed edition of its Winona penny loafers in Italian linen. For example, Ella Emhoff has posted her initialed pair. The loafers are currently sold out in all but three sizes.
Spate Trend Watch: Bridal makeup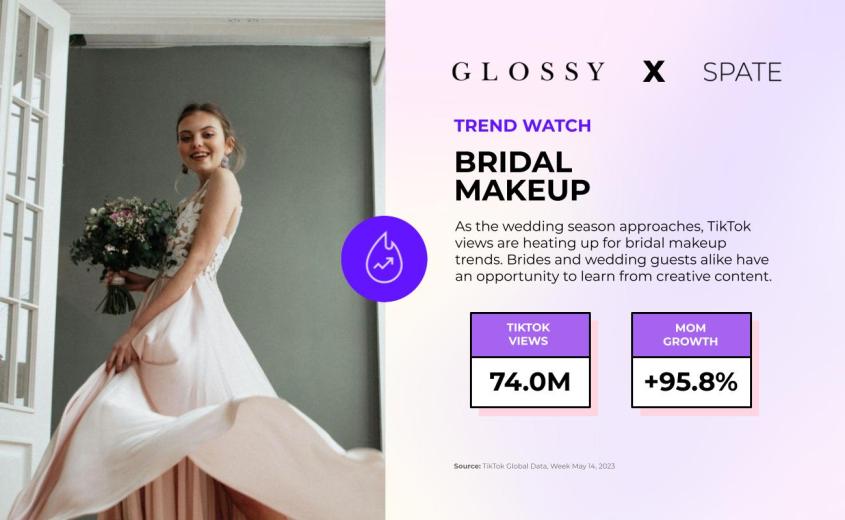 As your social media feeds have no doubt informed you, wedding season is upon us. And TikTok views reflect the seasonal rise. Posts related to wedding makeup have seen an average of 74 million weekly views over the past four weeks.
"Across TikTok, products included in bridal makeup content are many and varied. According to Google searches — often an indicator of future purchases — it's safe to assume brands that will be hot for the summer wedding season include Fenty Beauty, Rare Beauty, Tarte Cosmetics and Charlotte Tilbury. That's based on the highest increase in average monthly search volume compared to last year," said Yarden Horwitz, co-founder of Spate.
Fenty and Tarte will be setting the foundation (pun intended) for a look that stays put from aisle to after-party. Rare Beauty is currently a favorite for color complexion favorites, including blush, highlighter and bronzer — it recently expanded its Warm Wishes Effortless Bronzer Stick range. Finally, Charlotte Tilbury is set to be well-loved this summer for viral hits including its Hollywood Flawless Filter and Hollywood Contour Wand.
Though complexion products reign supreme, the wedding crowd will undoubtedly also be looking for eye makeup products. Brands have an opportunity to highlight waterproof formulas that stay put when things get teary.
Inside our coverage
Ciara's OAM skin care debuts on QVC
Marianna Hewitt of Summer Fridays: 'Video is what gets people to convert'
Beyoncé teases new hair-care venture on Instagram
Reading list
Concert tees? Try trial merch.

Bye, stilettos. Farewell, flats! Kitten heels are the shoes of the summer
Chanel, Timothée Chalamet and the Changing Idea of Masculinity