Ciara, the singer and serial entrepreneur, can check off yet another item on her bucket list next week as her skin-care brand hits the proverbial shelves of QVC. She'd watched it when she was young.
"I envisioned one day being on that platform, selling my own brand," she said. "So it's a full circle moment for me to have this moment and opportunity."
It's fitting, given that OAM stands for "on a mission."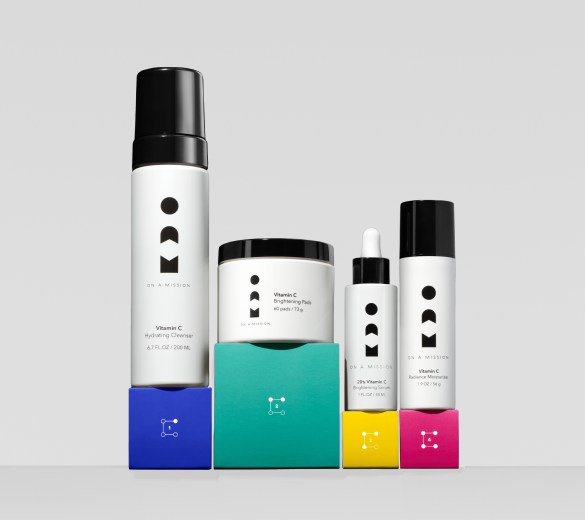 OAM first launched with five products in September of 2022. It leveraged a direct-to-consumer model and had a mission to "bring clinical skin care to all and to make it simple," said Jamira "JC" Johnson, CEO at OAM. The brand stemmed from Ciara's own skin-care journey, which started late, she said. She admitted that, not long ago, she used body wash on her face and felt overwhelmed by clinical skin care. This inspired her to simplify introductory clinical skin care. To do so, she partnered with Topiderm, a contract manufacturing company. Then Johnson was brought in to take the products Ciara developed with Topiderm and build a brand. The existing five-piece system is rooted in vitamin C.
Johnson noted that launching direct-to-consumer gave the brand unparalleled access to its customers. She compared it to the line of dialogue that musicians, including Ciara, have with their fans. "It's the best way, especially as a startup, to get to know your customers. It allows us access to every customer inquiry, every review and even DMs, and we didn't want to be removed from that." Among the information the brand has gained from that direct contact is that many OAM customers are making their first foray into a more serious skin-care routine with the brand.
The brand launched its first retail partnership, with Dermstore, in March.
OAM will debut its second retail partnership on May 23 during QVC's 24-hour Master Beauty Class event. Ciara and Yolonda Frederick-Thompson, who's her best friend, makeup artist, and an OAM advisory board member, will join QVC host Shawn Killinger to debut the collection and share the brand's story. Four of the five products will be available in an exclusive kit, dubbed the OAM Skin by Ciara Vitamin C Radiance System. Ciara will appear in two masterclasses, "Shades of Summer Beauty" and "1, 2 Step…to Summer Skin!"
"We were drawn to OAM Skin because of the brand's mission to make skin care more accessible and Ciara's passion for creating a simple skin care routine for all skin tones," said Anna Baker, QVC's vp and gmm for beauty. "Skin care is an important category for our beauty business; our customers, who are primarily women over 50, prioritize their skin care routines and invest in products that will deliver results.
According to Johnson, visual demonstrations of products' efficacy — namely, before-and-afters — have always resonated with the brand's customers. "They also want to hear the story, understanding the authenticity behind the brand and what it means to be clinical," she said, noting that QVC lends itself to this kind of content and visual storytelling.