In Geologie Galaxy, men's skin-care brand Geologie's new metaverse, users can navigate through a virtual world filled with stars, mushrooms and skin-care products.
This "Zelda" meets "Star Wars"-esque experience is part of the startup brand's new Web3-centered marketing strategy to bring skin care to an online gamer audience. While navigating the game-like virtual space with a keyboard on a desktop, they can click objects to read "lore" about characters including the "Retinol King," "Day Cream Lord" and "Twin Face Wash Magi." Geologie is one of several startups aiming to crack the code when it comes to selling skin care to men, hoping that Web3 technology and gamer-heavy platforms will be the key to making skin care accessible, thereby attracting new shoppers and developing customer loyalty.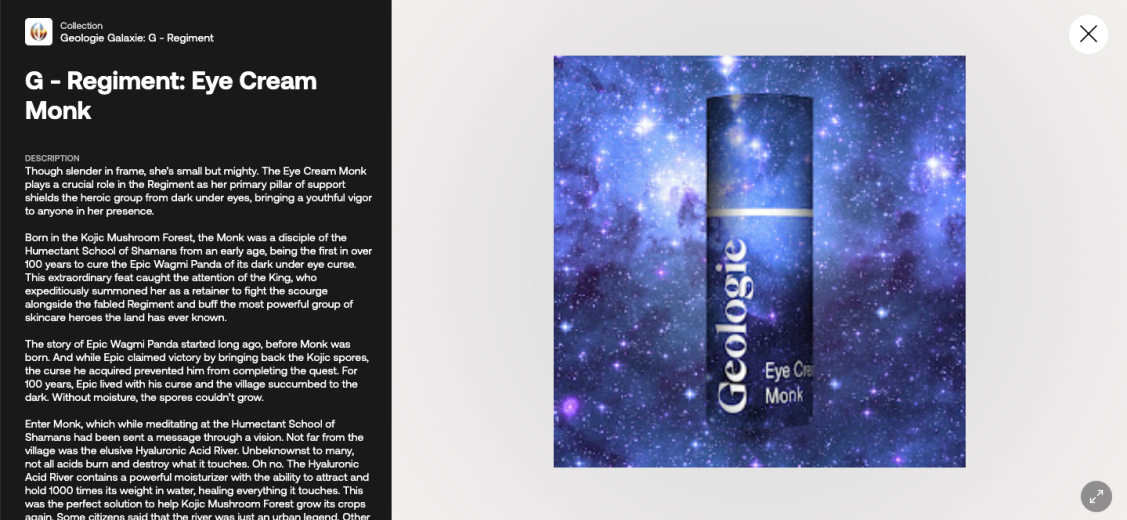 The metaverse experience was "mainly inspired by [the] storytelling aspects of gaming," as well as "old-school Zelda," said Stephen Racano, head of growth at Geologie, who noted it was also inspired by science fiction such as the "Space Odyssey" series. Described by the brand as a "new and mysterious metaverse world with a storyline filled with space-lore," the experience allows users to navigate using a keyboard, clicking on various skin-care products to learn "the story of how the Retinol King purged the land of evil ingredients."
"Skin care can be really unapproachable to a lot of guys," said Nick Allen, co-founder of Geologie, who noted that 95% of the brand's customers are men. "We said, 'How do we meet our audience where they are, and how do we engage with them in a way that's authentic, natural and fun?'" The virtual world helps to take the "intimidation out of literally washing your face and applying a cream," he said.
Geologie has been among the growing number of beauty brands testing out livestreaming events on Twitch. The company previously hosted a Twitch event with Gran Turismo race-car drivers, as well as livestreams with gaming influencers.
And to build brand community, it opened a Discord group four weeks ago. It features a skin-care group chat, Q&As sessions with the founders, announcements of pop-up metaverse events featuring games with rewards, giveaways and exclusive event announcements.
"One thing we've learned over the past several years is that [men] don't talk about skin care loudly in the same way many women do on social platforms," said Dave Skaff, co-founder of Geologie, who previously co-founded the Webby Awards. He noted that the platform is also useful for getting feedback from customers to inform product development. "We've discovered the guys are very willing to talk about skin care one-on-one." As a result, Discord is the "platform we've been looking for that will open clear communication," he said.
With a growing number of beauty and fashion brands active on both Twitch and Discord, the platforms have been working to present themselves as brand-friendly and vigilant about keeping off hate speech. But both platforms are currently under investigation by the New York attorney general following the news that they were used to plan and broadcast the racist mass shooting that left 10 people dead in Buffalo, NY on May 14. Brands have previously boycotted buying ads on Facebook and Instagram over the proliferation of hate speech on the platforms.
For Geologie's Discord channel, the brand's admins monitor content to make sure it meets community guidelines. Allen said that he considers Discord's content moderation to be stronger than that of other social platforms.
Like a wide range of other beauty brands, Geologie is also incorporating NFTs into its metaverse marketing. In its "G-Factory" OpenSea store, users can click on images of products in the metaverse experience to be directed to OpenSea to purchase NFTs featuring digital images from the metaverse experience, including those of Geologie products. They can also connect various crypto wallets such as Metamask within the experience. St. Louis Cardinals third baseman and NFT enthusiast Evan Mendoza even partnered with the brand to create a G-Factory NFT.
Purchase of an NFT brings with it physical items, including a $150 skin-care set with branded merch, as well as promotions like a 20% lifetime discount for the brand, giveaways, pre-sale pricing and other discounts.
The prices of NFTs have crashed in recent months and some brands have come under criticism for NFT promotions for reasons including the environmental impact of cryptocurrency and comparisons of NFTs to a pyramid scheme. Geologie's founders said their NFTs are mainly geared toward building the brand's community.
"This was never meant for us as a way to make money," said Allen. "This was for fun and engagement." NFT buyers, for example, will have access to real-life brand events in the future.
Prices of the brand's four listed NFTs differ — one is listed for 0.0075 eth (about $14 at time of filing, although prices fluctuate), while another is 0.01 eth ($1,817).
"We're more excited about what Web3 has to offer for technology, in terms of utility. We wanted to be on the forefront of testing out that technology," said Racano.
The brand is using mainstream platforms to get the word out about its metaverse marketing. It promoted its new metaverse on YouTube, Instagram and TikTok, where its follower counts have been growing. Its TikTok followers increased by 1,000% in the first quarter of this year, for example.
Though Mark Zuckerberg has put forth a vision of a metaverse dominated by Meta, brand founders have been looking for metaverse or Web3 marketing opportunities in a range of different places. Decentraland, for example, has attracted promotions by several beauty brands. Lottie London, for one, launched its second Decentraland activation on May 25, in the form of a virtual "prom party event."
"There is no mono metaverse," said Allen. "People are creating different places. It's going to be extremely varied. I hope it's not something that is so controlled by Facebook."