At the Conscious Life Expo held in Los Angeles over the weekend, attendees had access to aura photography, astrology and tarot card readings, chakra alignment, shamans, crystals, plant-based skin care, vegan smoothies, and guided meditation. But if you're picturing something along the lines of an Instagram-friendly Goop summit or a yoga brand's influencer event, you'd be mistaken.
Visitors with "crunchy" looks wearing flowing robes, tie-dye, and flower crowns wandered alongside those with "Arrest Dr. Fauci" shirts and MAGA-style anti-vaccine hats at the Hilton Los Angeles Airport-based event held February 10-12. In addition to a jasmine-scented face oil or new amethyst for their collection, ticketholders could pick up a packet of ivermectin sans prescription or phone stickers and jewelry claiming to "protect" from 5G. The event's inclusion of decidedly far-right and conspiracist elements showcased the symbiosis between grift and radicalism that has thrived in the wellness world since the upheavals of the pandemic.
Predating Goop's wellness summit by 15 years, the Conscious Life Expo had an estimated 12,000 visitors this year, according to organizers. The busy event has long been an annual cacophony of every wellness and spiritual practice imaginable, ranging from the marketable mainstream to the offbeat. In one booth on the expo's main floor, people could sit in a dentist-style chair with flashing lights said to create an effect mimicking psychedelics. There was a metal pyramid structure that could be sat under with a "frequency input device" to create a "harmonic electromagnetic frequency," said one of its attendants. A coffin-like box was described as a "healing chamber" through the use of "waves" by a representative wearing a hat that said "Starcouncil" at a booth with posters of aliens.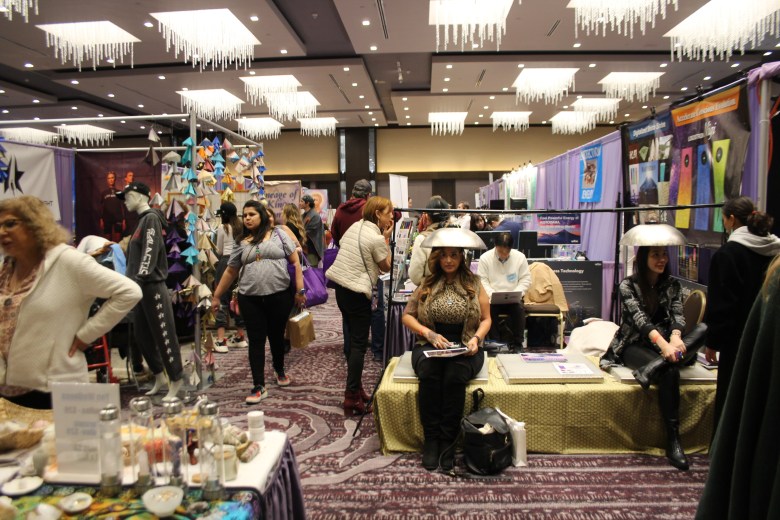 Beyond wellness offerings, the programming of this year's expo leaned heavily into conspiracy theories via a weekend-long series of talks in what organizers titled the "Rabbit Hole." The weekend culminated with the premiere of the third installment of the "Plandemic" movie series that was banned from social platforms for its Covid-19 misinformation.
A biodynamic farmer who goes by the name David "Avocado" Wolfe, for example, used his "Rabbit Hole" lecture to address conspiratorial talking points on a wide range of health and political subjects. To quote a small handful of points in his rambling hour-and-a-half talk, he ranted about the "plandemic," proudly asserted that he's been anti-vax since age 7, called Dr. Fauci a CCP agent (without evidence), and stated that an undefined "they" are trying to "wipe out the human race" through "injections" (also without evidence). His recommendations for those who have "been jabbed" included taking iodine, which he said "disturbs the nanobot 5G communication"; cycling between ivermectin, quercetin, and hydroxychloroquine; and taking an enema of one's own urine mixed with coffee and tea. These recommendations were presented without scientific evidence, as he criticized the science community for acting like a "religion." He also used the talk to hawk his own line of products including activated charcoal and cacao.
While Wolfe and many speakers professed to be against party-based political division, he embraced Trumpian, far-right talking points. For example, he shared the baseless belief that "evil forces have been looking to overthrow our voter system all along," citing "Dominion voting machines" as an example (Dominion is currently suing Fox News for defamation over false claims about its voting machines). He also criticized "the media's" adherence to the "Ukraine narrative."
Several of these ideas have been linked to violence and resulted in loss of life. The right-wing "voter fraud" conspiracy theories, for example, prompted the January 6 storming of the capital that left five people dead. The man who attacked Nancy Pelosi's husband shared a belief in conspiracy theories about "election fraud," while a Republican candidate who lost a New Mexico statehouse election and said it was "rigged" paid four men to shoot into Democratic lawmakers' homes, with bullets entering the room of a 10-year-old girl. Conspiracy theories about 5G and voting machines were reported to be a motivator in the 2020 Nashville bombing.
Michael Satva, one of the co-organizers of the expo, disputed this, claiming that "there's a very clear distinction" between the event's programming and the far right "because the conspiracy world that is dangerous comes from more of the Christian point of view that becomes very anti-Semitic and linked to a global elite of Jews."
Throughout Wolfe's talk, he frequently quoted historical Austrian occultist Rudolph Steiner. Steiner's writings explicitly embraced anti-Semitism with an idea of an "Aryan Race" that is "dominant," according to academic research, an idea later adopted by the Nazis.
Other speakers in the "Rabbit Hole" room included director Oliver Stone's son Sean Stone, who titled his talk "The Great Awakening," a phrase adopted by QAnon conspiracy theorists. The room also hosted Procter & Gamble heir Foster Gamble, whose website prominently quotes far-right white supremacist Stefan Molyneux.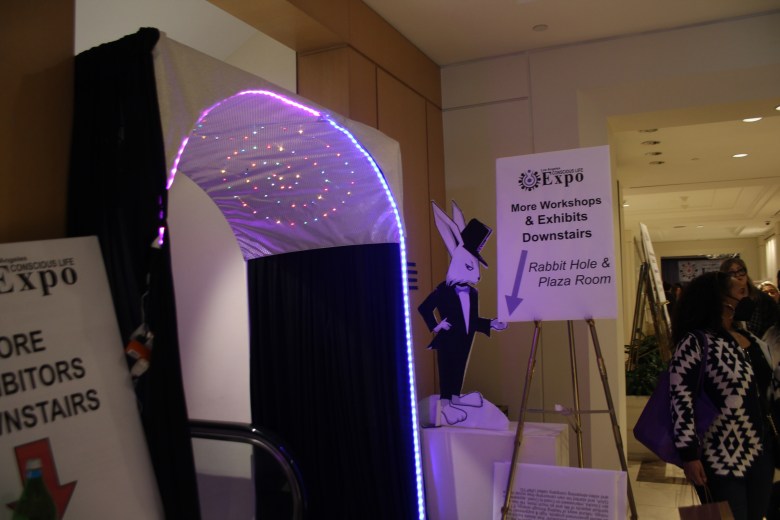 Wellness- and beauty-focused brands present tended to be small operations, ranging from those selling products touting natural ingredients to those with more New-Age claims. Violet Mileva, founder of a skin-care brand called Champione, said she only produces products during the full moon, explaining, "We formulate on the full moon so it has the most power; the most concentrated gravitational pull of the water is the strongest magnetically." She also said the products are charged on a disk to protect from EMF.
There was a small handful of booths by beauty labels on the more mainstream end of the spectrum. Sunscreen brand Unsun Cosmetics, which sells through retailers including Target, Bluemercury and Revolve, had a booth. The founder of Unsun declined a request for comment. There was also Elevare Skin, whose LED device has been featured in Vogue and Vanity Fair, and Beverly Hills-based luxury skin-care label Truffoire, which uses truffles as an ingredient.
Just like the booths selling physical products, all presenters had a business to run in one form or another, offering services such as massages, chakra healings, channeling consultations, and tarot and astrology readings, priced anywhere from $15 to $500. Most talks had a sales pitch built into them, with many speakers talking up their own personal lines of health supplements or herbal products. Henna artist Renu Lal said booth price rental costs have been going up annually, ranging from $1,200 to $2,500 this year. She'd been going every year for 18 years, and noticed there were many more "religious organizations" this year.
The overall business of the expo was booming this year, said Satva. The event was marketed on a West Hollywood billboard and on social media by speakers with large followings. Satva runs the event with his father, Robert Quicksilver, who founded it in 2002 after running a chain of "New Age" gift stores. Much cheaper than the $1,000-plus Goop summit, a three-day pass for the weekend ran visitors $99. But tickets for special talks, including all in the Rabbit Hole room, cost $10-$85 each. The event offered a range of additional ticketed experiences, such as a seance for $350 and access to a treatment in the "Tesla Biocharging Room" for $20.
There weren't just fringe figures there, according to Mike Blackner, co-founder of Mushine, an at-home mushroom-growing machine brand.
"It seems like you have a spectrum [of people here], from tinfoil-hat types to investors. There are a lot of investors rolling around that I've noticed," he said. But, "generally speaking, it's cult-ish," he said of the overall scene, noting that "speakers here are more in the realm of debatable science." He added, "I'm not into crystal healing and energy healing, and all that." When asked his thoughts on the political aspects of the talks, he was in more agreement with the speakers: "They've proven there's election fraud," he said, while professing to be skeptical of "anything that splits people down the middle."
Another topic covered extensively with particularly relevant timing was UFOs, which were the subject of many talks and panels at the expo. While the White House said there's "no indication of aliens" after the disconcerting reports of three UFOs shot down by the U.S. military over the weekend, speakers claiming to have made contact with aliens for years were in abundance. Visitors could pay an extra $125 to chat with UFO- and alien-focused presenters in person during the expo's special "Disclosure Lunch" event.
While many attendees appeared to be in the Gen-X and boomer demographics, certain influencers brought in a younger crowd.
One of the most popular talks of the weekend was by photogenic and charismatic influencer Elizabeth April, who has 133,000 Instagram followers and adheres to the "Starseed" belief system that people are hybrids of different "species" of aliens. The Starseed beliefs have been adopted by far-right figures such as the "QAnon Shaman" who made headlines at the storming of the capital. During April's hour-and-a-half talk, a packed room of mostly millennial and Gen-Z audience members diligently filled out out a printed worksheet to figure out what types of aliens they were supposedly descended from.
The Starseed speakers helped with the bid to attract millennials to the expo, which was a big goal this year, said Satva. He described millennials' well-known obsession with mystical aesthetics as a draw for this type of content.
"For the millennials, it becomes more of a culture, more of an image. They get dressed up a certain way; they wear the crystals; they have the tarot cards. It becomes an ambiance; it becomes part of their personality," he said.
One of the most popular types of aliens that the Starseed audience identified with was the "Pleiadians," which April described as a blonde-haired, blue-eyed, tall alien race. In February 2022, Bella Hadid shared a poem said to be by "The Pleiadians" on her Instagram.
The least popular group of aliens was the "Reptilians," which is linked to the "lizard-people" ideas shared by QAnon and far-right conspiracy theorists that center on a wide range of public figures like Hillary Clinton. On her own Instagram account, April has a post about elites such as Queen Elizabeth going through "blood and sex" rituals, a belief among QAnon adherents that has connections to anti-Semitic ideas.
These alternative belief systems appear to be causing ruptures in people's personal lives. At the talk, April warned the audience of "energy vampires," stating, "If you have people who are sucking your energy from you, … get rid of those people first." This prompted multiple questions from the audience about whether they should cut off friends and family members who don't share their alien beliefs.
One expo attendee named Nathan, who said he's had "contact experiences in a meditative state," said that getting into these ideas "did change me so much that I did end up losing my marriage and my life," and that his ex-wife had just told him that she would be moving in with one of his friends. He said people attend these types of expos because "they want to find answers," and that "they may go to different sources like a church or something, but they don't get any answers from religion."
With a challenging health-care system that experts describe as "broken," an "epidemic of loneliness" and a mental health crisis, alternative healing and wellness events have been able to attract all age groups within the United States. In search of mental and physical healing or answers to more existential topics, they hope parting with their cash will give them the answers they seek rather than simply leading them further down the rabbit hole.