Instagram has angered the masses, with fans complaining about the endless changes to the platform and resisting Reels. TikTok is now mainstream and flooded with influencers who have millions of followers and endless streams of brand deals.
And so, it's prime time for Be Real, the French social media app that gives users a two-minute window to post, once a day — otherwise, their post is labeled "late" for all to see. You cannot see others' posts unless you yourself have posted. A Be Real post itself is essentially a collage of a photo snapped on one's front-facing and one snapped via their regular camera. Only you can see your past posts. Follower counts are not shown.
The premise is right in the name: realness, rawness — something different from what we've been served and serving on social media apps for the past decade.
On Be Real, more so than on any other social media app, I see an unfiltered version of my friends' lives — and share an unfiltered version of my own. That includes messy apartments, Zoom screens and extremely unflattering selfie angles. Still, from the moment I joined, I knew it was only a matter of time until we'd start to see beauty brands join, both because of its popularity and emerging cool factor. Non-beauty brands such as Chipotle and Delta Airlines were some of the earliest to go there.
A number of beauty brands have been toying with the platform. Inn Beauty Project joined a couple of weeks ago, using the platform to tease its most recent launch — a new flavor of its cult-favorite Lip Glaze — 10 days before its launch.
On Friday, E.l.f., known for being an early adopter, announced both in a press release and on its existing social media platforms that it had joined Be Real. It did so by giving its first 150 followers an exclusive code to receive a free travel kit with products from its Holy Hydration skin-care collection. Of the decision to establish a presence on the platform, Laurie Lam, E.l.f.'s chief brand officer, said, "We see the platform growing, right? We know Gen Z is playing on this; we know our consumers are on this platform. [So we asked] 'How [can we, as a] brand, authentically lead and lean in?' This is a new frontier, and we've always conquered new frontiers. This is an opportunity for us."
Ahead of launching an account, E.l.f executives had breakfast with the company's creative agency, Movers + Shakers, to create a plan. And, prior to going all in, it tested the waters. "Without thinking about what our whole strategy was, [the approach] was just: 'Let's go talk; let's go connect with our community,'" Lam said. "We started dabbling on the platform and realized how easy and straightforward it was. [First, we were] teasing new products and getting familiar with the platform. We're going to start offering glimpses into office life."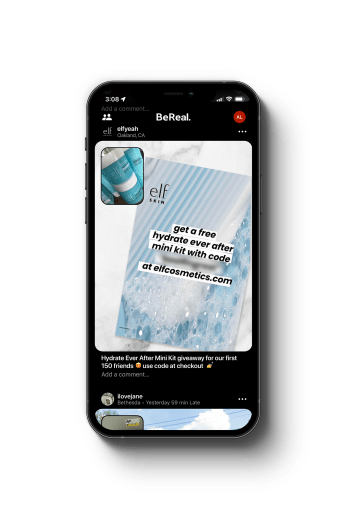 I asked Lam if she envisioned an editorial calendar for Be Real — something that would be hard to plan for, as it goes against the very nature of the app. "It's going to be a mix of the two [planned and unplanned content]. We'll be prepared to show what we're doing. Like, if we're preparing a hot lipstick drop, we'll be prepared to show our super-fans that. We'll have the phone nearby and have [the product] in the studio, for example, listening for the ping. Then, there will be other moments where it's really in the moment. We just want to talk to people." she said.
Meanwhile, Inn Beauty Project's director of marketing, Erica Livoti, said Be Real's ephemeral nature allows her to share more with the brand's most loyal followers than she does on other platforms. "Our main goal with Be Real is to share all the behind-the-scenes stuff that's happening at Inn, mainly focusing on new product launches and product development. It's things that we would love to put out on Instagram or Tiktok, but it would feel too permanent. On Be Real, you share it, and it's not like you can go back and find it a week from now or two years from now. It's just gone, and no one else can see it. So it really feels like a sneak peek. And it really does feel like private access to the brand for the people who are following us on the platform." Though one could theoretically screen shot a Be Real post, you cannot go to a user's profile and see their past posts.
When Inn Beauty Project shared its presence on Be Real with its followers on Instagram (where it has 72,000 followers) and TikTok (31,000), it received excited messages from fans who said they'd rush to go add the brand on the platform.
Livoti noted that on Be Real, brands, like individuals, also stand to benefit from the freedom of not constantly worrying about follower count or like count.
K18 is quickly earning a reputation for its social-savvy, too, and has also been experimenting with how to best use Be Real. So far, Gen-Z members of its social team have been posting under the user name @k18hair. The company will formally announce its Be Real account this weekend, as part of its presence at the Behind The Chair show in Orlando, Florida.
"It's most important [for us] to figure out: How can we show up authentically? Can we show up authentically? Is this a space where brands should be playing?" said Michelle Miller, K18's svp of global marketing.
Miller acknowledged that the very concept of a brand being "real" on social media is somewhat questionable — after all, "by default, a brand is a marketing machine," she said. Still, she sees opportunity for K18 to bring value to a community of Be Real followers. "We know that Be Real is still in that early stage, where not a lot of brands are playing. And that means there are not a lot of ads. We know, anecdotally, that most people say, 'I won't follow a brand or an influencer on this platform.' So I think there's a lot of opportunity for K18 to show our innovation. [For example] we can give [the account] to our scientist in Portugal for the week."
She said, for now, she doesn't foresee the company's social team establishing a content calendar for the app, the way it does for other apps. "I don't think we're ever going to be reviewing the Be Real [content we put out during] the week. Instead, it will be more like, 'What's the Be Real vibe?' or 'What's the BeReal message we want to put out?'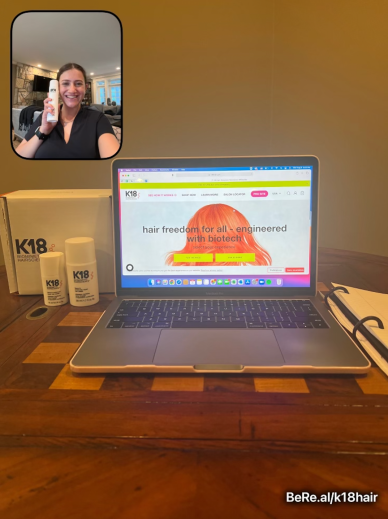 Ultimately, like TikTok, Be Real represents the continued shift away from the hyper-curated feed, flat lays and false perfection that used to be expected from brands and individuals across social media platforms. "Be Real as a platform shows a shift to more peer-to-peer type communities, and it's growing," Miller said, "In that sense, being an early adopter as a brand is important, to connect with culture and to connect with people."